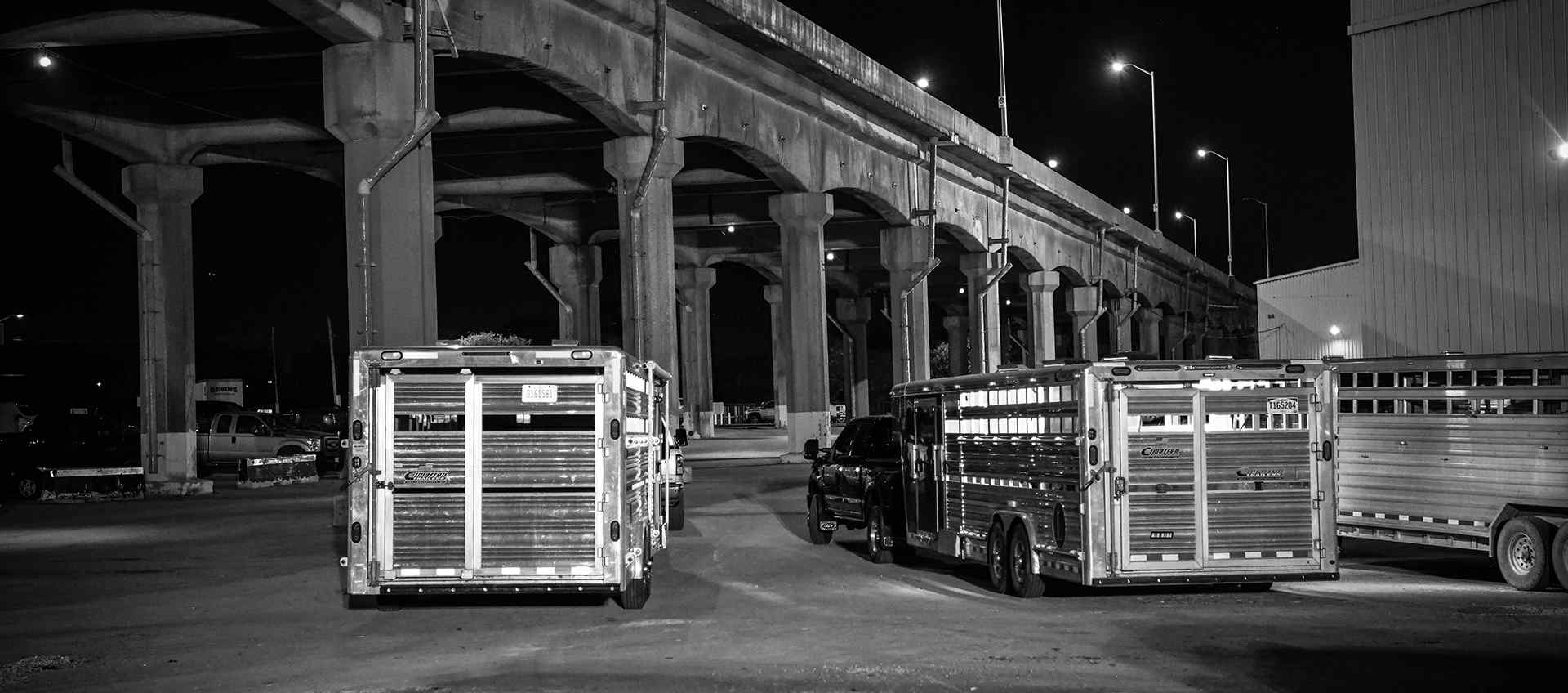 The Showtimes introduced our Hall of Fame in January 2009 and have included new inductees with each issue.
To be inducted, individuals must achieve something great in the livestock industry. They may be an exhibitor, judge, animal, show official or someone who makes a great impression.
Submit your Hall of Fame Nomination!
Inductees
Caldwell Family
IL
Todd has been a part of the cattle industry his entire life. He was first introduced to livestock through weekly trips to the stockyards with his grandfather Alvi. He would look forward to those trips each week so that he could learn the "ropes" and would study how to find good quality cattle.
This education of evaluating livestock continued thru out his high school years. He was involved with both 4-H and FFA. In fact his FFA judging team was the State Champions in 1985. In addition, his family spent countless hours and many miles traveling thru the U.S. showing cattle. During those years he learned the value of hard work and dedication will help you succeed in achieving your goals. It was this background that helped him continue on to Purdue to study Agriculture education. He was a member of the AGR house, the Purdue Judging Team, and was chairman of the Purdue AGR Steer Show for four years.
After College, Todd started teaching at his high school under his mentor, Rex Smith in the ag department. He also started a supply business and would travel to many shows with the dual purpose of to showing livestock and selling equipment. He continued this for several years before moving to Illinois and working for Jeff Adams Show steers.
It was during this time that he met his wife Kim. She too had been raised in a livestock family, showing Angus Cattle in Illinois. After they were married he moved to his current location in Elmwood, and started Caldwell Show Cattle. In 1994 Todd had his first cattle sale under his new business with 20 steers that sold to livestock youth across several neighboring states. Since that time, Todd has expanded his sales to over 200 head of cattle sold each year to over 15 states across the country. It has been during those past 17 years that he has assisted countless young people with finding livestock projects, showing them the ropes, and helping them to exhibit. Most importantly thru out this time he has had the opportunity to meet and help some the most dedicated livestock families in the business.
These experiences have shaped Todd's desire to raise his own children in the livestock community.
Todd and Kim have three children, Maddison who is 15, Olivia who is 10 and Cole who is 7. All of their children are actively involved with livestock. In 2007, Grant Weisinger convinced Maddison that she needed to show a pig. Maddison immediately fell in love with the project. Todd soon became obsessed with shopping for pigs -- online. This took him just one phone call a way from creating history!
Today what started out with a 15-sale goal has turned into 300+ sales annually. What once was a two-person shop has grown to include 6 full time employees, two cattle specialists and a multitude of seasonal employees. "It's been great to be a part of such a successful operation," says, Brett Bowman, Cattle Specialist, "We're extremely busy, but hey that's a good thing!"(As of 2013)
Jack Ward
MO
My family has deep roots in the agriculture business and I am the third generation that has been a part of the seedstock cattle business. I grew up as a 4-H and FFA member showing cattle, sheep and pigs in Indiana and I come from a family of 7 kids and each of them were very active in 4-H and FFA. In addition, my wife and her sister showed cattle throughout their 10 years of 4-H in east central Ohio and her family still runs a large herd of commercial cattle. Because of my focus on the purebred business, I always wanted to pursue a career in the livestock industry.
After high school, I received an Associate of Science degree in Agriculture from Black Hawk East College (BHE), Kewanee, Ill, where I was a member of the 1983 national champion livestock judging team. After BHE, I received my BS degree from Purdue University in Agriculture Economics and since my childhood, I had an interest in becoming a livestock judge. After college, I spent the first 17 years of my adult life in the Angus seedstock business as either a farm manager or managing partner.
In 2003, I became the Chief Operations Officer and the Director of breed Improvement for the American Hereford Association (AHA). This has been a great opportunity for me to learn another part of the seedstock business and continue to provide for my family in the industry that I grew up in and truly enjoy. Outside my duties at the AHA, I have served on the Beef Improvement Federation (BIF) board of directors and National Beef Cattle Evaluation Consortium (NBCEC) advisory board. It has been a lot of fun seeing the Hereford breed work its way back into international prominence and position itself well as a breed of choice for the commercial cattlemen.
In 1991, Mary Ann and I were married and we have 2 sons, Cameron and Carter who are both very active in showing livestock through 4-H, FFA and Jr livestock associations. Our family still runs a few registered cows and Carter has just started buying a few Boer does and he also shows some barrows. Cameron is a freshman at Butler Community College where he is developing his acting skills through the Drama department and he landed the lead in the fall play. Carter is a junior in High School and he juggles his interest in livestock shows and varsity basketball. Both of our sons have had great success in the showring and Mary Ann and I have enjoyed traveling with the boys over the years to the various shows.
Over the last 30 years, I have been fortunate to judge livestock shows throughout the US and in 4 different foreign countries on the local, state and national level. I could probably count on my hands the number of friends I have that are not part of the livestock business. I enjoy judging both market and breeding shows and I especially enjoy judging junior shows. This will be my second time to judge the junior steers at the National Western, but my first time to judge them as part of a 3 man committee. This is exciting because it is the National Western livestock show and I will be teamed up with two guys with great experience, knowledge and pedigrees within the livestock industry. I look forward to the opportunity and I want to wish all of the exhibitors good luck and success. ■
Bo Sanders
OK
November 2012
Determination…. Maybe that should have been this salesman's middle name, but everyone knows him by Bo…Bo Sanders the scale man. But determination is a big part of his profession, and if you know him at all you will say that he is full of determination, along with several other admirable and sought after qualities by the people who work with him and have loved him for years. He belongs where he is because determination pushes him to be the man, husband, father, grandfather, and employee that he is every day. He is a strong Christian, with an unusual story that makes his abilities extremely unique, and his beliefs and constitution are a testimony to the people who don't really see the whole picture or know the real story of his life.
James D. Sanders "Bo" was born in Oxnard, California, and came to Oklahoma when his parents moved to Central High, between Lawton and Duncan when he was 7 years old. He grew up close to the plant where he would put his sweat, and hard work into all of his adult life, and even as a child he was dedicated to his work. He built bicycles, and roofed houses in high school, and started working for Paul Scales in April of 1989. He started working in the shop at the bottom of the totem pole. His friend and co-worker Billy Qualls would work hard right beside him in the shop, and then after work they would cut firewood, and haul hay for extra spending money. He worked his way through the shop and quickly learned the intricate details of every station that is necessary to put the equipment together. Because of his attention to detail, and determination to be the best at everything he set his hand to, he rapidly moved through the business and caught the attention of the owner of the company at that time Mr. Adrian J. Paul. Adrian was the founder, and he had built the company from the ground up.
Adrian, had built the business , and was travelling around the country to many of the shows, that Bo currently works with, and Adrian started sending him to do deliveries, and work in the barns setting up the scales for them to weigh the animals. Adrian was proud of his company and instilled a hard-working innovative spirit in the many who worked for them over the years, and he encouraged Bo to strive for his goals. Bo would jokingly tell him often…. "One of these days, I'll be doing your job," and little did he know he would eventually travel more and touch more lives than Adrian could have ever imagined, and Bo was taking the scales that Adrian had patented to all the corners of the nation and farther.
In 1991, Bo met and married his wife of 21 years, Jojeanna. She was a nurse and worked at the local hospital in Duncan. She had 2 little girls, Jessy Dee and Alexis, and Bo stepped into the role of father loving the girls just as if they were his biological children. To this day, if you ask Jojeanna to tell her story she will say he rescued her and put her life back together at a time when she felt so alone and hopeless, and her eyes light up as she speaks of Bo, the love of her life. In 1993, they had another beautiful baby daughter, Jaden Danay, and to this day Alexis and Jaden constantly challenge each other trying to make Bo pick, "Which on is Truly… Daddy's Girl?" He smiles and reminds them that he has several baby girls, and they all have a special place in his heart. And in 1995, they were blessed with a little baby boy, Jerron Edward. With 4 kids, and the demands of family Bo pushed himself and branched out looking for new horizons to help his company grow, and to maintain the image of a hard-working diligent father that he wanted his children to admire. He reached out to more of the larger livestock shows and began to broaden his horizons. And by the way, Bo is also the proud Papaw of 4 handsome grandsons who think he walks on water. Jaxon (8), Jake (5), Jasper (2) and Kaleb (1), are his greatest pride and joys, and each one of them know the show routine, and love to be on a forklift or in a booth somewhere spending time with their Papaw Bo.
In 2000, the company was bought by W-W Livestock Systems, and Bo became the salesman for the scale side quickly learning the livestock equipment/ rodeo side of the business and branching out to new horizons. The company was growing, and so were the demands on the sales and production, and the vision of a larger market. Bo has been travelling since long before that year, but the sales side of the company just seemed to mesh with his work weighing the livestock. He started in Houston, and San Antonio, and Denver's National Western Stock Show and Rodeo, and rapidly branched out to Colorado State Fair, Aksarban River City Round-up in Omaha, Nebraska, American Royal in Kansas City, Missouri, Arkansas State Fair, in Little Rock, Arizona National Livestock Show in Phoenix, The Star of Texas in Austin, The World Pork Expo in Iowa, National FFA Conventions, and many local and distant stock shows, and fairs across the nation. With the help of many of the icons of the company Kirby Kelly, Ted Webster, Pat Carhart, and others that were fans and mentors for Bo he grew in the sales division, and continues to travel all over the United States, taking the products that he believes will help today's ranchers, cowboys, and farmers raising their animals and training their children the art of showing animals and working with their projects on a day to day basis. Drive is definitely a huge part of Bo's day to day existence putting hundreds of thousands of miles on his vehicle every single year.
In the past 7 years besides his travels across the US selling equipment and working in the barns, Bo has taken the determination in his spirit spending vacation time working on a church in the Dominican Republic. He had taken his younger 2 children to Mexico with his wife on mission trips a couple of times and when God opened doors to work with Servants' Heart Ministries in San Juan de la Manguna he felt the tugs on his heart, and with the help of many of his sponsors and friends he went with 2 different groups to help minister to some destitute villages, and help the people there build a church. Bo has always been known for his abilities to work things out, and to fix things. His work on the church along with the team of missionaries was very valuable and appreciated by the people in the Dominican, just as his work is valued and appreciated by the people he works with, in the many shows where he travels and works.
Bo knows that Faith and Dedication to his Lord, and his family are cornerstones in his life as he continues daily to fulfill his purpose. His relationship with God, builds his relationship with his family and his customers. He has a servants' heart and believes in what he does on a daily basis, and though adversity is a part of life, with reliability and value for others, he carries his determination to work and places value in every part of his daily routine. Whether it is weighing the pigs in Arizona, or working with a rancher in Texas to build an arena to work his stock horses, Bo looks for ways to make people happy, and make their daily work easier. This is truly his calling, and the blessings he has received and passed on to others speak for themselves. (Information as of 2012)
Dave Guyer
IL
September 2012
Like most in our business, it started in 4-H as a young kid showing sheep. Most don't know this but until I was 12 my parents had close to 200 Suffolk ewes. Yes I was brought up as a sheep herder. Dad done pretty good showing those breeding sheep and when us kids got old enough we showed some market lambs. He also had a few cows around and that was where my interest was so we showed a steer or two each year and I worked my tail off, well I thought I was working my tail off. We had a basement in the barn and that is where we kept the steers. We used old squirrel cage fans and bedded on sand. I thought I was up town and it was nice for the times. We would go to the show in a 1981 Chevy dually that was the first new truck my dad ever bought with an old steel trailer that weighed as much as a battleship. We had a homemade blocking chute, use flat head sunbeams to clip with, and my fitting supplies consisted of Amway soap, 3M adhesive, Steaks and Tips, JD paint, and Slick Black, then purple oil and Orvus soap to break em down. The biggest thing I ever won was a pair of Tony Lama boots at a county fair showmanship class that when I came out of the ring I kicked off the old ones and put them right on….even tho they where a size too big. I wore those boots so long that by the time I got rid of them they were a size too small. Never truly won anything as far as a show career but they couldn't keep me from going. I would sit for hours watching the "big boys" work.
In the state of Illinois it was the Dryers, Collins, Sneeds, Elliots, and Simpens and then came IL Beef Expo and Bob May came rolling in and settin up camp there on the sidewalk. That's where you could find me during the expo. I watched till they probably thought I was stalking them. Who would ever thought years later that I would be selling all those guys calves to win the very shows i dreamed of and now calling them my buddies. My dad would say "Son, enjoy it now because you ain't going to make a living doing it". I said back to him "Dad, Bobby May was 12 years old at one time". Soooo I guess my dad took me serious and a few years later we went up to Jim Horsleys and bought a heifer.
Then for the next couple of years I when to the shows with their crew and I probably didn't have the most glamorous jobs but at least I was getting to hang around some cattle that were winning. My parents were always great supporters but you know how it is when your kids are young and want to go to the barn by themselves, you worry as a parent. Tom Fitzpatrick was a major mentor and if it wasn't for him I probably wouldn't have started clipping as soon as I did. He was the one that pushed me to start and would say "don't worry about mom and dad and go". He would always say "you aren't going to learn until you just get in there and do it". I then got where I could fit a leg pretty good or at least I thought it was pretty good but just about then Brian Collins hired me to help fit……Tango……the winningest steer of the year. Then Bill Elliot hired me to fit his son's steer that year at the state fair. Bill put the heat on me before I got started. He told me not to poddle those legs up……..whatever that meant. He won the IL State Fair steer show that year so I guess poddled or not poddled, he won. In the late 80's I knew I was moving up the ladder because John Frasher hired the who's who of the clipper guys to clip his sale and I got the call. It didn't go over very good with my judging team coach, Curt Rincker, when I told him I was going to clip that sale and would miss a contest. Against his wishs I skipped the contest anyway but I won the next one to redeem myself a little. The next fall Lloyd Stone loaded me up and took me west to look at calves. We ended up at Leroy Beitelspacher and bought his first club calf crop. Came home, had my first steer sale in conjuction with Brian and Steve Myers and sold my first high dollar steer………..$3,100 red baldy Platinum to Todd Caldwell's dad, Rick, for Todd's sister, Tammy, to show. That was a lot then.
The next three years Regan Bowman, my brother-in-law now, took me under his wing and went clear out thruogh WY. Bought a group of 7 steer calves that year for $1200 a round from Paul Schmitz. That would have been one of his very first calf crops and man I thought that was a lot of money. Had a sale in Greenville, OH and one of those calves topped the sale at $12,100 and went on to be my first "big" win. I made some money, that steer won the TX State Fair, and I was off to the races. Bought a place in Tipton, IN and had sales there every year through the mid and late 90's. Had some highlights like Adam Dryer at Kansas City in '95, Nick Mauck at NAILE in '96, Kevin Cooper at NAILE in '97, Nick Mauck again at IN in '97, Nathan Smith at OH in'98, Jaclyn Harrod at NAILE in'99, Grand and Res at IL in '99 with Adam Dryer and Blair Branyon, Tyler Colburn at NAILE in '00, Chad Day at NWSS in '00, Lance Unger at NAILE in '02, Monica Planalp at KC in '02 and Chance Lautner in '03, Trent Printz and Opie Campbell was Grand and Res at OH in '03 and Abby Harner in '04. From there the steer show wins continued to snowball year after year that there is too many to mention but these were what got it started. Let's just say we have been very blessed!
In 2000 I moved back home and married my lovely wife Lucy. We bought the home place from my parents and started adding to the small cow herd we had there. Before long we were over 200 cows with just Luc and I. Now I will be the first to admit that Luc will out work three good men but it got tougher when Ashtin came along in 2001 and then Nalaney in 2003.We had cows to calve and breed. With the cow herd in place we started to sell more and more heifers. With Wyatt Baker by my side we started to win some of those bigger prospect heifer shows in 2001 and 2002. Then Emily Richardson got a big win for us at the Shorthorn Jr. National and IN State Fair and Nate Tice won PA Farm Show. We started selling some of our best heifers to Josh Elder and James Sullivan those next few years. With the cow herd rolling with a full ET program in place, selling more steers than we ever had, increasing our heifer sales and looking forward to the future with our first production sale, we take over the 950 acre farm that don't have one fence that could hold cattle or a barn that functions. We needed help!!!!
I hooked up with Steve Bonham in 2002 which was a huge relief in locating and supplying enough steers to meet demand. We currently still today do business together to try to supply the very best steer prospects from coast to coast as we can. We have been able to hold steady in the win column from year to year with as many or more than we ever have but the young guys coming up the line will made you hang your tongue out trying to stay ahead. The next generation in this business, are good and things have sure changed from when I started. Chad Day started with us in 2004 and we began to tear that farm up. We put in 15 mile of fence, build numerous barns including our current showbarn and sale facilities, water lines, lots, seeding grass, you name it we were doing it. Like I needed something else to do, Steve Myers comes to me with a plan. It included me going off and starting an ambassadorship with Purina Mills. So for 7 years I put on countless number of educational programs, speeches, and appearances that started in 2004. Started Natural Solution for Livestock Co in 2005 when Todd Kennedy and Brent Bolen came to me with this dumb idea that we were going to get this nut out of Africa, melt it down and give it to show animals to help their joints. They drug me kicking and screaming to the first meeting and who would have ever thought that Natural Stride would be the industries leader in joint health. Since then we added other products like GLUCoat, Hide and Hair, and Stretch and most recently Natural Stride for horse and dogs. Now don't forget the cow herd has been growing this whole time and in Janurary 2008 we planned our first annual production sale that we called The Chosen Few. We done something that no one has ever done outside a couple big time breed sales and that was televise it live on TV. It was a huge success and we have continued it to present day. Chad decided to leave after the 2010 sale and start his own family and went the work for ShowRite Feeds. It was like loosing my left arm because with my work schedule, he and Luc did most of the work around the farm. It's hard to find someone to treat something of yours like it was their own and he did. In late 2010 I had the great opportunity to team up with Chad and ShowRite feed and formed a partnership with them, Natural Solutions, and myself.
With the fast growth from year to year with Natural Solutions, cattle sale and service, the educational to youth of the industry, my responsiblities with ShowRite, and most importantly my family, we announced our dispersal of the cow herd in our 2012 sale. Breeding and calving cows was the only thing that I could give up and continue the meet all of my other responsalities. Now we just depend on all of our customers and friends to supply the great cattle for The Chosen Few. That brings me to present day and I plan to continue in this industry as long as it will let me. I enjoy spending time with the business, the people, and especialy the kids but all my life and all the decisions I have made for all these years have been for one reason...........my family. It's the one thing in my life I am MOST proud of.
We have taken up showing pigs as a family. It was something that about 6 years ago we tried and liked. It was a way we can stay in the livestock business but something that would be a challege and a new adventure for myself. We have showed more this past summer than we have since we started and the biggest win for myself has been the time I have taken with Lucy and the girls. As we all get older we change focuses. For me first it was to win a show and make a name for myself. Then is was the cow herd and building a program and then the businesses I've got. Now today it's family but don't get me wrong I still want to win the shows. LOL!! But I've learned you can sell em or breed em and win ever show in the country and they still aren't going to put a star on on some sidewalk in some big city.
So take care of the ones that are closest to you. (Information as of September 2012)
James & Nick Sullivan
IA
July 2012
James & Nick have not only exhibited and produced numerous champions of various breeds, they have also given back to the industry by serving on national junior boards, hosting sales, and lending a hand to fellow exhibitors. James and Nick Sullivan of Dunlap, Iowa have without question become a familiar face at the photo backdrop, in the ring, or in the show barn. It requires a lot of hard work, skill, and overall good luck to achieve success within the show ring; therefore, when not only an individual, but a family, finds themselves in the winner's circle on multiple occasions over multiple years, it is something we can and should all commend. Some highlight females that the Sullivan brothers have exhibited include Nick's Shorthorn Plus female, SULL Jaylynn 0904, that was a multiple time Grand Champion and Supreme Champion Female at shows including the 2011 American Royal and NAILE; as well as James' MaineTainer female, GCC All Right All Ready, who's exemplary winning streak earned James the title of the Maine-Anjou Association's Premier Exhibitor for the 2008 show year. While most Hall of Fame's honor individuals long after they are retired and years after their successes, we enjoy honoring both James and Nick Sullivan while they are still current in our industry.
Mike Hartman
NE
May 2012
Mike Hartman was born and raised in the purebred business and active in 4-H and FFA as a youngster. He has spent his entire life breeding, promoting and marketing livestock. Mike has experience with all breeds. He, along with his dad and brother, were involved in the Charolais, Angus and Salers breeds for years and he has been involved with the Maine-Anjou breed since the breed's early importation into North America. Recently, Harman has been making a mark in the Simmental breed. Mike owns and operates Hartman Cattle Company in Tecumseh, Nebraska. The Hartman's have enjoyed a tremendous run in the beef business throughout the years. The least visible, but most important part of Hartman's business, is the production and marketing of commercial and purebred bulls. Mike feels an important issue to remember is that we must be aware that we're all in this (the beef industry) together — seedstock producers, cow-calf man, feedlot operator, packer, restaurateur, everybody. "If we don't all continue to improve the quality and consistency of our end product, consumer demand declines and we're all dead in the water," claims Mike.
Matt Lautner
IA
March 2012
Matt Lautner is an obvious choice for our Sire Edition Hall of Fame Inductee. With over 35 top club calf sires including the
dominant Monopoly, the industry's leading blog, Matt Lautner Cattle TV, and cattle sales, Matt Lautner has greatly impacted today's show cattle industry. His bulls have sired champions nation wide. Between September 1 - December 1, 2011, 165 Monopoly sired cattle alone grossed over 2 million dollars! Every spring Matt hits the road committed to offering you the best service, the highest quality semen available, and the most reward for your business. His marketing ability is second to none and is single handedly changing the livestock industry. We would like to congratulate Matt on becoming our newest member of The Showtimes Hall of Fame and are excited to see what he has planned for the future!
(Information as of 2012)
Mark Sneed
IL
January 2012
Mark Sneed was born and raised in Ewing, Illinois on a 1,700 acre farming and livestock operation. A strong work ethic was instilled in Mark at an early age, and was further encouraged through the death of his father when Mark was 12 years old. Mark's family was continuously involved in the 4-H program for over 40 consecutive years. Mark's interest was particularly strong in the cattle aspects of the livestock industry. He spent many years and miles on the road with his 4-H projects attending shows across the country. Mark had the honor of exhibiting the Grand Champion Steer at the North American International Livestock Exhibition (NAILE) in 1983, 1984, and 1985 and also the Grand Champion Steer at the American Royal in 1986. This was a particularly proud moment for Mark, as he only fed one steer per year. After high school, Mark attended Rendlake Jr. College and continued his education at Southern Illinois University majoring in Agricultural Education and Mechanization with a minors in Animal Science and Computer Programming. While in college, Mark was named High Overall Individual at the Midsouth Livestock Judging Contest. Mark owned a professional fitting service for four years after college and then moved into a district manager sales position with Vigortone Chemical Company. With Vigortone, Mark covered 18 counties and a million and a half dollars in sales per year. After Vigortone, Mark was employed with Golden Harvest Seed Company for the next six years. While selling chemicals, Mark still remained close with the livestock industry and realized his heart was truly in the cattle sector of livestock. With that, he moved to Ohio to start a cattle order buying position. It was while in this position, Mark realized that one of the most important marketing tools was photography and internet tools. This sparked Mark's idea of starting his own livestock marketing company. In 2003, Mark went to Denver to start his professional career as a livestock marketer through photography at the National Western Stock Show. Word of mouth spread and the business has not slowed down since. As many in the cattle livestock industry know, Mark's name has been seen and continues to be seen on many of the top operation's photographs throughout the country. Mark Sneed is a household name in the cattle industry we all know and love, whether people know him personally or have just seen his name under a beautiful photograph, he is recognized. His work is tremendous and he takes great pride in putting out the best there is in livestock marketing through photographs and now videos. ▪ (Information as of 2012)
Bauman Family
WY
November 2011
Bauman Ranch was located at Carpenter, WY and founded in the 1880's by Anthony Wilkinson. Wilkinson came from England and homesteaded in Custer County of Nebraska. Later, his land holdings were in Wyoming and Colorado. Wilkinson primarily raised horses under contract with the U.S. Army and diversified to include sheep. His ranch was taken over by his niece, Elizabeth Laycock Bauman and her husband John Edward Bauman in 1916. The ranch continued to raise sheep. "Lizzy" and John E. passed the ranch on to their two sons, John H. and Robert Bauman. At one point, the ranch had over 30,000 head of sheep. The brothers exhibited carloads of sheep at the National Western Stock Show in Denver. John H. and his son, Darold, along with Darold's wife Leola, introduced cattle to the ranch. In 1958, Darold introduced Charolais bulls to the herd. By 1963, the operation was changed over entirely to registered Charolais cattle by importing some of the first French bulls to the U.S.
Darold and Leola's family; Debbie, John, Paula, Bruce and Brett all shared Darold's passion for Charolais cattle by exhibiting cattle at county and state fairs as well as Charolais Jr. National shows. To develop his Charolais bull clientele, Darold showed pen bulls at Denver's National Western Stock Show. Soon Darold's sons, John, Bruce and Brett, began showing cattle all over the U.S. and Bauman's Charolais cattle began to dominate the show ring.
As each of the three Bauman sons married and had children of their own, each family began showing different species of livestock.
John and his wife, Patsy, focused on cattle raising Charolais, Maine Anjou and Simmental. In the fall, they would market their spring calves through the Final Drive Sale and by private treaty. John and Patsy's children, Kassi and Chance, showed cattle in 4-H and FFA. Kassi also showed sheep from her Uncle Bruce's flock. Kassi and Chance were both successful in the show ring at county, state and regional shows. They looked forward each summer to traveling to the Charolais Jr. National Show.
Kassi graduated from the University of Wyoming with a degree in animal science. While at the university, Kassi won second in the 10K Business Plan competition. Kassi lives in Cheyenne, WY and owns her own livestock photography business, Big Star Images. Kassi's business has grown to include design and layout as well as engagement, wedding and senior photographs. She also photographs various livestock shows around the country with Show Champions.
Chance is currently working toward an associate degree in Ag Business at Laramie County Community College. He is a dealer for BioZyme Incorporate selling livestock nutritional supplements. Chance attended the Missouri Auction School and looks forward to being a purebred livestock auctioneer.
Recently, Kassi and Chance have ventured into a new livestock supply business, Bauman Supplies LTD. Bauman Supply is the Sullivan Supply dealer.
Brett and his wife, Tammy, with their son Tate, raise 4-H and FFA market hogs which have been sold all over the United States. Tate has also continued with the family traditions through showing registered Charolais throughout his youth, however has been showing swine since he was two. The family has raised and exhibited several county, state and national winners. Tate served as the Wyoming State FFA Parliamentarian in 2009-2010 and is a junior at the University of Wyoming majoring in Ag Business and will continue in to Ag Law. Brett builds custom homes when he is not busy tending to the show pig operation, and takes pride in the 2007 Parade of Homes house that is still the talk of Wyoming. Not only does Brett pride himself in custom homes, he also designs and makes custom furniture. Brett is the Colorado/Wyoming Show Rep for Showmaster feeds. Their family enjoys chuck wagon cooking, and was honored to have won the 2010 Cheyenne Frontier Days competition. Bruce and his wife, Debra, each had a small group of cows that they commingled when they were married. Now under the name of B3 Livestock along with their daughter, Kendal, and husband, Scott Sedman, they produce purebred cattle, club calves, and club lambs. The cattle side of their operation consists of purebred Charolais and crossbreds influenced with Simmental, Maine Anjou, and Chianina. Donors, bulls, club calves, and show cattle are marketed successfully across the country with an emphasis on quality rather than quantity. Marketing through traditional sales, internet marketing, and private treaty they have been able to reach a wide variety of producers to further the success of their breeding. The top calves are usually consigned to John, Patsy, Kassi, and Chance's "Final Drive Sale".
Sheep were added to the Bruce and Deb's family when Kendal was young and renewed the tradition of the historic ranch. They now focus on raising club lambs that are mostly sold locally to 4-H and FFA members. Along with Kendal, six different nieces and nephews have had a Grand or a Reserve lamb at the county fair with a B3 lamb. B3 Livestock and Bauman Show Pigs combine together to host a yearly "Showtime Sale" featuring club lambs and club pigs.
As all three families grew, their interest broadened to different preferences. It doesn't matter to any of the Baumans as to the color, breed, or specie – "A good one is a good one no matter what" and that good one is what keeps us moving forward.
(Information as of 2011)
American Royal
MO
September 2011
Prior to 1899, livestock and horse shows in the Kansas City area were held irregularly, usually only when convenient or need arose.
However, in 1899, the first of a series of livestock shows was held. The event was to continue annually until now and develop into one of the most outstanding events of its kind in the world, the American Royal Livestock and Horse Show.
Roots of the American Royal can be traced to the period shortly after the Civil War, when Texans, returning from the battlefields to their homesteads and ranches, found their herds had multiplied unchecked. On rounding up the cattle and driving the herds to Southern markets, they found the markets overloaded and prices way down. It was then that the Texans returned to Northern markets and drovers pushed the herds to railheads extending out from St. Louis and Chicago. Others headed their herds to richer pastures in Nebraska, Wyoming and even Canada.
The railroads, sensing a demand for their services, extended the railheads farther West, reaching such points as Kansas City, St. Joseph, Topeka, Dodge City and Wichita.
Kansas City became a focal point for consignment of cattle. It wasn't long before packers constructed plants in the area to accommodate the supply. Therefore, it was only natural for cattlemen to occasionally display their stock somewhere near the Kansas City Stock Yards. Those who were especially interested in promoting a particular breed were most active in those endeavors.
From its beginning as a Hereford Cattle Show, held in a tent at the Kansas City stockyards in 1899, the American Royal has grown to become the largest combined livestock, horse show and rodeo in the nation. In 1915 and 1916 the Royal was held in Convention Hall. Special building to house livestock were erected where the present Municipal Auditorium now stands. However, the facilities proved to be too limited. In 1917 the show moved to Electric Park - then located near what is now Brush Creek Boulevard and the Paseo. Because of World War I, an abbreviated exposition was held at the stock yards in 1918. A year later, the show returned to Convention Hall. In 1920 and 1921 the event again was at the stockyards, where a fairly adequate pavilion had been improvised for the show in one of the sheep barns.
It wasn't until 1921 that talk of providing a permanent home for the American Royal crystallized. The Chamber of Commerce took up the matter. A spacious new pavilion was built and the 1922 show was held there. The structure cost about $650,000, with the lion's share born by the Kansas City Stock Yards Company. Businessmen of the city contributed $100,000 and the Hereford and Shorthorn associations added $10,000 each.
Everything continued without incident at the Royal for three years. Then on February 13, 1925, disaster struck the pavilion. The building was damaged severely by fire during an automobile show. Three days afterward, rebuilding began. This resulted in an even more spacious and better appointed facility for the 1925 fall show.
Thereafter the show prospered and grew. Even through the depression of the 1930's and the war years of the '40's, the American Royal continued to expand. However, the World War II shows were limited in scope, and were more or less confined to pen areas in the stock yards. American Royal buildings during the war were converted to a glider building plant. At the end of the war, the show bounced back to become greater than before. Through the post-war years, the show continued to gain stature - until Black Friday - July 13, 1951 - when the Kaw River went out of its banks and destroyed much of the Royal facilities. Officials pushed clean-up operations and the show was held in the fall of that year.
The American Royal is known for its popular entertainment at its Horse Show. Many noted personalities, even presidents of the United State and officials of foreign nations, have attended these functions.
Many years have passed since the American Royal first was thought of and there were times when it appeared the event could not continue. But the faith and support of civic-minded individuals and area businessmen have made it possible for the Livestock and Horse Show of the American Royal to continue and to expand into one of the nation's most important expositions.
In 1975 was the addition of the Kemper Arena and the Rodeo. The American Royal remains one of America's top Livestock Shows today. (Information as of 2011)
Dan Hoge
IL
August 2011
It takes a special individual to not only judge livestock, but judge livestock in a manner that earns them a respect from competitors, breeders, and show officials. The Showtimes Magazine's August 2011 Hall of Fame Inductee is a livestock judging coach, judge, and producer that has impacted the livestock industry immensely through his teaching, evaluation of livestock, and breeding genetics. Dan Hoge is one of the most well known livestock judges of all time. His passion for the industry is evident when he judges shows whether they are at the county, state, or national level. Hoge has a style that stays true to himself. His roots in livestock go back to his family's Duroc hog farm in Walnut, Illinois where he showed Durocs and Hereford cattle. After Hoge received his bachelors and masters degrees in animal science from the University of Illinois, he served as the livestock judging coach for Black Hawk College - East Campus for over forty years. Teams he has coached have earned numerous national livestock judging titles and produced multiple individuals who went on to become well known judges and educators. Dan Hoge currently resides in Walnut, Illinois where he and his wife, Deanna, raise Duroc hogs. Hoge has passed on his love and knowledge of the livestock industry to his children, Kathy and Mark.
Schnoor Sisters
CA
June 2011
The Schnoor Sisters Story began with the help and support of their parents but mostly because of a shy 9 year old who saw a future in the black cattle that stood in a dirt pen. Since then Amanda has come a long ways, from show to show, traveling the country and competing on many different levels in the livestock industry. Now 25 and a teacher at Modesto Junior College, she looks back at all the things and one being involved in the National Junior Angus Association and serving as the Foundation Director, in which she took great pride in being apart of such an amazing and impacting organization. Amanda attended Modesto Junior College where she was on the judging team and furthered her education at Oregon State University where she ended her judging career as well as her education. She graduated and went onto University of Missouri when an opportunity became available to teach at one of her alma maters MJC and she took full advantage. Now living in Modesto, many things keep her occupied. From her classroom to her team to the livestock units at the school farm. She enjoys every minute of it. Still traveling from show to show with little sister Sydney, she was bred to be a part of this industry forever and she plans to do so.
While Kirbe was skeptical on the whole showing thing, she grew a strong appreciation and love for all that it had to offer. Some would say she didn't have a choice, but following in the footsteps of her big sister was her best bet. The moment she would enter the ring at every show, she knew this is exactly what she wanted to be doing. Not only following Amanda's footsteps of showing cattle, she also was on the National Junior Angus Association Board of Directors where she served as Chairman. Both will say it was one of their best decisions and greatest life experiences and they wouldn't trade it for the world. While Kirbe hasn't had much time for shows since retiring off the board and no longer competing in the ring, she remains very active back home. Attending California State University, Fresno studying Mass Communications and Journalism where she will be graduating in the fall with an emphasis in broadcast journalism, Kirbe has taken all life has had to offer. Getting involved in on-campus clubs and being a member of the sorority Kappa Kappa Gamma. While having a few internships with California's Water Coalition and Sebastion Channel 2 sports radio and television, her future goals include attending law school and furthering her career in journalism. While her future endeavors have kept her from the industry recently she still sees the livestock industry as a huge part of her life and is thankful that little sister Sydney is still showing.
Sydney a high school Freshman, is so glad to have had older sisters that have opened up the doors to allow her to be involved and show. Much like the other two, she has lots of goals for her future. She has taken full advantage of what high school has to offer, being a class officer and a part of several clubs as well as playing volleyball and basketball and finding time to play travel ball while making sure she still has time to attend shows. Keeping Dad and Mom busy at home, they still have a few more years of the show world and they are glad they have gotten to be a part of it for so long. Sydney loves getting to know everyone and looks forward to meeting new people when she travels to shows. All three have said none of this would have been possible without all the help from people they have met in the industry, friends and family. While there are so many to thank they show great amounts of gratitude towards those individuals who have been a part of their success within the show ring as well as The National Junior Angus Association who has truly been such an impacting organization in their lives. ▪ (Information as of 2011)
American Royal Livestock Show
1999 Reserve Grand Market Steer
2006 Champion Maine-Anjou Heifer
2007 Champion Jr. Angus Female
2008 Champion Jr. Angus Female
2009 Grand Champion Angus Female
2009 Supreme Overall Champion Heifer
NAILE
1999 Res. Grand Champion Steer
2006 Grand Champion
Maine-Anjou Female Show
2006 Res. Grand Champion Steer
2007 Res. Grand Champion
Maine-Anjou Female Show
2007 Grand Champion
Maine Anjou Female Show
2008 Grand Champion
Charolais Female Show
2009 Res. Grand Ch. Angus Female
National Western Stock Show
1999 Res. Champion Prospect Steer
2000 Champion Prospect Steer
2000 Res Grand Ch Steer
2003 Champion Prospect Steer
2004 Champion Prospect Steer
2004 Champion Prospect Heifer
2005 Grand Champion Market Steer
2006 Champion Prospect Steer
2007 Champion Prospect Steer
2007 Res. Champion Prospect Steer
2008 Res. Grand Champion Market Steer
2008 Grand Champion Prospect Steer
2009 Grand Ch. Prospect Breeding Heifer
2010 Grand Champion Market Steer
2011 Grand Champion Prospect Heifer
California State Fair
1999 Reserve Grand Steer
2000 Grand Champion Steer
2001 Grand Champion Steer
2002 Grand Champion Steer
2002 Reserve Grand Champion Steer
2003 Reserve Grand Champion Steer
2004 Grand Champion Steer
2005 Champion Angus Female
2006 Reserve Grand Champion Steer
2007 Supreme Champion Female
2008 Grand Champion Steer
2009 Reserve Champion Angus Heifer
2009 Reserve Supreme Champion Female
Junior Grand National Cow Palace
1998 Champion Angus Female
1999 Champion Prospect Steer
1999 Grand Champion Steer
2000 Champion Prospect Steer
2001 Supreme Female
2001 Reserve Champion Prospect
2001 Grand Champion Prospect
2001 Reserve Grand Steer
2001 Grand Champion Steer
2002 Grand Champion Steer
2002 Champion Angus Female
2004 Champion Prospect Steer
2004 Grand Champion Steer
2006 Grand Champion Steer
2007 Champion Prospect Steer
2007 Grand Champion Steer
2008 Champion Prospect Steer
Western Bonanza (Cal Poly)
2009 Supreme Champion Female (A & B)
2009 Res. Supreme Ch. Prospect Steer (A)
2010 Res. Supreme Ch. Prospect Steer (A)
2010 Supreme Champion Female (A & B)
2011 Supreme Ch. Prospect Steer (A & B)
2011 Supreme Champion Female (A)
Red Wave
2011 Supreme Champion Female
Western National Angus Futurity
2008 Grand Champion Jr. Angus Heifer
2008 Reserve Champion Jr. Angus Heifer
2010 Grand Champion Jr. Angus Heifer
Bob May
WI
March 2011

The livestock industry is composed of numerous exhibitors, producers, livestock, and show rings; each with their own story and impact on the industry as a whole. It is the passion and time spent bettering the show cattle industry that titles our April 2011 inductee of the Hall of Fame. Although Bob May was born, raised, and resides in Mineral Point, Wisconsin, the impact of his dedication to cattle and youth has reached all corners of the United States.

Family makes up the foundation of Bobby May Show Steers and May Cattle Company. As he grew up showing cattle with his siblings, Bob and his wife Jodie have carried on the same tradition with their own children: Shea, Jaclyn, Brock, and Lauren, and his nephew Jon Gevelinger. For over twenty-five years, Bob has also had the help and support of Bruce Suddeth. His wife Janie and their two kids, Reid and Reagan, have become a second family. Bob's passion for show cattle, however, does not stop with his own family. He enjoys selling calves and working with kids – passing on his knowledge and enthusiasm for cattle at the same token of forming friendships and memories. Bob finds working with generations of families extremely rewarding. Over the years, he has been blessed to be a part of numerous champions, but he does not seem to be one to keep a running record. Bob feels that if you are keeping track you become less competitive.

Bob's impact on the cattle industry is wider spread then just the show ring. He has also been an Ambassador for Purina Feeds for four years. This has given him the opportunity to put on fitting clinics at the local, state, and national level. Bob loves teaching kids how to feed and take care of their animals and how to fit them for show day. To Bob, it is so much about the kids

Although Bob has placed his footprints on the cattle industry over the years, what established him as a credible and known breeder was raising the legendary bull Sugar Ray. His love and dedication to cattle, however, began at an even younger age. In fact, when Bob was young, his father won the carcass show at the Chicago International Livestock Exposition three years in a row. In addition to cattle, Bob dedicates himself to everything he is a part of. In high school, he was an individual State Wrestling Champion in 1972. He is now a member of the Allen E. Bauman Wrestling Hall of Fame. So while his life has been geared towards the cattle industry, he also loves watching Brock play baseball, witnessing Lauren compete in gymnastics, or just going to movies.

It is with great honor that The Showtimes inducts Bob May into the Hall of Fame. We know through both learning his history and working with him on both personal and professional levels, that he has a lot more to give to the cattle industry. As Bob would say, "I'm not much for looking back, I like to look ahead." ▪
Bob took this opportunity to mention five individuals that were very strong influences instrumental to his start:
1. My family was very supportive. I have four sisters and a brother; I am the second oldest. My dad in particular – he was a very determined, strong willed man; always upbeat, a positive thinker. I have met a lot of great, honest people in my life, none more so then my dad. He passed away on June 27, 2003, the same day Brock won the Maine Junior Nationals in Springfield, Ohio. I miss my dad – he was a great man.
2. Mr. Bauman, my high school wrestling coach. At the time, wrestling was on my front burner. That man taught me how to be mentally strong; he made me believe in me. He, like my dad, believed quitting was not an option. Funny thing, when I graduated from high school, I actually thought I hated him, because at that age, I did not even realize what he had done for me. He pushed me hard. I have total respect for him.
3. Bruce Ivey – a local businessman, who helps operate a family owned construction company. Knowing that our family was financially challenged, Bruce, knowing my desire to compete with good cattle, helped to get my steer project started. I sort of got on the map, if you will, because of Bruce. I will always be grateful to him. We paid $575.00 for the 1975 Wisconsin State Fair Grand.
4. Paul Clapp – from Iowa – When I left High School, I did not attend college (I would not advise that today). I started custom fitting cattle and working production sales. When I met Paul, all I really owned was my pickup truck. The trailer I started pulling was loaned by Paul; the trim chute on the trailer was loaned by Paul. I did own the $250.00 steer on the trailer, but Paul found him for me on a set of feeder cattle in Canada – that steer later won the Wisconsin State Fair in 1978. Noteworthy, Paul helped me sell the first $5,000.00 steer ever; that steer was a full brother to Sugar Ray. He went on to win the American Royal for the Stutsmans of Iowa City, Iowa.
5. Steve Robbson, who was from a neighboring town. His mother co-signed a note so Steve and I could start up what turned out to be a very strong 200 head cow/calf operation. We operated that together for ten plus years. Steve was very instrumental in me becoming more financially established.
The unique thing about these folks that were such an influence to me is that they are all very honest, hardworking people. I hold them in the highest regard.
I always want to remember where I come from and who helped me get to where I am. I am grateful for the life I get to enjoy, my family, and the countless friends I have met along the way. I saw a T-shirt the other day, it said, "If you're lucky enough to be born in America – you're lucky enough..."
…Raising kids, competing, great work associates, and living in the greatest country on the planet.
(Information as of 2011)
John Sullivan
IA
January 2011
All champions come from different states, barns, exhibitors, species, breeds, and producers. So what is the one thing that they all have in common? Sullivan Supply. From the time I was eight years old and started to show cattle, hogs, sheep, and goats competitively, the word Sullivan was part of my vocabulary just as Coke, Jell-O, and Band-Aid. Our state Sullivan distributors would show up to every jackpot, county, and state show with their trailer in tow, packed full of all the various livestock products and equipment I needed. To me, Loren and Maureen Broad were Sullivans. It was not until my family began to show at the national level that I realized the enormity of Sullivan Supply.
In the mid 80's, no one would have predicted that the then manager of Little Mondeaux Limousin's show cattle in Genoa, Nevada would one day create an empire that changed the livestock show industry forever. During that time, John Sullivan was talked into purchasing a farm by his brother Joe for a good price. What cost him the selling price of his car for a down payment, was nothing more than a rough farm that good farmers did not want. John continued to make payments on his farm while working at Mondeaux. In 1989, wanting to be closer to home, John moved back to Dunlap, Iowa with two things in mind. He aspired to build a purebred show cattle operation or open a show supply company. As he did not have the land to support a cattle operation or the funds to start a show supply company, John's start to success was founded on the small investment he had made on that farm he acquired while in Nevada. From the time of purchase, his farm had accumulated enough worth to allow him to borrow against it for the ten percent required to set his show supply company into existence.
Sullivan Supply took root in John's mother's garage. To haul his supplies to jackpot shows, he purchased a trailer. For a number of years, John borrowed his brother Joe's twenty-two year old pickup truck to haul his trailer. During these outings, John would sleep on a foam pad in the back of the truck and shower at the various fairgrounds. Six months after Sullivan Supply had been established, business had picked up to where he had to move the company to an old grocery store in Dunlap. This new location had many large windows and was unheated for three to four years. During the winters, the windows would ice over to where you could not see outside and you could see your breath in the cold. In fact, Sullivan's aerosol cans had to be stored in cardboard boxes to keep them from freezing. As the building was not equipped with an office, John went across the street to the local appliance store and got the biggest boxes they had, refrigerator boxes. He then cut the boxes in half to form tables. John covered a small corner of Sullivan Supply's building with a blue tarp, installed heaters, and used his refrigerator box tables to form a makeshift office. Sullivan Supply was officially on its way.
As a company that was established during the 80's farm crunch where there were no agricultural loans available, Sullivan Supply's success was a result of the work ethics passed on to John by his parents Leo and Norma Sullivan. Family has always been a priority to John and his company. Sullivan Supply prides itself in the fact that it manufactures many of its own products. All of the company's sewn items, such as their Arctic Ice Packs, are made by John's mother, Norma (Norma's Stitch and Sew), with the help of his aunts, Rosie and Sally. His uncle, Fritz, and his extended family have made Sullivan Supply's rope halters for over eighteen years. There is passion put into every product distributed by the company. Their advanced blow dryers are made by local retired farmers, in addition to their scotch combs being locally produced. John's key employees have been with Sullivan Supply for over fifteen years. So when exhibitors and producers use Sullivan products, they are using more than just a manufactured good; they are using a product that was derived from a passion and love for the livestock industry.
With John's show supply company experiencing success, he was then able to achieve his first ambition of building a purebred show cattle operation. In the mid 90's, he started a Limousin cattle operation. In 2002, John added a "splash of color" to his operation and switched to Shorthorns due to his love for the breed. He finds them to be sound, eye appealing cattle that are very competitive. John feels there is a great core of shorthorn families in the industry. The Sullivan family continues to achieve success within the shorthorn and other breeds.
In addition to Sullivan Supply's base in Dunlap, Iowa, the company has expanded to include Sullivan Supply South in Hillsboro, Texas (of which his wife Dede and his brother Danny Sullivan are partners) and a California West store that is part of Sullivan Supply. Sullivan Supply ships products to all fifty states, including Alaska and Hawaii. What started out as a vision in John's mother's garage has transformed into a livestock industry leader for show supplies that has dealers in eight countries.
The entire family loves what they do. John's wife Dede has always been a huge supporter of his company and remains to work by his side to this day. Much of its success can be attributed to her as she wears many hats. Their daughters, Sage and Sarah, hope to continue the legacy into the next generation.
John Sullivan's motto of "progressive, aggressive, and family oriented," has made Sullivan Supply the company it is today. ▪
(Information as of 2011)
Randy Daniel
GA
Randy Daniel Manages the family ranch, Partisover pronounced "Party's Over" Ranch in Colbert, Georgia. Randy, along with his wife Beth and father Dan, handle the day to day management. Randy & Beth have two children, Buck and Whitney.
Partisover is a registered Angus and SIm Angus seedstock operation that now includes a partnership in Oklahoma with Travis, Beth, and Brett Pembrook.
Randy's Judging experience includes 39 states, Brazil, Argentina and Uruguay. He has judged Junior Nationals for twelve breeds along with nearly every major show in the country. Steer Shows Randy has judged include: Houston, Ft. Worth, San Antonio, Dallas, Austin, Oklahoma City, Tulsa, Iowa, Indiana, Illinois, Ohio, Colorado, Kansas, New Mexico, and Arizona.
Randy enjoys open shows, but prefers junior shows because of the interaction with the junior exhibitors. He feels that a positive attitude, a pat on the back, or a "good Job" just might be what it takes to motivate a young person to strive for bigger and better things.
The following observations are through the eyes of a father, Dan Daniel.
His love of livestock was seen very early in life (4 years of age). The desire to "work" with livestock came later. When Randy was about 6 years old, his dad gave him a steer to take care of. At this age, he was very interested in roping – instead of haltering the steer. It was more fun to rope him; therefore; not much work got done. One day he went out to the lot and there was no steer. To his dismay, his dad had sent him to market because he was not getting enough attention. From that day forward the "real" Randy came though. "He was competitive and conservative." This conservation part cam tot life when his dad bought him a heifer in the production sale. When asked if he had enough money to pay for her the search was on. After checking under the mattress in the corners of all the drawers, and behind all the pictures, he came up with enough money!
Randy was competitive even when his sisters were involved. He went with the truck driver to his first state show a half day ahead of his sister. When asked, "How about washing and blowing out Dannette's steer when you get there?" The answer was, "I don't want to wash him!" This competitive nature bothered his mom some. She said, "Randy, it is also important to be a good loser." His remark was, "If you want to win bad enough there is no such thing as a good loser."
The Daniel Family has always lived in the county where the kids could do their own work. Randy placed 4th in his first "big time" competition at the 1st National Angus Jr. Showmanship contest.
Randy's dad was the head of the Extension Animal Science department and was very much involved in the performance testing which included weighing and grading many calves. Randy spent his summers and calving seasons with his dad grading calves and discussing every calf when he was "off" over 2 numbers within a grade.
While in college Randy coached the county 4-H livestock judging team and took them to the American Royal where they placed 2nd.
Randy placed from 1st-10th in every contest while on the Georgia livestock judging team. His dad never tampered with his college judging but gave him one bit of advice, "Place them on the big things." (Information as of 2010)
Kirk Stierwalt
OK
Just mention the name Stierwalt to anyone involved in the show cattle industry, and they would know who you were talking about. From show clinics, success, and his many endorsements with popular brands such as Purina Show Chow, eZall, Andis, and Weaver Leather Livestock, Kirk Stierwalt is very influential in taking the show industry to a whole new level. While many know Kirk for what he does now, very few know the man behind the clippers.
Kirk grew up in the town of Chariton, IA where his mom and dad, Mary and Burns Stierwalt owned and operated a shoe store that Mary sill runs today. Throughout high school, Kirk worked at the shoe store while also heling his grandpa, Homer Stout, out on the farm. His grandpa was instrumental in getting him started on the road to success within the show ring. He clipped his first calf when he was six years old, not realizing what the future had in store.
As a cattle fitter, educator, and judge, Kirk has many years of experience in the show cattle industry. He has won numerous awards at some of the most prestigious national and international shows. Kirk actively participates in 4-H and FFA programs and conducts clinics, seminars and demonstrations for young people and cattle families. Kirk and his wife, Juli, began doing clinics at their home in Leedey, OK in 1987.
The first major steer show Kirk clipped the grand champion steer for was the National Western Stock Show in Denver 1981. He rode the train out there to clip the steer. From that first champion, success has become a habit for Kirk and his family, including his two children Ky and Kyra. He has clipped and sold cattle that won major shows in the United States and Canada.
While his success and accomplishments are impressive, it is Kirk Stierwalt's character that has made him a clear choice for the Hall of Fame. He is always willing to help and give support, has a true love for the industry which is evident though his auctions, and never forgers a face or name.
Christy Collins
OK
Christy Collins is one of the leading cattlewomen in the club calf and composite business, she pioneered modern day livestock photography by being one of the first professional photographers to offer her signature style of photography in the club calf business in the early 1900s, which has since been imitated by many.
Currently, as the owner of Collins Cattle Services, she continues to serve the industry by being one of the leading sale management firms in the business, and the only one owned and operated solely by a female. Her first sale, the Exposure Sale, stated in 1997, is still regarded as the leading female sale of its kind.
Christy contributes all the success to the talented people and good cattle that she has had the chance to be apart of.
She also serves as a judge of several livestock shows each year and has officiated numerous livestock judging contest throughout the United States. (Information as of 2010)
Steve Bonham
OK
Winter 2010
"Nothing great was ever achieved without enthusiasm."
This quote from the the great Ralph Waldo Emerson applies to Hall of Fame member Steve Bonham. Steve is recognized as an industry leader when it comes to marketing livestock - whether in the pasture or on the auction block. His passion for the club calf industry, specifically, is infectious and has inspired thousands of young people across the ounty for over 25 years. If you buy show steers or heifers, chances are you have been to New Castle, OK where Steve has resided since 1986, having one of the quickest eyes for livestock of anyone you will meet, Steve has selected and marketed hundreds of show ring champions and sale ring elites. His customers have won steer shows in virtually all 48 contiguous states.
Steve Felt at an early age that he had a gift for auctioneering. He attended Gregg's School of Auctioneering fallowing his freshmen year of high school, where he received the "Outstanding Auctioneer" Award among other attendees two to three times his age. Today, his voice can be heard at many of the leading cattle auctions across the United States.
Steve and his wife, Stacey, have two sons Logan and Baylor. Steve's foresight and his uncanny knack for making others want to be a part of what he is doing leave a lasting impression. He feels very blessed to be able to earn a living doing what he loves while helping others achieve their dreams and hopefully having a positive influence on young people involved in the livestock industry.
Wayne Colette
CO
Fall 2009
Wayne Colette is known and recognized by his voice. Many of you have listened to him while visiting the National Western Stock Show in, the Colorado State Fair, or the American Royal. He has announced many classes, witnessed numerous championships and has demonstrated his announcing ability since 1960. Over the years he has seen numerous kids, parents, and judges. In fact, he says there are very few judges he hasn't had the opportunity to work with over the years. According to Wayne, "Its has been a very enjoyable time." (Information as of 2009)
Phil Lautner
IA
Phil Lautner and his powerful Lautner Farms bulls continue to set the standard by which all other bulls in club calf circles are measured. For the past 31 years he has sold semen on the most popular bulls in the business, and each year continues to raise the bar with his new genetics. From his first bull (a Chi-cross named Jackpot) to bulls like Heat Wave, Who Made Who, Ali and many many more - Lautner bull are household names amongst all club calf enthusiasts. In recent years, Phil has greatly expanded the Lautner bull battery to focus on offering the total package for club calf breeder's looking to buy semen.
The thing that makes Phil the proudest is seeing his client's success by using his genetics. Wether it be the pride that a junior showman gets from winning with a calf sired by Phil's bull, or the extra money that his clients get from high sellers by Lautner bulls... this is what motivates Phil to keep offering the best bulls year after year and has set the foundation for what the club calf industry is today!