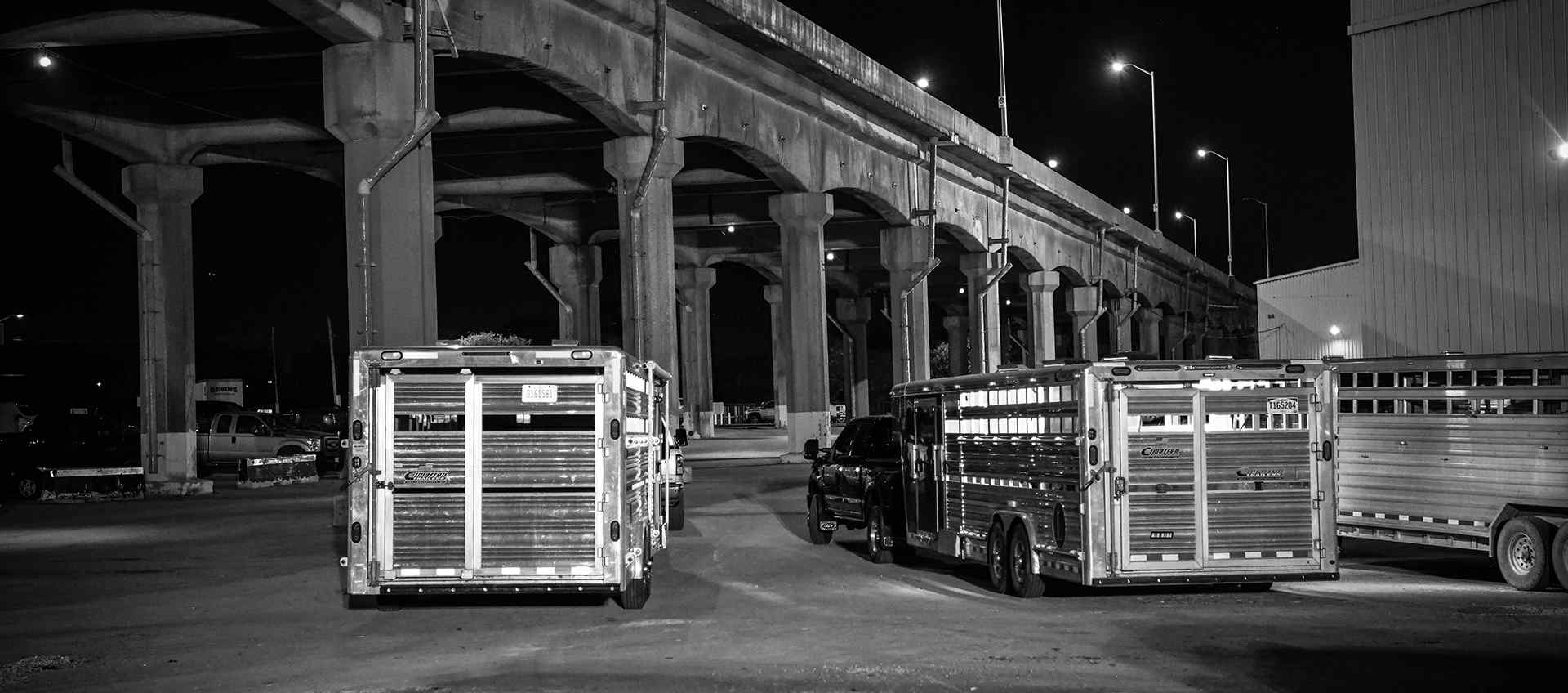 The Showtimes introduced our Hall of Fame in January 2009 and have included new inductees with each issue.
To be inducted, individuals must achieve something great in the livestock industry. They may be an exhibitor, judge, animal, show official or someone who makes a great impression.
Submit your Hall of Fame Nomination!
Past Inductees
Randy Daniel
GA
Randy Daniel Manages the family ranch, Partisover pronounced "Party's Over" Ranch in Colbert, Georgia. Randy, along with his wife Beth and father Dan, handle the day to day management. Randy & Beth have two children, Buck and Whitney.
Partisover is a registered Angus and SIm Angus seedstock operation that now includes a partnership in Oklahoma with Travis, Beth, and Brett Pembrook.
Randy's Judging experience includes 39 states, Brazil, Argentina and Uruguay. He has judged Junior Nationals for twelve breeds along with nearly every major show in the country. Steer Shows Randy has judged include: Houston, Ft. Worth, San Antonio, Dallas, Austin, Oklahoma City, Tulsa, Iowa, Indiana, Illinois, Ohio, Colorado, Kansas, New Mexico, and Arizona.
Randy enjoys open shows, but prefers junior shows because of the interaction with the junior exhibitors. He feels that a positive attitude, a pat on the back, or a "good Job" just might be what it takes to motivate a young person to strive for bigger and better things.
The following observations are through the eyes of a father, Dan Daniel.
His love of livestock was seen very early in life (4 years of age). The desire to "work" with livestock came later. When Randy was about 6 years old, his dad gave him a steer to take care of. At this age, he was very interested in roping – instead of haltering the steer. It was more fun to rope him; therefore; not much work got done. One day he went out to the lot and there was no steer. To his dismay, his dad had sent him to market because he was not getting enough attention. From that day forward the "real" Randy came though. "He was competitive and conservative." This conservation part cam tot life when his dad bought him a heifer in the production sale. When asked if he had enough money to pay for her the search was on. After checking under the mattress in the corners of all the drawers, and behind all the pictures, he came up with enough money!
Randy was competitive even when his sisters were involved. He went with the truck driver to his first state show a half day ahead of his sister. When asked, "How about washing and blowing out Dannette's steer when you get there?" The answer was, "I don't want to wash him!" This competitive nature bothered his mom some. She said, "Randy, it is also important to be a good loser." His remark was, "If you want to win bad enough there is no such thing as a good loser."
The Daniel Family has always lived in the county where the kids could do their own work. Randy placed 4th in his first "big time" competition at the 1st National Angus Jr. Showmanship contest.
Randy's dad was the head of the Extension Animal Science department and was very much involved in the performance testing which included weighing and grading many calves. Randy spent his summers and calving seasons with his dad grading calves and discussing every calf when he was "off" over 2 numbers within a grade.
While in college Randy coached the county 4-H livestock judging team and took them to the American Royal where they placed 2nd.
Randy placed from 1st-10th in every contest while on the Georgia livestock judging team. His dad never tampered with his college judging but gave him one bit of advice, "Place them on the big things." (Information as of 2010)
Kirk Stierwalt
OK
Just mention the name Stierwalt to anyone involved in the show cattle industry, and they would know who you were talking about. From show clinics, success, and his many endorsements with popular brands such as Purina Show Chow, eZall, Andis, and Weaver Leather Livestock, Kirk Stierwalt is very influential in taking the show industry to a whole new level. While many know Kirk for what he does now, very few know the man behind the clippers.
Kirk grew up in the town of Chariton, IA where his mom and dad, Mary and Burns Stierwalt owned and operated a shoe store that Mary sill runs today. Throughout high school, Kirk worked at the shoe store while also heling his grandpa, Homer Stout, out on the farm. His grandpa was instrumental in getting him started on the road to success within the show ring. He clipped his first calf when he was six years old, not realizing what the future had in store.
As a cattle fitter, educator, and judge, Kirk has many years of experience in the show cattle industry. He has won numerous awards at some of the most prestigious national and international shows. Kirk actively participates in 4-H and FFA programs and conducts clinics, seminars and demonstrations for young people and cattle families. Kirk and his wife, Juli, began doing clinics at their home in Leedey, OK in 1987.
The first major steer show Kirk clipped the grand champion steer for was the National Western Stock Show in Denver 1981. He rode the train out there to clip the steer. From that first champion, success has become a habit for Kirk and his family, including his two children Ky and Kyra. He has clipped and sold cattle that won major shows in the United States and Canada.
While his success and accomplishments are impressive, it is Kirk Stierwalt's character that has made him a clear choice for the Hall of Fame. He is always willing to help and give support, has a true love for the industry which is evident though his auctions, and never forgers a face or name.
Christy Collins
OK
Christy Collins is one of the leading cattlewomen in the club calf and composite business, she pioneered modern day livestock photography by being one of the first professional photographers to offer her signature style of photography in the club calf business in the early 1900s, which has since been imitated by many.
Currently, as the owner of Collins Cattle Services, she continues to serve the industry by being one of the leading sale management firms in the business, and the only one owned and operated solely by a female. Her first sale, the Exposure Sale, stated in 1997, is still regarded as the leading female sale of its kind.
Christy contributes all the success to the talented people and good cattle that she has had the chance to be apart of.
She also serves as a judge of several livestock shows each year and has officiated numerous livestock judging contest throughout the United States. (Information as of 2010)
Steve Bonham
OK
Winter 2010
"Nothing great was ever achieved without enthusiasm."
This quote from the the great Ralph Waldo Emerson applies to Hall of Fame member Steve Bonham. Steve is recognized as an industry leader when it comes to marketing livestock - whether in the pasture or on the auction block. His passion for the club calf industry, specifically, is infectious and has inspired thousands of young people across the ounty for over 25 years. If you buy show steers or heifers, chances are you have been to New Castle, OK where Steve has resided since 1986, having one of the quickest eyes for livestock of anyone you will meet, Steve has selected and marketed hundreds of show ring champions and sale ring elites. His customers have won steer shows in virtually all 48 contiguous states.
Steve Felt at an early age that he had a gift for auctioneering. He attended Gregg's School of Auctioneering fallowing his freshmen year of high school, where he received the "Outstanding Auctioneer" Award among other attendees two to three times his age. Today, his voice can be heard at many of the leading cattle auctions across the United States.
Steve and his wife, Stacey, have two sons Logan and Baylor. Steve's foresight and his uncanny knack for making others want to be a part of what he is doing leave a lasting impression. He feels very blessed to be able to earn a living doing what he loves while helping others achieve their dreams and hopefully having a positive influence on young people involved in the livestock industry.
Wayne Colette
CO
Fall 2009
Wayne Colette is known and recognized by his voice. Many of you have listened to him while visiting the National Western Stock Show in, the Colorado State Fair, or the American Royal. He has announced many classes, witnessed numerous championships and has demonstrated his announcing ability since 1960. Over the years he has seen numerous kids, parents, and judges. In fact, he says there are very few judges he hasn't had the opportunity to work with over the years. According to Wayne, "Its has been a very enjoyable time." (Information as of 2009)
Phil Lautner
IA
Phil Lautner and his powerful Lautner Farms bulls continue to set the standard by which all other bulls in club calf circles are measured. For the past 31 years he has sold semen on the most popular bulls in the business, and each year continues to raise the bar with his new genetics. From his first bull (a Chi-cross named Jackpot) to bulls like Heat Wave, Who Made Who, Ali and many many more - Lautner bull are household names amongst all club calf enthusiasts. In recent years, Phil has greatly expanded the Lautner bull battery to focus on offering the total package for club calf breeder's looking to buy semen.
The thing that makes Phil the proudest is seeing his client's success by using his genetics. Wether it be the pride that a junior showman gets from winning with a calf sired by Phil's bull, or the extra money that his clients get from high sellers by Lautner bulls... this is what motivates Phil to keep offering the best bulls year after year and has set the foundation for what the club calf industry is today!
Ky Stierwalt
OK
Spring 2009
Ky Stierwalt of Leedey, OK has been selected for achieving Grand Champion Market Steer at the 2006 American Royal, 2007 NAILE, and 2009 National Western Stock Show. The First Exhibitor to win all three Majors.
Kent Habeger
IA
Spring 2009
Kent Habeger is remembered as a judge, cattlemen and a friend to many. He is inducted for his numerous contributions to the cattle industry. Kent was fatally injured in a farm accident on December 8, 2008. He has been greatly missed.