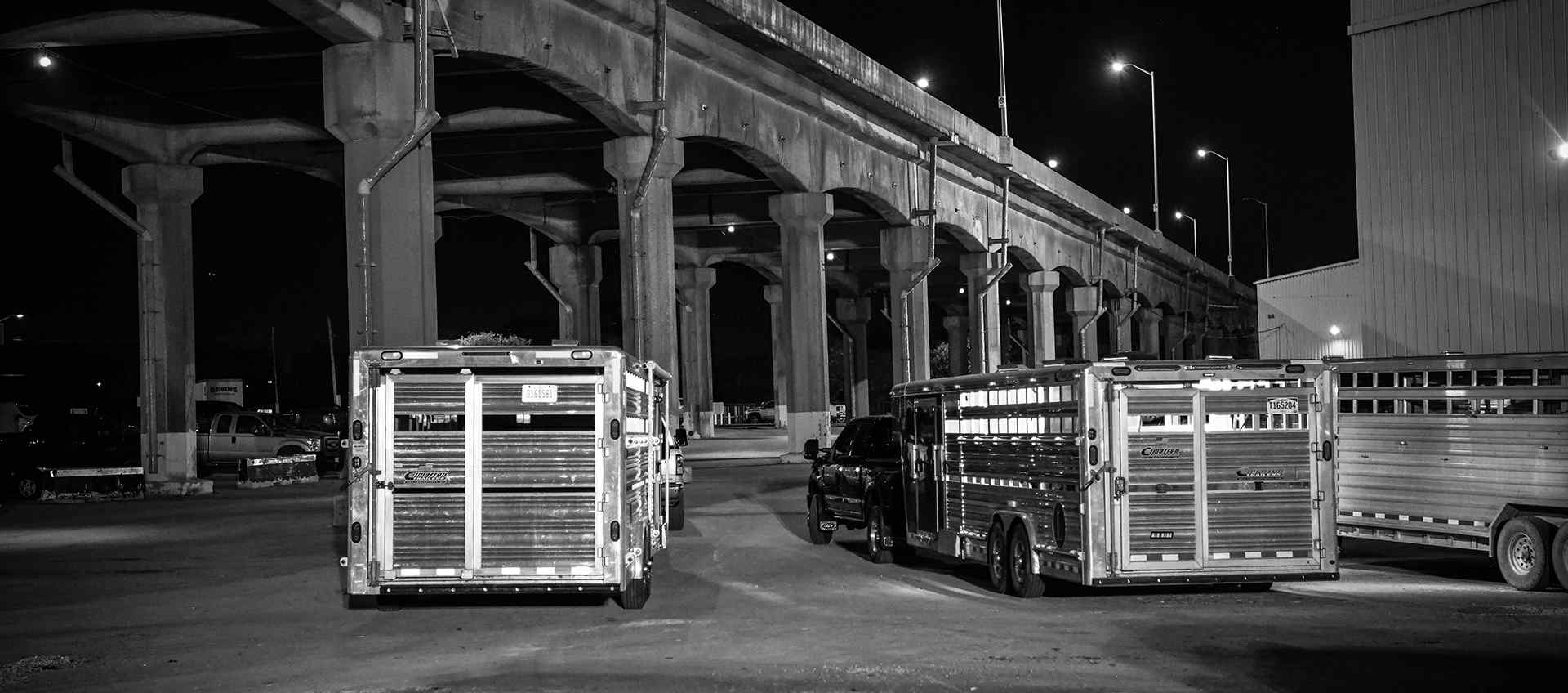 The Showtimes introduced our Hall of Fame in January 2009 and have included new inductees with each issue.
To be inducted, individuals must achieve something great in the livestock industry. They may be an exhibitor, judge, animal, show official or someone who makes a great impression.
Submit your Hall of Fame Nomination!
Inductees
Steve Gabel
CO
You can tell a lot about a person by what they have accomplished, how they are respected, and how they give back. Steve Gabel of Eaton, Colorado has dedicated his entire life to not only the livestock industry, but the people that make it up. From opening a well reputed feedyard and serving on multiple agriculture based boards and associations; to coaching a highly successful judging team and raising a family deeply rooted in agriculture, Steve is the epitome of a person who has jumped at the vast opportunities the livestock industry presents and making the most of them. Leading others to follow in his footsteps along the way.

Steve is a man of many talents. From the time he was young, he has always strived for excellence. A "perfectionist" some say. Whether it was being a jockey at the county fair horse races ("Busch Track") or playing football and wrestling in High School, he never settled for anything less than his best. In fact, after graduating High School, he was the youngest referee to ever ref the State Wrestling Tournament.


In 1994, Steve acquired Magnum Feedyard in Wiggins, Colorado. Over the past 23 years, the feedlot has grown from approximately 5,500 to 22,500 head of cattle. Steve has used the feedlot to provide others passionate about livestock with a platform of their own to start off on – hiring multiple interns over the years. Steve's positive impact on others reaches far past just Magnum.

For the past 19 years, Steve has coached the Weld County 4-H Livestock Judging team. Through his guidance and ability to help youth sharpen their livestock evaluating and reasoning skills, the team has been a dominating force – consistently landing at the top of the state's multiple judging contests. Members of Steve's teams have gone on to be successful at the collegiate level; having many named All American. Individuals that Steve trained have grown up to be collegiate coaches and leaders in numerous facets of the livestock industry.

It is no surprise that Steve and his wife, Audrey's, children, Christie and Case, have followed in his footsteps. Having found success through their 4-H years in both livestock judging and cattle showing (Case exhibited the Grand Champion Steer at the Colorado State Fair in 2001. Christie exhibited the Grand Champion Steer at the Colorado State Fair in 2003 and the Reserve Champion in 2004), both Gabel children have grown up to live active roles in agriculture.

When asked how he would describe Steve Gabel, his close friend Roger Tuell said, "Tell it like it is." Steve has built a reputation of being level headed and not wasting a lot of words. As a member of the Colorado Livestock Association, he would always be the liaison on controversial things as he had a way to sort things out.

Whether it was raising a family, running a successful business, or serving as a member, President or Chairmen of numerous boards and associations, Steve has accomplished plenty, is respected by many and given back much. His life has truly added a value to agriculture. •
Alan Miller
IL
Agriculture has always been a mainstay in Alan Miller's life. Starting with a base of Angus cattle his grandfather, Adam Schlipf, started in the 1940s (that his father revitalized after his family's focus geared more towards crops in the 1960s), Adam has dedicated his life to the Angus breed and livestock industry as a whole. His passion for Angus started as a junior exhibitor where he established a love for competition and the Junior programs. During his Junior show career, he served on the National Junior Angus Association board of directors.
Prairie View Farms was Alan's opportunity to drive on into the industry that he loved. After his last Junior shows in 1994, at the age of 21, Alan invested in Davis Proven Queen 3026 - the foundation donor for Prairie View Farms.
After graduating from the University of Illinois Urbana-Champaign (U of I), the sky was the limit for PVF. Throughout the years, Alan's operation has produced high quality Angus cattle that have found great success in the show ring.
Today, Alan along with his wife Theresa and children Amelia, Adam and Will continue on with the legacy that is Prairie View Farms.
Like many others in the industry, Alan has made an impact through the combination of hard work and ambition. According to Alan, "The neat thing about the cattle business in my experience is that it provides opportunities where the only limiting factor is yourself."
Alan has judged numerous state and national livestock shows, and has been active in the Illinois Angus Association as sale chairman. On a daily basis, he continues to give back to the industry that we all call home. •
Cindy Cagwin-Johnston
IL
…Passion with Purpose exemplified in life…
by: Larry Wilson
IF one has spent any time with Cindy Cagwin-Johnston, it becomes apparent that she focuses on her passion through the lens of a camera. If one has spent any time with Cindy Cagwin-Johnston you know her "YOUR front foot back…just a tic"; "circle"; May as well take another circle", and you also know her "Happy Dance" when she gets that perfect pose and is delighted with her quick review. Cindy works her cameras like she works her audience…with Passion and Purpose!
To many she is "the Picture Lady", to others she is Cindy; and to the Illinois State Fair, she is our "official" Junior Beef Show Photographer! Cindy is sought out by many to capture preview shows, Winter Expos; along with NAILE; the National Western! Junior Nationals; picture pens; Graduation; Prom; Senior photos; not to leave out the candid's that she catches with her eagle eye that cause some to laugh; some to cry; and even some to pledge "to get even". Ha.
Cindy's passion starts LONG before the show in making sure she has the RIGHT Backdrop that "Pops" in the photo without interfering with the subjects. The right backdrop that highlights the cattle and people in the photo. The right backdrop that is neither too big, too small, or too overpowering. Batteries are charged; photo storage is formatted and counted; Lens are cleaned and packed. In most cases Brook Cagwin is co-pilot and recorder; the "ear getter" is on board; her vehicle fueled.
It's not possible to estimate the number of miles Cindy puts on each year as she travels across the nation making memories for families and friends. Working calmly and diligently with the "first timers" at the backdrop; to directing those experienced showmen and women, Cindy knows intuitively what will make the best photo, capturing that moment in time and forever. WORD TO THE WISE… if Cindy ever invites you into a backdrop photo…there IS a reason….and you may as well jump in! You may never know the exact reason, however Cindy does!
Once the photos are captured, Cindy's work is just starting as she spends countless hours organizing, sending proofs and delivering the highest quality photos and memories to exhibitors and event sponsors along with posting to facebook for all to enjoy, tag and share…all with a smile on her face and a lump of joy in her throat as people "oh and awe" over the finished product!! Cindy pours her all not only into her photography, but also into her friendships that she has created over the years at the backdrop; around the ring; and across the nation. It is her passion for livestock and people that actually create the persona that we know as Cindy.
Don't think this is possible? Try showing up to an event that Cindy has shot in the past but for whatever reason could not make it That day…some people just flat refuse to go to the backdrop, "No, if Cindy is not here, we are not taking a picture." That plain. That Simple. It's just not official without "Cindy" on the photo!"
Jarrod Arthur
OK
Jerrod Artur is the owner of Lucky Strike Show Cattle in Stillwater, OK. In addition to selling high quality show cattle that have been successful across the country, he also gives back by hosting the Lucky Strike Cattle Camp!
Maddy Udell
IA
The Handshake is the moment we all live for. I think we can all agree that when that judge comes to shake your hand and tells you that you won the show it truly is one of the best feelings in the world. Well I certainly think so anyway, which is why showing cattle has become such an enormous pert of my life. From the first time I lead a feeder calf in the ring at the Plymouth County Fair when I was four years old, I was hooked. Ever since my life has truly revolved around it, from early mornings at the show to late nights in the barn if it involves show cattle, count me in. My hobbies outside of show cattle include photography, helping with our sale, and spending time with family and friends.
I fell in love with show cattle at an early age. I started showing feeder calves when I was about four years old and have since competed at local, state, and national levels. Even though I have had a lot of success in the show ring it will never compare to the friends and memories I have made in the livestock industry. The things I have learned from the livestock industry will definitely last a lifetime. When I started showing I would never have imagined I would accomplish some of the things I have.
Showing has also changed me as a person. When I first started showing I was a very shy little girl who wouldn't talk to most people. The livestock industry has taught me how to go up to almost anyone and have a conversation with them. The livestock industry has also taught me other things like hard work, dedication, and the pride in a job well done, because when that judge shakes your hand you know that it was all worth it and you can't wait to start over for the next show or the next year of shows.
Showing cattle is an enormous magnificent part of my life and it always will be. The friends I have made will last a lifetime and I don't know what I would do with out them. From being in the ring to standing on the sidelines taking pictures there truly is nothing better than life at a stock show. •
Kendall Bremer
IA
Bremer Show Cattle got its official start in 2003, after Kendall Graduated from Iowa State University with a Bachelor's Degree in Agricultural Business. Even though Bremer Show Cattle took off in 2003, Kendall's start in the show cattle world began at birth. His family has been raising elite Maine-Anjou seed-stock since the 70's. He got his first taste of "Major" success in 1992, showing K & A Chelsea, a black Maine-Anjou female with white legs, to the Grand Champion spot at the North American. Ever since his first big taste of success, he has been hooked on Freedom Hall and the feeling of Victory when showing cattle at the most elite and competitive show in the Country. Since that start, Bremer Show Cattle has had a hand in over 100 Grand or Reserve Grands at the 3 Major Shows: i.e.. the American Royal in Kansas City, the NAILE in Louisville, and the National Western in Denver.
Right out of college, he started working for K and A, in addition to buying and reselling a few other females. This was to make a little extra money and the business took off from there. At that time, they were selling around 30 females a year with the majority being Maine-Anjou and Maintainer cattle. Several years ago Kendall realized that if they were going to stay successful, two major things were going to need to happen : 1) They would scour the country side for elite females that could be brought home to satisfy the clienteles' demand for success and 2) diversification would be key to growing the program. Everybody likes to win, but not everybody can. This is true especially if all the cattle sold are showing in the same division. The Bremer program has now been selling over 100 head a year with over 10 breeds being represented.
The cow herd has become diversified as well. They run 120 cows, with more than half being recipient cows that are utilized in an extensive embryo program. He believes that sexed and sexing of semen is the future of raising elite show cattle. Currently about half of the matings are for show steers and the other half are for seed stock. The impact from the majority of cattle being produced for a the targeted sex will have a huge economic impact on the whole industry.
"My favorite part about this whole business is watching the youth of the country grow up and get ready for the real world showing cattle" Kendall says, "No other activity will teach a youngster life lessons like showing a calf. " Selling 100 head of show heifers a year is going to slow down in the future as Kendall transitions into the family life. By the time this article is printed, a wedding will have taken place, and Kendall will have married Jessica Street. Bremer Show Cattle will gain some long term members, and Kendall can't wait to watch the children grow up showing livestock.
Kendall would like to add another 80 cows to the program in the future and looks to start a bred heifer sale with RJ Cattle Company from South Dakota. Look for the sale to be in Dunlap, Iowa around the first of December. He will have at least 2 online sales this fall and one next spring with a few of the show heifers being offered on afirst come basis.
eWhen asked what his favorite win is he couldn't come up with one. "There are several big wins and they all hold a special place in my heart. The biggest win is no question Supreme Female in the Junior Show at the North American last fall. Now we just need to do it with one we raise."
Kendall attributes his success to the guidance and work ethic of his father. "Dad is a major part of this and he makes everything go. It doesn't matter if we are talking about breeding decisions or jumping in the pickup to go look at one that's going to cost too much, we do it all together. The business I grew up in was a family business and this will continue be just that."
He would like to thank all of his many customers that put their faith in him for calf selection and guidance over the years. "I'm pretty lucky to have had the customer base we do. No question, I get to work with the best kids and families in the business. Thanks will never be enough for all they do for me. When you sign up at Bremer Show Cattle you buy more than a calf, you join a family!"
Stewart Family
KS
In today's society, many people downplay the notion of working with their family. Contrary to the belief that it is better to cut family ties in business, the agriculture industry has insight to the fact that the harmony of a family working together can produce a successful and strong business unmatched by anything else. Mid Continent Farms is a fifth generation farm family located in Washington, Kansas. The MCF partnership raises and sells show steers and breeding stock across the United States. The entire operation is a family effort composed of Gregg and Debbie Stewart along with their three boys, Garrett, Brigham, and Tucker; Conrad and Deanna Stewart; and brother, Kent Stewart, with his children Derek and Devon. Each member contributes in their own way to help make MCF the operation it is today.
Mid Continent Farms is more than a cattle ranch. With roots dating back to the 1950's when Gregg and Kent were traveling as members of the Colby Community College and Kansas State University livestock judging teams, they networked with cattle producers across the country during judging practice to get their cattle business started. From A.I. work to purchasing cattle, the Stewarts operation was well under way when Gregg and Kent were only seventeen and nineteen years old. Being centrally located, the name "Mid Continent Chianina" was coined by their Colby Community College teammate Dennis Aherin, but was later changed to Mid Continent Farms as the Stewarts expanded their business to include multiple breeds. MCF received business from coast to coast and from Canada to Central America. Now, over half a century later, Mid Continent Farms still offers the quality and service that it was first founded on. For the Stewart family, it is more than just selling cattle; it is supporting their show families with everything from show day preparation to feed management. It is working together as a team to be the best possible.
If you are ever in Eastern Kansas or run into one of the Stewarts at a livestock event, it is obvious that there is a passion and dedication to what they do - whether it is in the show ring, promoting a bull in the yards at Denver, working at the ranch, or supporting a customer. Michael J. Fox once said, "Family is not an important thing. It's everything." Mid Continent Farms and the Stewart Family have based their lives on this statement, combined it with the breeding and promotion of cattle, and, as a result, impacted the livestock industry as a whole with their genetics and expertise.
"We register Maine-Anjou, Shorthorn, Charolais, Simmental, Angus, and Chianina, plus a handful of Herefords. MCF owns 1,500 head of cattle representing various composites of the breeds and farms 1,500 acres of tillable ground. Our focus is on cattle but farming is in our blood.
We have always taken a practical approach to raising show steers We are a little more mainstream than the show industry! We utilize Embryo Transfer to raise most of our show steers but with the flip of a switch and use of a different sire those same donors will produce our outstanding females and show heifers. we focus on the main cow herd to continue bettering our genetic base and producing good cattle and have always been a go to place to find the kind of females that are easily mated to the bulls of today. If you come to our sale there may be a few sires that you haven't heard of but within a couple years those are the females that raise our cattle.
We have recently moved our entire Angus herd (250 + cows) from Western Nebraska to Washington; and that was quite an undertaking. This move will allow us to focus a little more on that side of our business and be able to make better breeding decisions because we are more involved with them. They are still owned with Ron Jones of Benkelman, Nebraska and we will continue to have our bull sale there. He will grow the cattle and get the heifers up to breeding age from this time on and we will calve and handle the breeding and marketing. We have a lineup of bulls from the past and now that make our Angus herd cutting edge and a perfect outcross to most of the Angus cattle out there including: OCC Doctor, Hot Rod, JSAR Rodman, Journey, JSAR Titan, and Opportunity. You will no doubt see more from these great sires in the future of our operation.
We have been in the hunt or won nearly every major show in America in the last 20 odd years and have a lineup of cattle that will be for sale this fall that proves we are still in the game and strive to produce high quality cattle. We can't wait to preview them to you this fall."
Debbie Stewart is the grease that keeps MCF running. She handles all of the bookwork and toughest jobs including registrations, accounting, paperwork and keeping the boys in line. People that know her will confirm that the ranch would not be here today without her. When she is not working, she loves watch the Voice, hanging out with her family, and is an excellent cook.
Gregg Stewart is the backbone of the operation. He is the major decision maker, handles all the business transactions, and is an integral part of getting stuff done and making the business grow and continue to get better.
Horn Family
TX
The Brandon Horn family has a long connection with raising cattle and showing livestock. Even though Jagger Horn began showing steers in 2010, the tradition goes much farther back than that. Two of Jagger's great-grandfathers and both of Jagger's grandfathers were heavily involved in the raising of cattle and livestock showing. Now, Jagger, his father and the rest of the family are carrying on the family tradition.
In February of 2015, Jagger and "The General" received the Grand Champion award at San Angelo Livestock Show and Rodeo. Then, within the next week, Jagger and "White Hammer" won San Antonio Livestock Show. The excitement continued in January of 2016 when Jagger and his calf "Moses" were selected as the Reserve Grand Champion at the National Western in Denver, Colorado. Most recently, Jagger and "Big Boy" won the Grand Champion honors at the Fort Worth Stock Show.
Winning is always exciting, but some wins hold a special meaning. This was the case at the National Western in January. It had been exactly 30 years since Brandon Horn and his calf "Spot" had won Grand Champion at the National Western. This year's win for Jagger brought back some precious and painful memories for the Horn family. The Denver show win in 1986 for Brandon came less than a year after his father and mentor, Larry, unexpectedly passed away at the Oklahoma Youth Expo. So the National Western has always had a special place in the Horn family history. Jagger getting to follow in his father's footsteps was very special for both he and his father.
Brandon, Brek, Jagger (14) and Aven (10) continue the family tradition by owning and operating Horn Livestock. Both Brandon's, father, Larry Horn and Brek's father, Bill Binder were agriculture science teachers. Brek and Brandon raised and showed cattle while growing up. They even competed against each other before they knew each other. After they were grown, they met each other at a stock show. Jagger has a banner in his room that he inherited from his great- grandfather, Lawrence Binder, from the 1940 Fort Worth Fat Stock Show. Times may have changed but the family has not. They are still very heavily rooted in agriculture.
Horn Livestock, just south of Anson, Texas is truly a family business. Brandon keeps busy with around 250 cows. Brek does the bookkeeping and financial end of the business when not working at the barn. The kids work with their cattle daily and are involved in sports and church activities.
Both children have college in their future. Jagger already owns some cows and wants to continue the family business. Aven is not as sure with her goals for the future yet. However, both college degrees will more than likely be agriculture related.
Even though the work is long and hard, Jagger and Aven both enjoy showing cattle and are looking forward to continuing the family tradition.
PHOTO CAPTIONS
Here are a few pictures that I have from Brandon's win in Denver 1986. In the last attachment, the guys are Bob May, the late, great Wes Stover (Brandon's ag teacher), Mark Copus, and Colby Horn.
I thought the second picture, the one where he is walking his steer, might look cool beside the one yall have of Jagger walking his steer.
Also - Heidi Anderson took a ton of pictures of us this year at Denver. I tried to find them online to purchase and wasn't able to...maybe you can help me on where to go to purchase those.
I'm still working on the article...it's not very long, but I figure that is better...I included the Ft. Worth win for us...hope that is ok!
Jansen Family
KS
Amy Cowan -
I have so enjoyed working with the Jensen family and watching Brady, Brooke and Ben grow up through the National Junior Hereford Association (NJHA). I remember when each of them entered the show ring for the first time at the Junior National Hereford Expo and now I have had the opportunity to work with them on the leadership level. As well with Brady leading the NJHA as chairman in 2014, Brooke being elected to the NJHA board last summer and with Ben attending his first Faces of Leadership Conference in Colorado last summer. It is really neat to see the junior members and board members you work so closely with grow into leaders and continue to be leaders after their year's of service to the NJHA are over. Brady Jensen has done just that as he retired from the board in July and already had his leadership role at K-State in place as he helped coach the successful livestock judging team this fall. I have no doubt this will not be the last leadership success story we will hear from the Brady as he works to complete his master's degree in genetics.
One thing that sticks out in my mind when talking about the Jensen family is just that, they are a close knit family. Their family has accomplished so much by working together as team. The Jensen family takes a great deal of PRIDE in everything they do. It was so neat last summer to watch Brady step down from the podium after his retiring remarks on the NJHA board and walk out into the audience to hand off his maroon jacket to his little sister and congratulate her on being elected to the board. Already, in Brooke's short tenure on the NJHA board the Pride she has in the Hereford breed and our junior program is very evident and she takes her job as an NJHA Board member very seriously. Although Brady's group left big shoes to fill, I am confident Brooke and the newly elected group will do great things throughout their 3-year term.
Each year, the Hereford Youth Foundation of America (HYFA) highlights the Denver sale with the Lot 1 female and the proceeds from this sale support the future of the Hereford breed and our young leaders. I can't think of a more fitting scenario than to sell a female from the heart of the Jensen family program. From a family that has given so much to the NJHA and the American Hereford Association over the years, it makes this year's lot extra special and is such a great example of what the foundation stands for. Building leaders is what the NJHA and foundation is all about and Brady, Brooke and Ben Jensen are taking a lifetime involvement in the NJHA and the Hereford breed to define leadership become the best young leaders they can be.
Jack Ward -
Loyal, enthusiastic, dedicated, competitive, hard working and deep rooted in the livestock industry are all words that describe the Jensen family. Kevin, Sheila, Brady, Brooke and Ben have a family pedigree that is built by generations of great minds and visionaries for the beef cattle industry, and Kevin and Sheila have been able to keep their family active in all parts of the industry. It starts at the ranch where this family's operation is home to one of the strongest set of Hereford cows that are capable of producing a national champion, but more importantly, are focused on economically relevant traits that will make their commercial customers profitable.
From a genetics standpoint, the Jensen family keeps an eye on details and uses all tools available to make breeding decisions including EPD, genomics and type to produce cattle that work for their customers. They are clear thinkers and keep a balanced approach to their selections.
Kevin and Sheila have both served as judges across the US and internationally and it is exciting to see Brady following in the footsteps as one of the exciting young judges. This family is dedicated to junior programs and they have certainly been loyal to the Hereford breed. Brady has served as a past chairman of the National Junior Hereford board of directors and Brooke is currently serving as on the board. Kevin and Sheila have been huge supporters of the program as they have seen the benefits it has given their children and this year, they along with Dylan and Chelsea Evans will donate the Hereford Youth of America Foundation heifer that will be sold in the Mile High Sale, Denver, to help support Hereford youth and events for years to come.
Kevin and his family are friends and I consider them great assets to the industry. They collectively have been great spokesmen, mentors and leaders to all parts of agriculture and youth programs.
John & Jeannie Griswold
OK
The first time I "really" met John Griswold is one I will never forget. He pulled up to REI (Reproductive Enterprise Incorporated) in Stillwater, Oklahoma in a beat up old tan Buick. He had on a Hawaiian shirt, an old baseball cap and a few days stubble on his face. John had just driven all night from South Dakota and hadn't been home to shower or sleep. After we looked through the bulls at REI John took us to his car to go look at cattle. John had to bang hard on the passenger door to get it to open and let my dad in and then get inside and reach over across the back seat to open the back door from the inside for me. He spent all day showing us cattle. One thing that hit me is how John wasn't in to keeping up appearances (He still drives that car). Dad and I were headed to Kirk Duff's and John asked me to text him if I saw anything that I thought he needed to own. That was John's way of getting my phone number. From there it started a friendship that turned into more.
In November, John laid over in Utah after a trip to Montana to look at Dad's sale cattle. John called me from the airport to see if someone could please come and get him, because his drivers license was expired and that he couldn't rent a car. Beaver and Salt Lake are 250 miles apart. I showed up to pick him up with my boyfriend. John has said that whatever chance he thought he had, at that point certainly was gone. I had no intentions of romance with John Griswold but God saw it differently. Before John left he asked if he could buy me a steak in Denver in 5 weeks at the Denver Stock Show. There was still no intentions of romance, I just really enjoyed talking to him. John flew home before our sale but called after to see how it had gone.
I grew up hearing the name John Griswold. My dad thought the world of him. John had gone to Denver with Cal Herring to help him with his feeder steers and Dad (Gib Yardley) and Cal had pens next to one another. That was before dad was married and I was yet to be a twinkle in his eye. Dad and John stayed good friends through the years and Denver was always a place to rekindle old friendships. Dad got married when he was 47 and started having a family. He once told John the best thing he had done was having kids and that he needed to settle down and find a wife. Little did Dad know what would transpire from those seeds he planted. John has told me several times that Denver was when he would sit down and reflect on his life. Each year he came to the conclusion, "I'm still doing okay, I'm not as old as Gib was when he got married." John ended up taking me for a for a steak dinner in Denver, I felt like I had known him my whole life. It was in Denver that Dad's words came full circle. A year later John and I took our honeymoon to Denver.
John grew up in Livingston, Wisconsin. He was the oldest of six. His dad, Joe Griswold, set the example and standard for John that would take him through his life. From the time they were young, he and his brother Greg had to do chores every morning before school. He tells our kids the story often of going out and having the tractor tires being frozen. About the thud they made going around, the sound of the snow crunching as he walked out, the burn in his lungs because of the cold. His dad never referred to them as boys, but rather he called them "men." John is still an early riser and he loves to work.
John wrote in our sale letter the following, "Our parents, Joe and Elaine, brought our family to Oklahoma in the early eighties. At first they questioned if they had made the right choice. I could kiss them everyday for that decision. It was a move that forever shaped our lives and our story." Those next few years brought a lot of change for the Griswold family. They dropped John off at college the same time as the move from Wisconsin to Oklahoma. John attended Joe's Alma Mater, Oklahoma State University in Stillwater, Oklahoma. John said, ""Dad always told us, 'When you go to college, it's who you meet that's important.' And that has played out in our lives and operation just like he said it would." The people he met while in college are still some of his closest friends and business associates.
When his dad dropped him off at school he gave him $300. He said it was more money than he had ever dreamed of. He kept it in his glove compartment and it lasted him all semester. He would load his clothes in a suitcase and take them down to the laundry mat. He will be the first to tell you he was green. It was while in college that he started to trade on steers and where he found his start in the industry.
Surround yourself with the dreamers and the doers, the believers and thinkers. This is a philosophy that has carried John throughout his life; he surrounds himself with good people. Mike Willham was supposed to clip Denver feeder steers for Cal Herring. Mike had taken a full time job and couldn't do it. He called Cal and suggested John. Cal said, "I don't know." Cal wondered if he would be good enough and almost hired Bobby Smith. When Bobby couldn't go out, Cal got John. With that, a 20-year-old boy from Wisconsin headed to Wyoming and became lifelong friends with Cal Herring. John remembered Cal heading to town every afternoon with two head and washing those because there was no heat out at the ranch. The next day, John would clip the two that had been washed the day before outside. This was in Encampment, Wyoming in January. "I helped the Loomis family with their steer selection and clipping and they had a real successful run. Then I worked for Cal Herring in Denver, the year they had the champion and reserve champion pen of feeder steers. Those two associations really stand out to me, as I look back on how things evolved," recalls John. John would go on to buy steers from Cal and trade on them back in Stillwater. One year Joe rode out to pick up a goose neck load of steers and John told his dad, "If I can make $5,000 I would be tickled pink." He made it. To this day John will attribute his start to Cal Herring. From Cal's he went on to clip for Hilbert's. John says that if you clipped for Hilbert's, you could clip. "Stierwalt, Bobby May, everybody that ever clipped back in the day clipped for Hilbert," he says. John will be the first to tell you he was scared to death to take on that job.
Time marched on and the hard work and cow savvy of Joe Griswold started to pay off in John's life. "Dad had a dispersal sale in the early eighties and Todd Thrasher went and bought the 25 best cows that Dad had in the sale. We sat next to him and told him which cows were the producers and which cows to buy," John said. Another deal came up for Thrasher that allowed John to buy back 17 head. Those females would stand as a foundation for our Griswold cow base. 066 was one of those cows. She proved invaluable to putting the new generation of Griswold Brothers on the map. She is the granddam of Chill Factor and there are over 50 direct granddaughters of this history making matriarch. Her influence is still heavily seen in many top sellers at Griswold Cattle. "If they have 066 in the pedigree, they're good," says Greg Griswold. Over a span of 17 years, Chill Factor is still a go-to maternal sire.
Through the 90's, John and his brothers scoured the Nation and Canada for good cattle. One of John's best friends is Merle Morris from Montana. He recalls buying 10 head of heifers for $475 a heifer from him; that will tell you how much times have changed. About that time, John traded on a lot of cows and steers, covered a lot of country and made a lot of lifelong friends. One year he brought seven loads out of Canada. Some of those cows went to Fred DeRouchy. They had the Tykia prefix we all became so familiar with. He also spent a lot of time clipping for Stray Creek Brangus with Jeff Boddiker, Mike Dethridge, and Danny May. Some of John's favorite people and favorite stories come from those days.
In 2001, John and his brothers began marketing cattle through Christy Collins Exposure Sale. A move that really elevated their program.
2001 was also the year that Griswold Brothers acquired the Birkeland cowherd. When we had our dispersal sale, John wrote the following in his letter to our customers. "I want to start this letter by thanking Ken Birkeland. Ken has been in charge of this herd of cows since we bought them in 2001. This cow base has been intact since Ken's father Cliff traded some Hereford's for a set of Angus cows from Clayton Jennings, of Highmore, SD back in the 50's. They started AI'ing in the early 70's and held several bull sales. I went there for a lot of years, and of all the places I went, I thought the Birkland herd was the best herd of cows I knew about. In the spring of '01 I called Gary and asked him how cheap those cows were in Faith (South Dakota), because we were buying and trading on cows. About three or four weeks later, Gary called and said 'I might sell our cow herd.' I told my dad and he said you better leave right now. I hurried and took a shower, grabbed a change of clothes, and left for South Dakota. I called Ed Burke and told him about the deal and Ed stayed there for four days with me. He stayed there and helped get them bought. Ed told me there are two are three deals that come along in a person's lifetime that defines your life; and we both knew that this one was mine. In 2001, we bought 1309 pairs and 365 yearling heifers. All of those cattle originated from those original 70 head - they had never bought a heifer calf.
It was unbearable dry the first year and we sold off and culled a lot of those. When we branded there was 4 to 5 inches of dust in the pens. We farmer flopped all of those calves, my brother David and Tyson Vantrese were there and threw most of those calves. The only thing that was white on them was their eyes and their teeth, everything else was completely black."
It was right around this same time in 2002 that a major game changer came into play. The Exposure sale would market one of the most influential bulls to ever hit the industry. They sold half-interest in a three-quarter Maine bull that Todd Thrasher and Dale Newman raised named Irish Whiskey.
"Irish Whiskey gave a new look to Maine cattle. He didn't just make them good, he made them great. The first year we bred Whiskey to the Birkeland cows we used him on the 'absolute shit' and the following fall all the best calves were Whiskey's. His first calf crop started the Whiskey craze nationwide. The next year we bred everything to him," said John.
(I would add a picture of Irish Whiskey here)
One of my favorite stories John tells took place around 2002. It characterizes John's personality of seeing talent greater than his own. John and Greg had bred a couple cows to Double Vision and Greg got one of his college buddies Bruce West to come down and clip those heifers. John said, "I walked into that clipping room after he'd been clipping and couldn't believe anyone could clip liked that. She looked unbelievable. He just knew what he was doing. From that day forward Bruce was the main clipper. I knew I didn't know near as much about clipping as he did. I'd always been in there clipping but after I saw him I knew I couldn't clip like that." It was while Bruce was clipping at the barn that a young talent named Nick Riemann came to OSU for college and worked out at the barn. They all created friendships that will last the test of time. John was like a proud parent over the success that Nick found after college. Losing Nick was and is one of the hardest things I have ever seen John deal with. Nick was a dreamer, a doer, a believer.
In 2005, Griswold Cattle reached another milestone when they purchased 500 cows from Tim Ohlde. John recalls, "I stopped to buy semen from Tim on my way to Dupree. I ended up spending the whole day helping him haul pairs and looking at some great Angus cattle. During the day, he told me the cows were for sale. My brothers and I saw this as a real opportunity. It didn't take long for us to arrange to buy the OCC females." John's brother Greg's true love is good Angus cattle. He knows them like the back of his hand, and can tell you how a cow is bred generations back without ever seeing an ear tag or a freeze brand. From that day on, Greg handled all the registered Angus cattle and a pretty intensive ET program. Those females would prove pivotal to the success of making percentage cattle with a good solid Angus base.
One thing always leads to another and the acquisition of the OCC cow base led to the Grass to Grid bull sale held with Jeff Bourquin in Follett, Texas. When John's phone rings and he says "Hello Jeffery" and you hear Jeff's deep belly laugh you can't help but smile. If you know Jeff, you know what I mean. John and him talk often about everything from the market to the happenings of the cow world. Jeff buys thousands of feeder cattle and calves every year. When a sale first got talked about he needed quality bulls for his customers and he liked the type of cattle that we were raising. After a lot of talking, John and him struck a deal to hold the sale in Follett. We will market 200 head of bulls this spring.
In 2008 John went with Greg Burden to go see a Simmental bull, SVF Steel Force. They bought that bull with Ratcliff Farms of Vinita, Oklahoma. This would be the beginning of one of the most dominant sires the Simmental breed had seen. Steel Force progeny have won every major show across the nation and demanded top dollar in both progeny and semen sales. He is still a major force to be reckoned with and a major part of the Griswold story. He's buried up under a tree at the show barn. He deserved to stay at the place, he more than earned it.
Another opportunity arose in 2010 when Griswold Cattle had the chance to form a partnership with Kim Klotz of Seward, Nebraska. Klotz has tremendous knowledge of pricing, hedging and corn prices as well as oversees the financial end of the company. More than that, he's a good friend and huge support to our program. John rolls most of his business decisions through two people, his dad and Kim Klotz.
In 2013, we made the decision to sell the South Dakota cows. I still to this day don't know if I have ever seen a prettier set of cows. John took a lot of pride in them; he and his brothers along with Ken Birkeland and a great crew had spent years developing them. South Dakota and Ken held more memories and heart strings for John than any one place or person. He sent me a text once that read, "I was born Wisconsin, we live in Oklahoma, you'll bury me in Utah, but my heart will always be in South Dakota." He wrote in our sale catalog that year, "Ken has been the best friend and is almost a idol to me and most of the people that have gone to South Dakota to help. He knows more about cattle than any man I have ever known. Ken, I want you to know that leaving you in South Dakota this fall was one of the hardest things I've ever done."
John loves cows, more than any person I have ever known. He has irons in more fires than most people ever dream of. His mind works a million miles an hour, twenty-four hours a day and he's always looking for the "next great one" in both cattle and opportunity. We ranch in Stillwater and this past year had a great opportunity to lease a ranch in Poteau, Oklahoma from our partner Kim Klotz. I drug my feet pretty hard on the Poteau deal. We had just sold all the South Dakota cows to tone down our program; the last thing I wanted was more cows. John has vision and I trust him, so we took the lunge. We love Poteau. We spend a lot of time on the road back and forth. It's just a lot shorter drive for us to make from Stillwater, Oklahoma to Poteau than it is to Dupree, South Dakota. It's a new challenge, and John loves that part of it.
John doesn't know I wrote this. I'm sure I've left out plenty of people that have shaped and influenced him. John believes in people. He believes in their ability to achieve and make decisions and he puts a lot of faith in them. Our crew we have now is second to none. They do a great job. We were in the hospital in Boston with our little boy for about two months this summer. John never left his side except to sleep at night. His ability to do that is because of the people we have in place at home and with the cattle. He told me he never had to worry that things weren't being taken care of. We run a decent sized outfit, so that is a huge statement. When we finally got to come home he went and scoped things out. That night he told me, "You ought to see it. Everything is just like it should be." Fence had been built, the cattle had been worked, and the hay had been taken care of. They are our employees, but more than that they are part of our success, they are our friends, our family.
More than anything that John has accomplished, he's most proud of his Maggie and Garrett. He takes them everywhere. Garrett wakes up in the morning and the first thing he says is "Dadda" and "moo." John takes being a dad as his most important job; he's dang good at it. We've seen a lot of miles together and even more cattle. He's packed our kids to producer meetings, stock shows, and cattle sales across the Nation. He waited a long time to start a family and he truly values them.
John has said, "There are several things that I can attribute to our success. I would say the number one thing is persistence and hard work. I've seen a lot of people with way more talent than I have that went by the wayside, because they didn't have the persistence to see their vision through. My favorite saying is, 'It's not what happens to you in life, It's what you do with it when it does.' This means that no matter if it's good or bad, keep your feet on the ground and keep going. A certain amount of luck was involved as we were in the right place at the right time to find great cattle. Ed Burke told me, 'There will be two or three big deals in your life that will determine where your life ends up. Whether you do them or you don't.' Those few events have been pivotal to our success. Our parents instilled in us responsibility and work ethic. People are the key to success—just like dad told us. The folks we have met, who we have done business with and the many, many friends and customers we have are responsible for our achievements. Our employees and those that are associated with our program have been and will continue to be vital to our accomplishments."
I love you Johnny. I hope this reads all right for you. There are two men I think hung the moon: one is my dad and the other is you. I couldn't think of anyone I would rather go through this crazy adventure with. Thanks for finding me love; it's been a heck of ride!
JEANNIE'S PART
Jeannie does all the advertising for Yardley Cattle and Griswold Cattle. She does a lot on the catalogs for both outfits also, which is a huge job. Her knowledge of cattle is amazing. She knows about pulling calves, breeding cows, etc. But her opinion on the type of cattle she likes is what I really love about her. She knows what she likes and she won't waver as fads and different EPDs and numbers come and go. She wants good looking, easy doing cattle that will grow. She thinks you can tell way more about cattle by just looking and studying them instead of making all your selection on numbers.
I'm not sure how she does the balancing act of mom, wife and cattle, but I can tell you she's awesome at all of it. Our kids love her so much it's amazing. Garrett was really sick this summer and they way he looked at Jeannie when they layed in that hospital bed and said "maama" was endearing. Maggie won't let her out of her sight and mom is the light of her life. I can tell you she's an amazing wife! She puts her family before herself and she wants her family to be happy and healthy.
Jeannie is a very strong person of faith and she keeps me and the kids on the straight and narrow! I love her more than I could ever say in words. She changed my life and I'm very proud to call her my wife! Jeannie and the kids go with me all the time and I'm pretty sure our kids won't know about anything other than cattle, because in this house we live and breath cattle.
Don Greiman
IA
As exhibitors fit their calves in preparation for the much anticipated 2015 Iowa State Fair Market Steer Show, The Showtimes sat down with State Fair Ambassador Don Greiman in the cozy beef superintendent's office located on the northeast side of the Cattle Barn. Nearing 89-years-old, Greiman has led a life actively tied to the cattle industry. From serving on the Iowa State Fair Board for 44 years to being highly involved with the Angus Breed as both a producer and as a voting delegate (where he hasn't missed a meeting in 59 years), it appears that everything he is associated with encompasses cattle and has the reputation for excellence. Greiman's rich history in the cattle arena dates back a few generations to when his grandfather laid the foundation to where the Greiman family is today. As Don began to tell us his story on that uncharacteristically chilly Iowa Summer day, we were all hanging on to his every word in interest, captivation, and ultimately respect.
Wanting to escape the religious persecution in Germany, the Greiman family made their way to the United States when Don's grandfather was 9-months-old. Having to cross the Atlantic Ocean on a three-and-a-half to four-month journey by sail boat, Don's grandfather was the only child under two-years-old to survive the trip. Landing in New Orleans, the family sailed up the Mississippi River to East Central Iowa where his grandfather and four brothers decided to settle. After making root in Garner, Iowa, Don's grandfather grew up to marry another German immigrant and raise a farm family consisting of 14 children – 10 boys and 4 girls (Addis, Don's father was the 13th born). All of which grew up to maturity.
The Greiman name has always been tied to agriculture. While Don's grandfather's farm was comprised of predominately high quality Percheron horses and Shorthorn cattle. At the time, the Shorthorns were a big, rough looking breed that are not what we are used to seeing today. When it came time to sell the cattle, his grandfather would ship the calves by train to the huge Union Stockyards in Chicago. On a particular shipment of carload of his Shorthorn fat cattle to the Chicago market in 1893, his grandfather saw a poster advertising the sale of purebred yearling Angus bull calves was being held on the shores of Lake Michigan. His grandfather was excited to have his first opportunity to see this new breed of cattle, and took a trolley across town from the Union Stockyards to the Columbian Exposition grounds. He fell in love with the first sight!
Don's grandfather immediately observed that these Angus appeared earlier maturing and smoother finishing, which would mean less time on feed and a more desirable carcass. He quickly decided that he could take the money from the sale of his fat cattle and purchase on of these Angus bull calves. He selected what he thought were three best bull calves to be sold, but when the bidding began, the opening bids were more than he received for all his carload of cattle on the fat market. He returned home quire dejected, but he never gave up.
Don's eyes sparkled as he led into the introduction of Angus cattle into their family's operation. A while after the sale in Chicago, his grandfather saw a note at the local elevator advertising a man wanting to trade an Angus bull in return for a Percheron stallion. Having quality Percheron horses of their own, Don's grandfather lined up to make the trade of one of his top Percheron stallions in return for the bull. It was his opportunity to get his feet wet in the breed that he so desperately wanted. At that time, letters where the main source for communication rather than telephones. After some correspondence, they had agreed to ship each other their respected animal via train – sight unseen. When the day came to pick up the bull, Don's grandfather and six of his sons went to the train station. When the door opened, you can image the shock on their faces when a four-month-old hairy Angus bull calf was there to greet them. Many friends and people that knew them joked about how the Greiman's got "snookered" having sent a top end Percheron stallion for a little calf.
Little did they know that that one calf would develop nicely into a bull that they used on their Shorthorn cows. While other producers were getting $4.00/100 for their cattle, the calves that the Greiman's had crossed with that Angus bull were selling for $7.00/100 – nearly double! The buyers in Chicago said they would never have trouble selling their calves at a premium price if they brought that same quality! At that revelation, Don's grandfather proclaimed, "We ain't gonna do nothing but Angus." And that is just what they did. While Don's grandfather had Purebred Angus, it was not until his father, Addis, began to work with his cattle that they began to register the cattle.
When Don's father, uncles and aunts turned 21, they each received 160 acres of land right there in Garner, Iowa from their parents. Now with land of his own and the love for Angus in his blood, Addis acted upon his want to raise registered Angus cattle. At the time, Fred Hanhe, the Editor for the Angus Journal was a mentor of Don's father and advocated how the Angus breed was comprised of "good individuals and good genetics. It's like a building, you need a good foundation." From that point forward, the Greiman family has never slowed down with the Angus breed. While his father exhibited at district fairs to promote their Angus - which were still a fairly new breed - he himself began showing at the county level at the age of 10. While they lived very close to the Minnesota border, they would show at the Minnesota State Fair where there were not many Angus breeders as a way to advertise their genetics. Addis had a keen eye when it came to cattle; a trait that has been passed down for many generations.
Don began college at Iowa State University in 1947. He then had to defer his enrollment, having to return home to Garner to help his father who had got ulcers in World War II. He returned to school and graduated in 1952. While at ISU, he was a member of the livestock and meats judging team. In fact, he was a member of the 1951 National Champion Meats Judging Team. It was his roll as a livestock evaluator that ultimately led to his position on the Iowa State Fair Board.
In 1965, Don was attending the American Royal Livestock Show. While watching the Purebred Angus Show, the Secretary-Manager of the Iowa State Fair Board approached him, and told him that he needed his help because the Iowa State Fair Board did not have anyone on the Board involved with the production of any species of purebred livestock. Don was appalled to think that Iowa raised so much livestock and that it was such an important part of the Fair, and not to have the purebred industry more involved on the Iowa State Fair Board. One of the interesting aspects of the Iowa State Fair is that it is the only State Agency that has its Board not be politically appointed, but elected by popularity in each of the state's six districts. Before he knew it, Don held the position and was well on his way to 44 years of service. He has the record of being the longest tender of being a Board member, and one of two to ever be President of the Board two different times. After retiring from the Board, he was appointed an Ambassador. He has the distinction of not missing a day at the Iowa State Fair in forty-nine years, and has missed attending only eight years of his eighty-nine years of life.
It is easy to see as either an exhibitor or simple attendee of the Iowa State Fair, that the fair as a whole is ran right. Much of this overall success is due in part to the continuity of the Iowa State Fair Board. Just as Don's roots go back to that of the livestock industry and producing purebred livestock, the board as a whole is constructed of individuals that live the life they are representing at the State Fair. Just as a good foundation is required for a good Angus program, a good foundation is required for a top notch State Fair.
To say that Don's involvement in agriculture is extensive and that he fits well into a leadership roll would be an understatement. Throughout his life he has made a notable difference by serving on multiple boards - including the American Angus Association Board of Directors (which he sat on during the initiation of the Certified Angus Beef program), the Iowa Beef Breeds Council, the Iowa Farmers Grain Dealers Board, the Hancock County Beef Producers Association, the North Central Iowa Angus Association, and the Iowa State University Alumni Association. Last year, he was honored to receive an award by the American Angus Association at their annual meeting for the Greiman Family's contribution to the advancement and improvement of the Angus Breed. Another prestigious recognition Don has received for his involvement with the Iowa State Fair came in 2009 when he was presented with the Heritage Award by the International Association of Fairs and Expositions; which is their highest honor. The list of organizations taking note to Don's influential life in agriculture does not end there. He has been given the Iowa 4-H Alumni Award and was inducted into both the Iowa 4-H and the Association of Iowa Fairs' Hall of Fames. Don's active lifestyle expands past the livestock industry to his community as well, where he takes an active role with his church and the local Rotary Club. He is a strong supporter of Iowa State athletics where he has been an ISU season ticket holder for both football and basketball for 55-years – and he rarely misses a game. In fact, his license plate reads "True Fan."
Don Greiman is more than a State Fair Ambassador, past State Fair Board Member, or Angus Producer. He is a man that has taken his family's base and love for agriculture and the Angus breed and built off of it to help grow the next generations of agricultural enthusiast. Don and his wife Yvonne have passed the responsibility of the operation of the over a century old Purebred Angus Herd and the farm operation to their son Ted, and daughter-in-law, Mary. With the success they have already accomplished by taking the Angus herd to the next level. Grandsons, Cole and Kyle Greiman, 5th generation producers, have both shown the Grand Champion Bred and Owned Angus Female at the National Junior Angus Show in 2010 and 2011. It will be fun to see what marks the Greiman family makes next on the livestock industry. As Don prepared to take Laurie on a behind-the-scenes tour of the Iowa State Fair – which had just been voted as the top state fair in the country by our readers for the second time - and the rest of us geared up to cover the steer show, we were left with the words of Tim Hindel, the beef superintendent whose office we had been meeting in, "Don Greiman is the Iowa State Fair."
Be sure to order a copy of Don Greiman's book, "A Blue Ribbon Life: Memories of the Iowa State Fair" to read more about Greiman and the Iowa State Fair.
Bailey Buck
OK
(As of 2015)
Winning once could be considered luck. Twice, a run of having the right calves under the right judges. When Bailey Buck of Madill, Oklahoma ended her showing career with nine National titles under her belt (seven of which were Grand Champions), it was clear that she was the common denominator. Bailey's mom Brenda reflected on Bailey's first National Jr. Maine-Anjou Show, "She was six and showing her steer "Scooby." I was sitting in the stands videotaping the show. She spotted me, dropped her show stick and waved proudly at the camera!" From then on, Bailey has made her home in the show ring. Just 15 years later, Bailey would exit her last Junior National show ring in Grand Island, Nebraska having just shown not only the Grand Champion Polled Female, but the Reserve Champion Horned Female at the 2015 Junior National Hereford Expo.
Bailey's mark on the livestock industry, however, expands out farther than just the show ring. From serving as the President of the American Junior Maine-Anjou Association to being highly active in her family's Purebred operation, Bailey's life has revolved around agriculture. Even at Junior Nationals, she made a point to be more than just a showman. She participated in all the contest and was an overall sweepstakes winner. She found success in showmanship as well as team fitting competitions.
Showing livestock is more than a purple ribbon. Bailey Buck is a prime example of a young adult who has taken advantage of all of the opportunities provided to you through showing and raising livestock. ▪stor
Baylor Bonham
OK
Baylor Bonham is from Newcastle, Oklahoma. He is the soon-to-be 15-year-old son of Steve and Stacey Bonham. Baylor has a 22-year-old brother, Logan, who was also a very successful cattle showman. Baylor was born into a family where cattle and stock shows are a part of everyday life, which has developed a passion in him that will live forever. Baylor has been working since he was big enough to put on his boots and walk out the door on his own. He started going to the barn and "working" for his dad long before he was old enough to have his own show cattle. Baylor's dad, Steve, owns and operates Bonham Show Cattle.
Even though he was around cattle from birth, Baylor developed a love for horses. He wasn't interested in watching TV like most kids, but he would watch the movie "Seabiscuit" over and over. He got a really kid-friendly quarter horse, named "Tom," for his fourth birthday. He rode Tom as much as he could and even did some riding at a local stable for a year or so. Baylor quickly got big enough to lead the show cattle by himself, and the interest in the horses took the back seat. He now had a new love, working with and leading his own show cattle. He absorbed all the information he could and quickly became knowledgeable about the stock show industry. Baylor still wasn't old enough to compete in the big shows, but he was quick to tell his brother how to do everything. That didn't always end well.
Baylor began his show career with great success. He won many banners, trophies and buckles in jackpots and prospect shows. His first 4-H/FFA show was the Tulsa State Fair, where he exhibited the Champion Chianina Market Steer. From there he has made several trips to the winner's circle. He exhibited the Grand Champion Steer at the NAILE in Louisville in 2011 followed by the Grand Champion Steer at the National Western in Denver in 2012 and the Grand Champion Steer at the American Royal in Kansas City in 2012. He had Grand Champion Market Steer at the Tulsa State Fair in 2013 followed by Reserve Grand Steer in Louisville that year and even won the National Western Market Steer Show a second time, in 2014. Baylor is also very dedicated to perfecting his clipping and fitting skills. After all, he has the best mentor a guy could want, his uncle Travis Otterstad.
Baylor has now decided to also try his hand at showing pigs. It took him a long time to talk his dad into this new endeavor and to work out the details. But if you know Baylor at all, you know that one of his strong suits is being a man of persistence and persuasion. He started out with a couple of barrows for the 2014 Tulsa State Fair and did quite well, qualifying for the premium sale as a first-time pig showman. He talked his way into getting more pigs and trying again. He works so hard at everything he does that he is determined to educate himself and become more knowledgeable in the show pig arena. At Oklahoma Youth Expo in March 2015, he exhibited the lightweight Crossbred division champion barrow, which also qualified him for the Sale of Champions. He recently attended the World Pork Expo in Iowa in June and exhibited the lightweight Yorkshire division champion barrow, which went on to be named third overall York. Baylor is not sure what the future holds for him in the show pig arena, but he is giving it all he has for now.
Baylor also loves to buy cows and is constantly talking to someone about partnering with him on a great cow he has found. He has a few deals working and would have a lot more if his parents would give him free reign of his own business decisions. Baylor's parents also talk about how intrigued and captivated he has been by the display bulls in Denver at the National Western Stock Show. He had wanted to be a part of that since he was about five years old. In 2015, he had the opportunity to live out his dream, as he is co-owner of an up-and-coming bull, Front and Center, owned with Phil Lautner. Being in Denver to display the bull and give his sales pitch over and over was a treasured opportunity but perhaps a little more difficult than he expected. However, he is full speed ahead in promoting his bull. It would be safe to say that Baylor Bonham will definitely have a future that involves cattle and possibly pigs in some capacity.
On a more personal side, Baylor has a huge heart and an even bigger work ethic. He is such a kindhearted young man and is willing to help anyone who will let him. He doesn't leave the barn when his chores are finished—he wants to stay and help with anything else that needs to be done. He doesn't watch TV, play video games or pretty much anything else indoors. He prefers to be busy all the time, even if it's called "work." He enjoys playing golf and is spending time this summer trying to improve his game. Even as a lefty, he is getting pretty good at it.
Recognized as a young leader in the community, Baylor is an honor roll student and just completed middle school as student council president. He attends the First Baptist Church in Newcastle and is part of their Youth group. Baylor is a Christian and strives to be a good servant for the Lord. Baylor's mom, Stacey, has always stressed the commitment to family and friends and spending time with them on holidays and special occasions. Baylor says it all works out well when they just go to the shows with him, and that way everybody is happy. You can expect to continue to hear and read good things about Baylor Bonham. He will be in the show ring every chance he gets, and when those days are over, you will still see him active in the industry.
Jason Hoffman
NE
BACKGROUND/FAMILY
Hoffman Ranch is a family owned and operated cattle ranch located in the 'heart of cow country' in the Nebraska Sandhills. With over 50 years of experience, Hoffman Ranch is a nationally recognized breeding program with proven genetics that build quality cattle for the progressive commercial cowman. Denny Hoffman and his son Jason were successful California cattlemen, but moved their families and the operation to Thedford, Nebraska in 2009 for the abundance of space, natural resources, and business relationships. In the summer of 2013, Hoffman Ranch purchased the fall calving herd in its entirety from Sitz Angus in Montana. Today, Denny and Dixie Hoffman, along with Jason and Kaycee Hoffman, Haxton (4), Kennedy (2), and Hayden (6 mos) manage the ranch. Jason's niece, Shayne Myers, has also been instrumental in starting their Angus show heifer program.
BULLS
Hoffman Ranch holds two annual production sales a year, beginning with their annual bull sale the third Friday in February. The sale consists of 200+ Hereford and Angus bulls, while an additional 80+ bulls are sold by private treaty throughout the year. Hoffman Ranch takes a tremendous amount of pride in producing herd bulls that are fault free, low maintenance and highly functional for the commercial cattlemen, as well as seedstock producers.
The Hoffman breeding program utilizes the best proven genetics in both the Angus and Hereford breeds, but they are also willing to take risks in the right circumstances. The yearling bull, FULL THROTTLE, was used aggressively this past year through embryo transfer and AI, and from the looks of his calves, it was a successful risk to take. This year, the Hoffman's plan to aggressively use HH ADVANCE 4075, a yearling bull bought in Holden's sale for $240,000. This bull is the real deal - proven genetics, great cow family, coupled with the fact that he is an outlier of an individual. Top producers in the Hereford breed were bidding on him.
FEMALES
The other annual production sale at the Hoffman Ranch is their Angus and Hereford female sale, held at the end of September. Over 200 females are sold every year, including show heifers, replacement heifers, bred heifers, bred cows, and donor cows, with most going through the sale. In 2013 and 2014, Hoffman Ranch broke breed records for the highest selling Hereford females. Most of the heifers sold in their annual sale make their way to the show ring and have performed with spectacular success. In the past nine years, the Hoffman's have had nine Grand or Reserve Grand Champions at the Hereford Junior Nationals. Many of these heifers have gone on to raise National Champions as well. Even though they offer several high dollar females, the Hoffman's feel that there are prospects available for any budget.
Hoffman Ranch places a vast amount of importance on the females in their breeding program. Maternal abilities are a big part of selection criteria throughout the program. They breed females that are recognized for their stoutness without losing femininity.
Hoffman Ranch is actively involved with the National Cattlemens Beef Association, Nebraska Cattlemen, Sandhills Cattle Association, American Hereford Association, and American Angus Association. Denny Hoffman is also a past board member of the AHA.
FUTURE
Looking towards the future, the Hoffman's would like to grow in real estate and cattle, especially with their prime location and connections throughout the industry. Hoffman Ranch is committed to their customers, both commercial and seedstock, to provide the best possible genetics and service. They have also been making strides in staying very involved in the marketing of the cattle that come from their program, which is how HerefordInfluence.com came to be. Hereford Influence is a site where Hereford-sired calves can be listed and found for private sale to cattle feeders. In addition, the site will assist breeders and feeders in locating Certified Hereford Beef (CHB) contacts. This marketing avenue is free of charge and the Hoffman's plan on making it a "go to" place for perspective buyers across the country.
Kyla Fawcett
SD
Hi y'all! I'm Kyla Copeland, owner and business manager of Focus Marketing Group, Inc.
"Life is short, don't be lazy." Sophia Amoruso.
That is one of my favorite quotes. I've always considered myself a busy body, I love to work and keep busy, and I am always pushing myself to do something bigger and better and want to challenge myself every day. I simply cannot sit still! To understand the work we do at Focus Marketing Group, you will need to understand a little bit about me … I'm a communicator, cattlewoman, businesswoman and an artist.
I grew up on a farm in rural Baltic, South Dakota. For a brief period of time (when I was very young) we milked dairy cattle and ran a commercial beef herd. We dispersed the dairy herd and concentrated on the beef herd. My love of cattle started very early. I started exhibiting cattle at a young age and competed at a local, state and national level. A big thank you goes out to my parents who put up with me, supported me and let me go after what I loved. I also owe so much of my knowledge of the cattle world to a wonderful man who took me in at a young age and showed me the ropes. He was my second dad for a big part of my life (and still holds a special place in my heart), Ron Bruns. Without him, I'm not sure what I would be doing at this point in my life for a career. But because of him, I'm doing something I truly love and am passionate about. We had many years on the show road where I learned how to win humbly and lose gracefully. I made so many special memories I will forever cherish. If you are ever around the Baltic, South Dakota area, stop in and see Ron and talk to him, his knowledge is astounding and he is truly a wonderful man.
I graduated from South Dakota State University in 2003 with a degree in Ag Journalism and a minor in Animal Science. In January 2004, I started working as the director of communications for the American Maine-Anjou Association (AMAA) and editor of the Maine-Anjou Voice, the AMAA's publication in Platte City, Mo. (just north of Kansas City). I also helped out with the various shows and events put on by the AMAA. Again, I owe a lot of my personal growth and knowledge to that job and also in my life to John Boddicker (CEO of the AMAA). John is someone else I really look up to, he is so well respected in this business, something we all strive for.
I currently live in Nara Visa, N.M. (we are located about 90 miles northwest of Amarillo, Texas; 40 miles southwest of Dalhart, Texas and 40 miles straight south of Clayton, N.M.) with my husband Matt. We live on the family's ranch - Copeland & Sons LLC - where we run registered Hereford cattle, commercial purebred Herefords and club calf cows. We sit on about 28,000 acres at about 4,500 feet elevation and are 5th generation in the family operation. I also have to take this time to thank Matt for his continued support over the years.
The ranch was established in 1943 (then called Jack Copeland and Sons Herefords) by Jack and Mary Alice Copeland and Jack's parents Otis R. and Belinda Copeland. The ranch was strictly a commercial Hereford operation in the beginning and then diversified into a combination registered and commercial Hereford operation. Although from the beginning ranch cattle were exhibited at shows locally and nationally, the cattle have always been bred for survival under range conditions and to produce all of the performance our severe southwest climate will allow.
I love living on a working ranch where they do things "the cowboy way". Everything is done on horseback on our ranch. Horses are a secret passion of mine, sometimes I wish I could spend some more time with them. In my downtime, I enjoy getting on a horse and heading out to a pasture to gather cattle or just to go for a ride.
Every fall we have a production sale with long time family friends, the Langfords in Okmulgee, Oklahoma. The Event is held the third Sunday in October. We offer our very best registered Hereford females and on occasion a few registered Hereford bulls in this sale and the Langford name speaks for itself with their Hereford genetics. We also hold two online club calf sales in October and also sell a few private treaty cattle throughout the year.
We travel to most of the major shows throughout the year with our Hereford cattle. Customer service is a theme around here, and we enjoy helping our "families" at shows with the cattle we sell.
We have been very fortunate to have done very well with Copeland raised Herefords. This past Denver was one for the books for us! We raised the National Champion Horned Female who was purchased by Fawcett's Elm Creek Ranch and McKay Cattle Company, thank you guys for your trust in that female. We also had a few division champions and reserves. But the biggest accomplishment for us was winning the Premier Horned Hereford Breeder award, something that was truly humbling for us all. Our club calves from our online sales have also gone on to do some great things for all families involved.
"If you do what you love, you will never work a day in your life."
After Matt and I got married, life took a few turns and I ended up starting my own company with a great, longtime friend of mine, Kent Jaecke. Focus Marketing Group, Inc. (FMG) came to be in November of 2010 at the Cardinal Hall of Fame Café in Louisville, Kentucky. I will never forget that day.
From there it was a leap of faith and a lot of hard work, but this business grew and it grew FAST, furious and big. We began this journey with four dedicated team members. From the start, we made sure to treat people right and offer top-notch customer service. We wanted to be a "one stop shop" for the livestock industry and make the marketing process easier on our customers. Today, we have nine talented FMG crew members who cover sale photography and videography, show photography, web and print design, social media management, creative photography and promotional videography for our customers from coast to coast. Our motto remains, "Our only FOCUS is you".
Like any job, some days can be challenging, but we still have fun with our customers and each other. Together, we strive to make livestock marketing an enjoyable process for all parties involved. My co-workers are my ROCKS, I couldn't do this without them and FMG would not be where it is today without them. I cannot thank them enough for their dedication and time they put into this company. Y'all are AWESOME!
Historically, picture/video day is stressful for everyone involved and we work hard to make it more enjoyable! If the photographer is a little more laid back and easygoing it creates a more relaxed environment, which allows everyone else to loosen up and even the cattle aren't as tense … well most of the time …
I also would like to take this time to thank all of our FMG customers for the continued support. You have shown incredible patience and unrelenting faith in our work, as well as allowed us to take risks and try new things. You know who you all are.
The customers, friends and acquaintances I've made along the way I will forever hold close to my heart. You all make this craziness worth the long hours, late night drives and hard work. The friendships I have made through this all are endless.
I'll end this with another one of my favorite quotes, "Create your own job. Become the master of what you do. Fully immerse yourself in your culture. Be humble. You are never above having to pack boxes. Never forget where you came from. And always be polite. Good old-fashioned manners can get you very far." Jenne Lomardo.
Life is a crazy adventure, enjoy every minute of it! I've been blessed to have a great one so far.
Thank you to The ShowTimes for asking me to write an article for the magazine. Keep up the great work gang!
Brandon Callis
OK
I will start this article with one of my favorite quotes: "The only way to live a better life is to love the life you've been given". I, Brandon Callis of Minco, Ok, am currently the livestock judging coach at Redlands Community College in El Reno, OK. It all started for me in 1983 being born to Dwight and Lorena Callis of Needville, TX which is about 30 miles south west of Houston. My dad is a retired county agent who served for 33 years as a 4-H agent in two counties. My mother has served as an assistant principal at a middle school and has been in education for the past 23 years. I am in the middle of 3 children. My older brother Cornelius is a large equipment operator and my younger sister Ashley is a special education teacher back home. Education, serving God, and agriculture are 3 big areas we take seriously. Our family's Ag roots stem from both sides, but my interest in the raising of livestock starts with my dad's parents. For a couple decades my dad's family owned and operated a small purebred Brahman herd in southern Texas. They exhibited and sold Brahman cattle through south Texas. Many of my early summers were spent at the family's ranch feeding cows and cowboying anything I could on horseback in Edna, TX. Rodeo, that's where my heart was early on. Thinking I would be the next Fred Whitfield, I practiced night after night roping a dummy calf 100 times every summer at my grandparent's place. When I turned seven my parents decided rodeo was going to be too expensive, and they bought me a Dorset lamb instead. When I was younger we also spent lots of time at a neighbor's barn where we kept my brother's show steers. I grew to love cattle while visiting and assisting my brother. A gentleman by the name of Kent Herzog served as my daytime sitter and teacher while my dad checked 4-H projects and my mom was in school. Kenny, as we call him, became a lifelong influence for me. He was one of my dad's most loyal friends. He introduced me to the world of show steers. We fed two local show steers and I won both years. I thought to myself, this is not that hard. After winning the local shows, we dove into the Texas major show steer scene. We had shown lambs and made the sale at the Houston Livestock Show, however, major steer shows were a beast of its own. A small jackpot in central Texas was my first show outside of our county. When we loaded up to leave this fast talking, hyper, athletic guy jumped in with us to help clip. I had to share a bed with this stranger later that night. We put 5 people in a double bed room. The room cost $25, so as you would expect the beds were more like cots than beds. I did not know this guy but there was something cool about him and we got along great. His name was Brandon Horn. Most people knew him then as a cattle fitting, pig selling specialist. Today everyone knows him, and if you are fortunate enough to know him, well you can image how fun my first show away from Fort Bend County was. We showed Red Angus steers mostly and a few crosses the next few years.
I always consider myself the most blessed person alive. However, when I was younger, I was very competitive and wanted to win each show. We never got the big one won, but along the way we were blessed with some breed champions and sale makers. My mother would always tell me when I got home and pouted about getting beat that "maybe God just has a bigger plan for you. Losing will happen, you just need to know how to handle it." The great thing about the Texas junior show program is that there is opportunity to get some return on investments even if you don't win the show. The support system, sales, and staffs down there are second to none.
When I was a 4-Her I had started to get interested in livestock judging. For those who aren't from Texas, you might not know my dad. I can say with confidence that he is the most well respected multi-species judge in the state. I would follow my dad around from county fair to county fair to watch him judge. At this time my passion for sorting livestock started. I always noticed both then and now that no one has a negative comment to say about him after he judges a show, win or lose. Everyone says he is great with the kids and sees the stock. I always wondered that maybe I could be fortunate enough to get the opportunity to sort as many shows as he does. While at my first judging contest I met a new professor, Dr. Chris Skaggs, from Texas A&M who coordinated our district contest. Little did I know the role he would play in my college and adult life. My first college plan was to go to Blinn College, judge, and then transfer to A&M. The coach of Blinn College, Doug Pierce, didn't have a scholarship program at the time. He told me to look at some other options, but if I still wanted to come judge I could. After our state contest my junior year I was recruited by a couple schools in Texas and one in Oklahoma. I choose to visit the Oklahoma school, Connors State College. I don't think my parents were as keen on the area as I was, but they came along with me to visit. We liked the college and I enrolled there. My livestock judging coaches there were "The Jerry Mcpeak" and Mr. Blake Nelson.
My experience in the junior college system was one of the best times of my life. All through high school I would considered myself the driven and focused type that never had a girlfriend. If it wasn't livestock or sports it didn't matter to me in high school. My plan was to finish school with my PhD and go into extension or teach at a university and then focus on a family. God's plans always trump ours. The first night at Connors I fortunately but unfortunately (there's a story there but you had to be there) had a run in with a beautiful young lady on my team from Oklahoma. Two months later I had a girlfriend. I now call her my wife Kelly. I take one life changing revelation from my two years at Connors: God's plan is better than yours, and she has been the biggest reason I'm where I'm at today. My parents raised me in a manner that God and love are very important in the lives of any successful individual.
I know that I've always been "different". My parents also raised us to believe that God and love are also color blind. You will never find me blaming anything on race. I see it as a blessing. After all, my judging teams never have a problem finding their coach after a contest, unless the lights are off or someone tall is in front of me. But as I tell my judging kids, if you live by God's rules it's a them problem not a you problem. My next stop was Texas A&M where my heart had always been. Yes, I am a fighting Texas Aggie!! Kelly and I were both blessed to be a part of the 2004 national champion livestock judging team coached by a young Mr. Ryan Rathmann. There is an All American plaque that sits on a shelf in our house, but it's not mine. Yes, she is that good. The next decision in life was do I step into the real world or keep schooling. I choose to continue my education and go to graduate school at Kansas State University. Most masters programs are two years. After two months of living in Manhattan, KS I was asked to go drive a van for the judging team. When we are young exhibitors we often look up to judges or place them on an, in my opinion now that I am blessed to judge a few, underserved pedestal. I was driving one of my judging idols around on a judging workout, Dr. Scott Schaake. This is why 2 years went to 4. I now got to travel the country and learn from him and hang out in his barn and work a little and soak up the Simmental breed. It seemed perfect that not only did he judge everywhere, but he also raised quality Simmental cattle. Life was good, except the fact that Kelly lived and worked in Dallas. I finally decided to grow up and get married. It was a great start for us and we are thankful for the lessons learned and people met in Kansas. The PHD thing was still a goal so I called Skaggs for more advice. After I received my masters, I returned to A&M to pursue a doctoral degree. When we moved back to Texas, our first child, Braedon was born, so I took a job coaching at Blinn College for four years. For those who don't know, when you marry an Okie you most likely will end up back in Oklahoma. Texans might be the most boastful people around, but Okies are without a doubt the proudest. They love Oklahoma. So now we are happily living in Oklahoma. I work at Redlands, and we own and operate a diverse livestock operation where we raise Simmentals and club calves. We also sell a few sheep and goats every now and then. We are raising three children: Braedon (6), Kylie will be 4 in April, and Cambrie who will be 1 in March. Livestock and kids have been my family's mission since I can remember.
My job allows me to meet and work with the most amazing people and our future leaders while looking at livestock. I have had so many great influences in my life and God has sent them to me in unexpected times and places but they have benefited me greatly. I am the most blessed person in the world and you can't tell me otherwise.
I will part with this. To those fortunate enough to win the big ones, always remember to be thankful, because it isn't easy. Those who were like me who don't, God still has a plan for you. Keep pushing.
Thanks and God Bless. ▪
Tracy Goretska
TX
Tracy's passion for cattle sparked at a young age where he was active in 4-H showing cattle and grew up on a farm. Dave Jennison helped Tracy get started showing and clipping as a child. He later worked for Lavern Massman when Lavern was having sales. "Lavern gave me the opportunity to work for him. He showed me the ropes and taught me invaluable lessons for which I've always been thankful," Tracy recalled. "Clipping was how I started out – I clipped a lot of sales all over the Midwest, including for Bob May, where I learned a lot." Tracy also did a lot of clipping in Nebraska; where he became friends with Dave Stoltz. "I always hoped I would be able to clip half as well as he could!" Tracy spoke a lot about how much he admired and looked up to Davey. In 1996 and 1997, he and Barry Nowatzke hosted a sale together in Michigan City, Indiana. In 1998, Tracy decided to try to sell a few calves out of his home in Russell, Iowa, where he has had his annual fall sale ever since. ▪
FAVORITE PART OF WHAT HE DOES...
...being able to make a living doing what he loves to do. He loves going to shows with his daughter Macey and looks forward to when his son Cash is old enough to show.
BIGGEST ACCOMPLISHMENT...
...the overall accomplishment is just being able to do it. He is thankful that Goretska Show Steers has had some success over the years.
ADVICE FOR OTHERS...
...Work hard. Take small steps – it doesn't happen overnight. Don't get discouraged.
FUTURE GOALS...
...to continue to sell the highest quality of cattle we can.
BARRY NOWATZKE, IN-
I have known Tracy for over 25 years. I have been associated with him on many different levels - from competitor to co-worker to partner and mostly as a friend. From the first time I worked with Tracy, it was clear to me that he had such a passion that he will settle for nothing less than perfection. With that passion and unparalleled talent, he is nearly unmatched in the Show Steer Industry for his ability to find them, sell them, fit them, and make them win. There are few that have the ability to do those things on the level Tracy does, let alone do all those things on that level. The mark he has made on the Show steer Industry will be everlasting.
There are a lot of young fitters and clippers that look up to Tracy and want to clip like him. Good luck with that! LOL! We all know Tracy is a great clipper. What everyone needs to know is that that is only a small reason why he is so successful. His work ethic is second to none. He always pays attention to the little things that some people take for granted. He conducts his business as a professional and has earned the respect from his peers and customers by doing so.He is the kind of positive role model we need in today's society. ▪
WADE RODGERS, IA-
I've known Tracy since I was about the age of 15. He is someone that I have always looked up to. It was constantly my hope that I could someday be able to achieve the talents of presenting show cattle at the level of quality that he can. Tracy has a very good eye for cattle and an unmatched work ethic. He is a true example of how doing honest and truthful business will lead to success. I'm very fortunate to have been able to meet and role model myself after several great people in the show cattle industry at a young age. After all of the people I've had the pleasure of doing business with in my short time, he's still at the top of the list!! ▪
Cherry Knoll Farm
PA
Cherry Knoll Farm is a name synonymous with quality. The Black Angus cattle operation, located just outside of Philadelphia, PA, defies the law of averages. It operates with only 50 head of cattle, yet accumulates winning titles across the nation against contenders who have ten times the number of cattle.
In 1989, Margaret and Bob Duprey moved Cherry Knoll Farm to its current location in West Grove, Pa. At that time, Margaret's passion was focused on high performance dressage horses; nevertheless, fate has a wonderful way of fulfilling wishes. Margaret's childhood dream was to own a farm and Brian Fitzgerald joined the team as the Cherry Knoll Farm manager. In 1993, Margaret's focus expanded to include Angus cattle.
"She always wanted to be like Old MacDonald," husband, Bob laughed. "Margaret's passion is evident in everything she does, and with the Black Angus cattle, it is no different."
Brian, Margaret and Bob began to cultivate the herd and, shortly, Cherry Knoll owned a nationally respected herd that turned heads in the livestock industry. Following a nine-year tenure, Brian passed the baton to his brother, Tim Fitzgerald, who currently curates the prize-winning herd and manages all the cattle breeding and operations of Cherry Knoll Farm.
The Fitzgerald's roots run deep in the Angus breed. Tim was raised in western Nebraska in an Angus family on a nationally prominent Angus ranch. He came up through the ranks of the renowned National Junior Angus Association (NJAA) program, and holds a B.S. degree in Animal Science from Oklahoma State University where he was a member of the 1989 National Champion intercollegiate livestock judging team. During his career, Tim has judged numerous beef cattle shows of almost every breed at all levels of competition.
Margaret recalled the conversation with Tim that would become the foundation for Cherry Knoll Farm's cattle operation for the next two decades. "I explained to Tim that we only had this much land which prevented us from accommodating the large herd that he'd been used to while working in West Virginia. We had to keep the herd manageable — so we should focus on quality not quantity. This is how we developed the cattle we have." Cherry Knoll Farm is operated on that philosophy, and the personal attention to detail is the secret to the great success it enjoys in its breeding Angus cattle that are competitive on the national level.
Cherry Knoll cattle are bred to fit a variety of programs, with a primary focus on high profile genetics, proven cow families, and the elite sires of the breed. Cherry Knoll Farm's clientele include Angus breeders, National Junior Angus Association (NJAA), 4-H and FFA exhibitors, as well as commercial producers seeking the added benefits of utilizing advanced, contemporary Angus genetics. The Cherry Knoll breeding program strives to exceed the goals of its customers and is recognized for its unique ability to raise cattle appropriate to all of these markets.
The Dupreys are passionate supporters of the NJAA. The Dupreys sponsor various Angus events, as well as sell their cattle to many of the juniors during their annual Fall Sale. "We support the NJAA because the children are the future of the Angus industry, the future of America and the future of the world," Margaret said. It is the exemplary breeding program that made Cherry Knoll Farm the winning choice for the NJAA Leaders Engaged in Angus Development (LEAD) Conference venue. The LEAD field trip to Cherry Knoll Farm included more than 150 juniors from across the country and Canada.
In addition to touring the farm, the juniors were able to spend time with the Dupreys, Tim and the cattle during the 2014 LEAD Conference, themed Forefathers & Farmers: Cultivating Angus Youth. The participants took careful notes and read the tags of the calves, asking questions and preparing for the October sale.
Tim shared his vast knowledge with the participants. He described the day-to-day operations of Cherry Knoll Farm, their breeding philosophy and strategy, as well as the rising concerns the economy forces breeders to confront. He acknowledged that Cherry Knoll Farm is an exceptional facility and credited the success of the operation to Margaret and Bob's philosophy, vision and generosity.
"I really wanted to show the kids that you can work for beautiful people, in a beautiful place and give back to the community," Tim said. "Cherry Knoll Farm is a special place, and we were thrilled to host the NJAA. We have the greatest set of babies ever raised, and it is our philosophy of quality over quantity that has allowed us to succeed. It was important for these kids to understand that bigger isn't always better. The truth is 'better is better'. So, you don't need 3,000 head of cattle to compete against the big guys."
Tim continued, "I think it was wonderful for the kids to meet Margaret and Bob. Probably some of the kids were surprised about how approachable and real Margaret and Bob are. Margaret is so much more than an owner… she is a supporter, she is a mentor, she is there at the in-gate, and she even helps to breed animals that get this close to perfect."
The annual event provides an open line of communication for members of different associations to share ideas, exchange plans and establish goals. Each year, the participating juniors collectively choose a highlight location to visit, and Cherry Knoll Farm was at the top of the list for 2014.
"Although we do not have children of our own, Bob and I feel it is vitally important to support younger generations. We know education plays a very important part in the future, and we do what we can to help out as much as possible," Margaret said.
In 2007, Cherry Knoll Farm clinched the Grand Champion Heifer and Grand Champion Bull during the National Western Stock Show, a nearly impossible feat. Many of the winning heifers and bulls are offspring from the Cherry Knoll stock, including some of the greatest made females to ever enter a show ring, such as Cherry Knoll LSC Rosebud, Cherry Knoll Elsa and Freys Arkpride of Cherry Knoll.
Cherry Knoll Farm is currently a leading force in taking genetic breeding to the next level. Tim explained his breeding methods in determining what pairing will produce the best offspring. "You are never going to have the 'perfect' cow, but you can sure get close. When breeding an animal, my main objective is to have that cow produce a better animal than what she is. It's a game. There is not just one bull out there that will fix everything; it is all trial and error. We try to breed that perfect one, that is what you try to do, and our results show just how close we get."
Although Cherry Knoll Farm is not set amongst hills with cherry trees, the name encompasses the history of Margaret's extensive roots in the equestrian industry. The original Cherry Knoll Farm was located in Newtown Square, and rivaled President Madison's home, Montpelier, where owner Mrs. Jean Liseter Austin duPont's husband, William, had grown up. The house duplicated everything about Montpelier, down to the woodwork on the interior. Cherry Knoll Farm became well known for their cattle and horses. Much later, Margaret rode at the farm and fell in love with its atmosphere and name.
Mrs. duPont's sister, Miss Anna A. Austin, allowed Margaret to keep the name when she began her own facility in the West Grove location. Mrs. duPont was a dedicated horsewoman who rode, showed and bred horses for most of her life—she was a fixture at horse shows across the country.
Similar to Mrs. duPont, Margaret's equestrian interests were nurtured early in life. She was a little girl who fell in love with a pony, and her passion only grew. She owns some of the most competitive high performance Grand Prix dressage and show jumpers in the world. Margaret, herself, trains with International Dressage rider, Todd Flettrich, in pursuit of her dreams of one day competing on an international scale, as both an owner and rider.
Flettrich earned a spot as the alternate on the 2012 U.S. Olympic Dressage Team only two years after competing at the prestigious World Equestrian Games in Lexington, Ky. Margaret admitted that she sees much of herself in Flettrich—filled with a competitive and ambitious spirit. Flettrich has ridden Amadeus and Otto at international dressage competitions, going head-to-head with the best in the world.
Margaret's famous show jumper, Cedric, ridden by Olympic Champion Laura Kraut, qualified for the 2008 Olympics, and helped bring home the Team Gold for the United States of America. Cedric continues to prove himself a superior equine athlete in show rings around the world, capturing four prestigious Longines Global Champions Tour (GCT) Grand Prix wins and finishing in the third place for the 2013 GCT Leading Rider Championship. Kraut believes he is one of the "best athletes in the world." Margaret is also a shareholder in the Stars and Stripes syndicate that owns Andretti S, one of Kraut's most competitive mounts. He was unveiled in 2014 during the Winter Equestrian Festival in Wellington, Fla., and will one day fill Cedric's position as her top international competitor.
Her dedication to the equestrian disciplines extends much farther than dressage and show jumping. Duprey is also a significant proponent of para-dressage, a growing sport in the United States. Paralympian Rebecca Hart and her own Schroeters Romani, owned in conjunction with Cherry Knoll Farm, quickly became an unstoppable partnership since the fall. They led the Grade II para-dressage ranks in the United States, and closed out the para-dressage competition during the Alltech FEI World Equestrian Games 2014 with solid scores and an outstanding freestyle debut, which Margaret was on-site to watch.
Cherry Knoll Farm continues to standout as the best, in every show ring they enter. The team at Cherry Knoll Farm works diligently to provide the best, always striving to be the finest in the world because they focus on 'quality not quantity'. For more information on Cherry Knoll Farm, please visit www.cherryknollfarminc.com. ▪
Deb Miller
IA
(Previously Vorthman)
I grew up on a century farm in the rolling hills of southwest Iowa near Treynor growing corn, soybeans, alfalfa, cattle and hogs. My parents are Roger and Ann Vorthmann and I have an older brother, Chad and a younger sister Erica. Today, our family operates a Limousin herd of around 50 head. In the past, our family had a commercial cowherd and used Limousin bulls. Over time we gradually sold the commercial cows and added to our purebred herd numbers.
To market our Limousin cattle, we have had a private treaty sale every September for the last 12 years. We do the majority of the work ourselves and it has been a successful way for us to market some of our cattle as well as have an open house for fellow breeders to come see our operation.
Growing up, my brother and I showed together since we are closer in age. Our first purebred heifer was purchased for my brother for a 4H project. I was 8 years old and I started showing in 4H at the age of 10 years old. I showed breeding heifers, steers, hogs and lambs, for 1 year. Like many, we didn't know much about showing cattle when we started. My dad did the clipping at that time and I can remember when we used to shave a straight line across the belly with a flathead clipper. I can also remember shaving a square on their butt…I guess we thought it made them look more square and thicker.
I have been to every National Jr. Limousin show since 1987 except for one year. In fact, the National Jr. Limousin show is just one of the many traditions that have evolved in our family because of our involvement in the Limousin breed. I showed at my first National Jr. Limousin show in 1988 at Des Moines, IA. The year before we traveled to Longmont, CO to see what it was all about so we wouldn't look like total rookies at our first Jr. National. That year I spent all but $20 in my checking account on a show heifer at the Iowa Beef Expo, her name was Amarillo. In my anxious little mind I thought I purchased a great one-- then I showed her that week and received last in my class. From that point forward I was determined to work harder than anyone else. Hard work paid off and Amarillo won her class and was Reserve Champion in her division at the Jr. National show and had lots of admirers. I was offered a nice price to sell her, but I refused. She went on to produce several successful calves. I sold a daughter in Denver for $10,000, another daughter to Minerich for $12,000 and she also produced several good herd bulls.
In 1989 I had a home raised heifer named Sugar-N-Spice. She was my favorite color, dark cherry red. I was very fortunate that summer to be selected Reserve Grand Champion at the National Jr. Show in Stillwater, OK. Over the years, I have had the honor of raising and exhibiting several Bred & Owned Champions. One of my bred and owned highlights came in 1999 when I raised and showed the Reserve Grand Champion Bull at the National Western Stock Show with VORD Halfback.
My parents have been great help and support over all the years. Early on, my mom told my brother and I "If you get up and do your chores and take care of your calves like you should, I will take you wherever you want to go." Well, we went to 30+ shows that spring and summer in Iowa and that is when I found my love for clipping cattle.
I would find the best presented cattle and watch the clipping and fitting. Then I would go practice what I saw. My brother went to a Stierwalt clinic one summer, he was so excited to come home and share what he had learned. We would get random cattle in from the pasture and practice for hours and I always had the saying "practice makes perfect" in the back of my mind.
In high school, I started getting the hang of presenting show cattle. When I graduated, John Sullivan offered me a full-time position. I was still showing Limousin cattle at that time and did not feel comfortable working on another junior's cattle that I would be competing against (this is when Sullivan's had Limousin). My brother and I still helped John, but it was not full-time.
In 1991, my brother Chad was helping Mike Hartman with their Llama and I think miniature donkey sale when he came across a Limousin heifer, Cookie. Cookie, in my mind, is one of the most famous Limousin cows ever. Chad bought Cookie from Mike and won reserve champion at the Junior National. Chad then sold Cookie to John Sullivan, who then bred Cookie to a bull that we would have never thought about using. That mating went on to be one of the most successful matings in Limousin history.
I then went on to work for John on a part time basis. It was very scary to me at first when I started clipping, I didn't want to take too much hair off, especially when I was working on someone else's cattle. The scariest moment of my career was in Louisville when Dave Allan, who was in charge of Sullivan's show cattle, told me that I was clipping tops and tailheads on show day. I had done everything for myself at shows, but never when I worked for someone else. I was scared to death. But it was that day in Louisville that it really made everything click. Some have many names for me, Perfectionist, Drill Sargent, Voo Doo Woman. People can say whatever they want, but I truly believe that the ability I have with a set of clippers is a God given talent. Not only do I get to share my talents to breeders around the country, I've had the opportunity to watch young cattlemen grow into the amazing people they are today. It's truly an honor to hear some of them say that I taught them something along their journey to who they are today. Along the way, I have had many people believe in me and give me opportunities to learn. This helped to build my confidence and helped me to be who I am today. It has taught me to always try to be better. I am constantly learning and don't like to give up until I am pleased with my work. Some say I'm a perfectionist, I do not like that statement because I want to keep improving my work.
Over the years I have many people believe in me and have had the opportunity to work for. I have helped Sullivan's, Deer Valley, Hackworth's, Andrews Land and Cattle, Carl Weathers and countless others that I have helped at shows or part time. Most of my full time employment has been with Limousin operations although I have worked on several breeds over the years. I have been from coast to coast working and showing. I have been very fortunate to have worked on several national Champions. Today, I spend a lot of time on the road traveling to and from different places and jobs. I enjoy getting to see the country and appreciate the friendships that have evolved from my cattle experiences.
In 2002 I was honored to be selected as the Limousin Herdsman of the Year at the NWSS in Denver. At that time, I was taking care of show/sale cattle for Andrews Land and Cattle from Olympia, WA and working on them in Iowa at Shane Lindsey's place in Prairie City. I was the first female to win this prestigious award. It meant so much because there are so many industry greats to win that same award.
A lot of people ask me what my next step in life is. Yes, I still want to clip for other people, but at my age, I would like to do more for myself. I've always had cattle of my own and I feel in the past, I haven't put as much thought as I could have into my cow herd/ breeding decisions. In the past year, I have culled cows and have mated differently. I have also purchased very unique Limousin genetics that I feel can change my program for the better. Although the Limousin breed isn't as popular as it was 15 years ago, I still feel like they have a very important purpose in the beef industry. I see myself raising quality Limousin and Lim flex cattle which has been my passion since I was very young.
Another question I get quite often is any advice or words of wisdom to youth that wish to do what I do. To keep it short, I tell them to learn from the beginning. What I mean by that is learn how to break one correctly, wash one correctly, comb one correctly, blow one correctly, then clip and fit one correctly. I often see so many people try to do it the opposite way. I personally have more respect for the people who do the little things right rather than just be able to fit a leg or something. The number one advice I have to give is, never think you know it all, because you don't… no one does. And girls, it can be a bumpy ride, but don't give up!
Some other things I do with my spare time is I am a Beef leader for my 4H club that I grew up in as a kid. It means a lot to me when I am able to work closely with the kids and families and try to help everyone learn and get better. Also, I help put on a showmanship clinic at our county fair every year. Getting to be a professor for Stock Show U has been another way I get to teach young exhibitors. I really love doing these types of things since it helps the next generation of cattlemen.
I've always seen myself doing what I do, but I've never dreamed I would be doing this as long as I have. I have always pictured myself by this day and age having a family of my own, but sometimes the good Lord has a different plan and gives you other opportunities that you wouldn't trade for the world. One of those is being able to meet up with friends at shows across the country. I am so blessed to get to experience this and be able to make a living doing what I love. ▪
Brock May
WI
Brock May is a true competitor. Many know Brock for his many national champion steers. If you have had the oportunity to show or stall by him at a show, you have seen first hand a different side of him. Brock has always been humble. It is easy when you are winning and on top. What really stands out about Brock is how he is when he doesn't come out on top. Brock is always the first person to congratulate a fellow exhibitor that wins the show. He is always kind and always there to help someone when they need it. That is what makes Brock an easy choice for The Showtimes Hall of Fame.
Brock May has shown numerous national champions, ranging from prospect shows like the Badger Kick-Off Classic, to major accomplishments such as winning the American Royal three times! He was selected Reserve Champion in Denver in 2007, and followed it up with being named Grand Champion just four years later. In 2012 he pulled off a rare feat of winning both Grand and Reserve Steer at the Wisconsin State Fair! Brock's cattle were always well fed, highly presented and were 12 o'clock on show day. Anyone who shows cattle, knows the hard work and dedication it takes to compete at that level. Now that his junior showing career has come to an end, Brock can be found helping his younger sister Lauren with her steers at shows. Congratulations Brock on being our latest Hall of Fame member!
WHERE HE IS NOW (as of 2014)
This past spring Brock finished two years at Lincoln Land Community College in Springfield, IL, where he was a part of the judging team. He is home for the summer working steers with his sister Lauren, doing cow work of his own and helping his dad Bob with his cows as well. He has also continued to do some fitting demonstrations for Weaver. Most recently he has been to Urban, OH; Escanaba, MI; and Indianapolis, IN for the Angus Jr. Nationals. He also judged a county fair in Shelbina, MO! This fall he will be heading to Stillwater, OK for school.