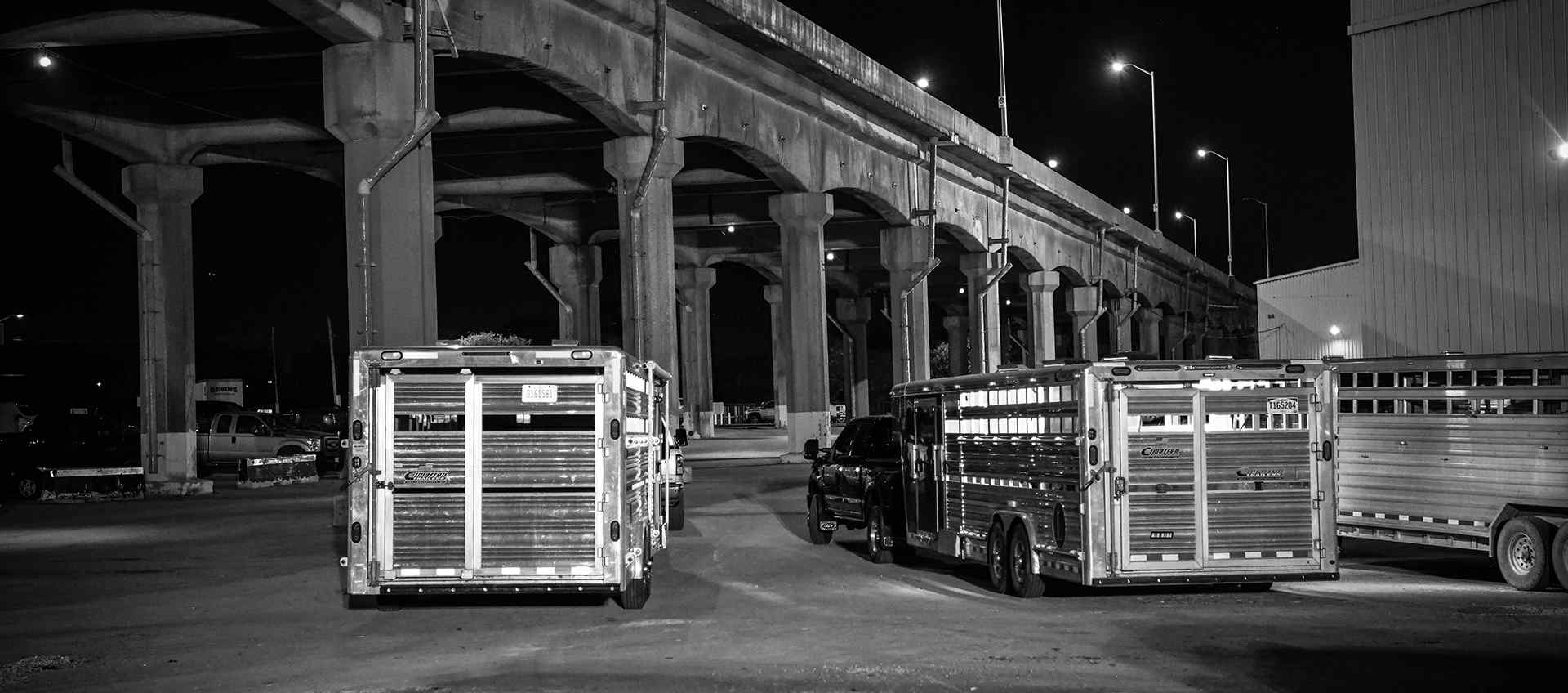 The Showtimes introduced our Hall of Fame in January 2009 and have included new inductees with each issue.
To be inducted, individuals must achieve something great in the livestock industry. They may be an exhibitor, judge, animal, show official or someone who makes a great impression.
Submit your Hall of Fame Nomination!
Inductees
Bailey Buck
OK
(As of 2015)
Winning once could be considered luck. Twice, a run of having the right calves under the right judges. When Bailey Buck of Madill, Oklahoma ended her showing career with nine National titles under her belt (seven of which were Grand Champions), it was clear that she was the common denominator. Bailey's mom Brenda reflected on Bailey's first National Jr. Maine-Anjou Show, "She was six and showing her steer "Scooby." I was sitting in the stands videotaping the show. She spotted me, dropped her show stick and waved proudly at the camera!" From then on, Bailey has made her home in the show ring. Just 15 years later, Bailey would exit her last Junior National show ring in Grand Island, Nebraska having just shown not only the Grand Champion Polled Female, but the Reserve Champion Horned Female at the 2015 Junior National Hereford Expo.
Bailey's mark on the livestock industry, however, expands out farther than just the show ring. From serving as the President of the American Junior Maine-Anjou Association to being highly active in her family's Purebred operation, Bailey's life has revolved around agriculture. Even at Junior Nationals, she made a point to be more than just a showman. She participated in all the contest and was an overall sweepstakes winner. She found success in showmanship as well as team fitting competitions.
Showing livestock is more than a purple ribbon. Bailey Buck is a prime example of a young adult who has taken advantage of all of the opportunities provided to you through showing and raising livestock. ▪stor
Baylor Bonham
OK
Baylor Bonham is from Newcastle, Oklahoma. He is the soon-to-be 15-year-old son of Steve and Stacey Bonham. Baylor has a 22-year-old brother, Logan, who was also a very successful cattle showman. Baylor was born into a family where cattle and stock shows are a part of everyday life, which has developed a passion in him that will live forever. Baylor has been working since he was big enough to put on his boots and walk out the door on his own. He started going to the barn and "working" for his dad long before he was old enough to have his own show cattle. Baylor's dad, Steve, owns and operates Bonham Show Cattle.
Even though he was around cattle from birth, Baylor developed a love for horses. He wasn't interested in watching TV like most kids, but he would watch the movie "Seabiscuit" over and over. He got a really kid-friendly quarter horse, named "Tom," for his fourth birthday. He rode Tom as much as he could and even did some riding at a local stable for a year or so. Baylor quickly got big enough to lead the show cattle by himself, and the interest in the horses took the back seat. He now had a new love, working with and leading his own show cattle. He absorbed all the information he could and quickly became knowledgeable about the stock show industry. Baylor still wasn't old enough to compete in the big shows, but he was quick to tell his brother how to do everything. That didn't always end well.
Baylor began his show career with great success. He won many banners, trophies and buckles in jackpots and prospect shows. His first 4-H/FFA show was the Tulsa State Fair, where he exhibited the Champion Chianina Market Steer. From there he has made several trips to the winner's circle. He exhibited the Grand Champion Steer at the NAILE in Louisville in 2011 followed by the Grand Champion Steer at the National Western in Denver in 2012 and the Grand Champion Steer at the American Royal in Kansas City in 2012. He had Grand Champion Market Steer at the Tulsa State Fair in 2013 followed by Reserve Grand Steer in Louisville that year and even won the National Western Market Steer Show a second time, in 2014. Baylor is also very dedicated to perfecting his clipping and fitting skills. After all, he has the best mentor a guy could want, his uncle Travis Otterstad.
Baylor has now decided to also try his hand at showing pigs. It took him a long time to talk his dad into this new endeavor and to work out the details. But if you know Baylor at all, you know that one of his strong suits is being a man of persistence and persuasion. He started out with a couple of barrows for the 2014 Tulsa State Fair and did quite well, qualifying for the premium sale as a first-time pig showman. He talked his way into getting more pigs and trying again. He works so hard at everything he does that he is determined to educate himself and become more knowledgeable in the show pig arena. At Oklahoma Youth Expo in March 2015, he exhibited the lightweight Crossbred division champion barrow, which also qualified him for the Sale of Champions. He recently attended the World Pork Expo in Iowa in June and exhibited the lightweight Yorkshire division champion barrow, which went on to be named third overall York. Baylor is not sure what the future holds for him in the show pig arena, but he is giving it all he has for now.
Baylor also loves to buy cows and is constantly talking to someone about partnering with him on a great cow he has found. He has a few deals working and would have a lot more if his parents would give him free reign of his own business decisions. Baylor's parents also talk about how intrigued and captivated he has been by the display bulls in Denver at the National Western Stock Show. He had wanted to be a part of that since he was about five years old. In 2015, he had the opportunity to live out his dream, as he is co-owner of an up-and-coming bull, Front and Center, owned with Phil Lautner. Being in Denver to display the bull and give his sales pitch over and over was a treasured opportunity but perhaps a little more difficult than he expected. However, he is full speed ahead in promoting his bull. It would be safe to say that Baylor Bonham will definitely have a future that involves cattle and possibly pigs in some capacity.
On a more personal side, Baylor has a huge heart and an even bigger work ethic. He is such a kindhearted young man and is willing to help anyone who will let him. He doesn't leave the barn when his chores are finished—he wants to stay and help with anything else that needs to be done. He doesn't watch TV, play video games or pretty much anything else indoors. He prefers to be busy all the time, even if it's called "work." He enjoys playing golf and is spending time this summer trying to improve his game. Even as a lefty, he is getting pretty good at it.
Recognized as a young leader in the community, Baylor is an honor roll student and just completed middle school as student council president. He attends the First Baptist Church in Newcastle and is part of their Youth group. Baylor is a Christian and strives to be a good servant for the Lord. Baylor's mom, Stacey, has always stressed the commitment to family and friends and spending time with them on holidays and special occasions. Baylor says it all works out well when they just go to the shows with him, and that way everybody is happy. You can expect to continue to hear and read good things about Baylor Bonham. He will be in the show ring every chance he gets, and when those days are over, you will still see him active in the industry.
Jason Hoffman
NE
BACKGROUND/FAMILY
Hoffman Ranch is a family owned and operated cattle ranch located in the 'heart of cow country' in the Nebraska Sandhills. With over 50 years of experience, Hoffman Ranch is a nationally recognized breeding program with proven genetics that build quality cattle for the progressive commercial cowman. Denny Hoffman and his son Jason were successful California cattlemen, but moved their families and the operation to Thedford, Nebraska in 2009 for the abundance of space, natural resources, and business relationships. In the summer of 2013, Hoffman Ranch purchased the fall calving herd in its entirety from Sitz Angus in Montana. Today, Denny and Dixie Hoffman, along with Jason and Kaycee Hoffman, Haxton (4), Kennedy (2), and Hayden (6 mos) manage the ranch. Jason's niece, Shayne Myers, has also been instrumental in starting their Angus show heifer program.
BULLS
Hoffman Ranch holds two annual production sales a year, beginning with their annual bull sale the third Friday in February. The sale consists of 200+ Hereford and Angus bulls, while an additional 80+ bulls are sold by private treaty throughout the year. Hoffman Ranch takes a tremendous amount of pride in producing herd bulls that are fault free, low maintenance and highly functional for the commercial cattlemen, as well as seedstock producers.
The Hoffman breeding program utilizes the best proven genetics in both the Angus and Hereford breeds, but they are also willing to take risks in the right circumstances. The yearling bull, FULL THROTTLE, was used aggressively this past year through embryo transfer and AI, and from the looks of his calves, it was a successful risk to take. This year, the Hoffman's plan to aggressively use HH ADVANCE 4075, a yearling bull bought in Holden's sale for $240,000. This bull is the real deal - proven genetics, great cow family, coupled with the fact that he is an outlier of an individual. Top producers in the Hereford breed were bidding on him.
FEMALES
The other annual production sale at the Hoffman Ranch is their Angus and Hereford female sale, held at the end of September. Over 200 females are sold every year, including show heifers, replacement heifers, bred heifers, bred cows, and donor cows, with most going through the sale. In 2013 and 2014, Hoffman Ranch broke breed records for the highest selling Hereford females. Most of the heifers sold in their annual sale make their way to the show ring and have performed with spectacular success. In the past nine years, the Hoffman's have had nine Grand or Reserve Grand Champions at the Hereford Junior Nationals. Many of these heifers have gone on to raise National Champions as well. Even though they offer several high dollar females, the Hoffman's feel that there are prospects available for any budget.
Hoffman Ranch places a vast amount of importance on the females in their breeding program. Maternal abilities are a big part of selection criteria throughout the program. They breed females that are recognized for their stoutness without losing femininity.
Hoffman Ranch is actively involved with the National Cattlemens Beef Association, Nebraska Cattlemen, Sandhills Cattle Association, American Hereford Association, and American Angus Association. Denny Hoffman is also a past board member of the AHA.
FUTURE
Looking towards the future, the Hoffman's would like to grow in real estate and cattle, especially with their prime location and connections throughout the industry. Hoffman Ranch is committed to their customers, both commercial and seedstock, to provide the best possible genetics and service. They have also been making strides in staying very involved in the marketing of the cattle that come from their program, which is how HerefordInfluence.com came to be. Hereford Influence is a site where Hereford-sired calves can be listed and found for private sale to cattle feeders. In addition, the site will assist breeders and feeders in locating Certified Hereford Beef (CHB) contacts. This marketing avenue is free of charge and the Hoffman's plan on making it a "go to" place for perspective buyers across the country.
Kyla Fawcett
SD
Hi y'all! I'm Kyla Copeland, owner and business manager of Focus Marketing Group, Inc.
"Life is short, don't be lazy." Sophia Amoruso.
That is one of my favorite quotes. I've always considered myself a busy body, I love to work and keep busy, and I am always pushing myself to do something bigger and better and want to challenge myself every day. I simply cannot sit still! To understand the work we do at Focus Marketing Group, you will need to understand a little bit about me … I'm a communicator, cattlewoman, businesswoman and an artist.
I grew up on a farm in rural Baltic, South Dakota. For a brief period of time (when I was very young) we milked dairy cattle and ran a commercial beef herd. We dispersed the dairy herd and concentrated on the beef herd. My love of cattle started very early. I started exhibiting cattle at a young age and competed at a local, state and national level. A big thank you goes out to my parents who put up with me, supported me and let me go after what I loved. I also owe so much of my knowledge of the cattle world to a wonderful man who took me in at a young age and showed me the ropes. He was my second dad for a big part of my life (and still holds a special place in my heart), Ron Bruns. Without him, I'm not sure what I would be doing at this point in my life for a career. But because of him, I'm doing something I truly love and am passionate about. We had many years on the show road where I learned how to win humbly and lose gracefully. I made so many special memories I will forever cherish. If you are ever around the Baltic, South Dakota area, stop in and see Ron and talk to him, his knowledge is astounding and he is truly a wonderful man.
I graduated from South Dakota State University in 2003 with a degree in Ag Journalism and a minor in Animal Science. In January 2004, I started working as the director of communications for the American Maine-Anjou Association (AMAA) and editor of the Maine-Anjou Voice, the AMAA's publication in Platte City, Mo. (just north of Kansas City). I also helped out with the various shows and events put on by the AMAA. Again, I owe a lot of my personal growth and knowledge to that job and also in my life to John Boddicker (CEO of the AMAA). John is someone else I really look up to, he is so well respected in this business, something we all strive for.
I currently live in Nara Visa, N.M. (we are located about 90 miles northwest of Amarillo, Texas; 40 miles southwest of Dalhart, Texas and 40 miles straight south of Clayton, N.M.) with my husband Matt. We live on the family's ranch - Copeland & Sons LLC - where we run registered Hereford cattle, commercial purebred Herefords and club calf cows. We sit on about 28,000 acres at about 4,500 feet elevation and are 5th generation in the family operation. I also have to take this time to thank Matt for his continued support over the years.
The ranch was established in 1943 (then called Jack Copeland and Sons Herefords) by Jack and Mary Alice Copeland and Jack's parents Otis R. and Belinda Copeland. The ranch was strictly a commercial Hereford operation in the beginning and then diversified into a combination registered and commercial Hereford operation. Although from the beginning ranch cattle were exhibited at shows locally and nationally, the cattle have always been bred for survival under range conditions and to produce all of the performance our severe southwest climate will allow.
I love living on a working ranch where they do things "the cowboy way". Everything is done on horseback on our ranch. Horses are a secret passion of mine, sometimes I wish I could spend some more time with them. In my downtime, I enjoy getting on a horse and heading out to a pasture to gather cattle or just to go for a ride.
Every fall we have a production sale with long time family friends, the Langfords in Okmulgee, Oklahoma. The Event is held the third Sunday in October. We offer our very best registered Hereford females and on occasion a few registered Hereford bulls in this sale and the Langford name speaks for itself with their Hereford genetics. We also hold two online club calf sales in October and also sell a few private treaty cattle throughout the year.
We travel to most of the major shows throughout the year with our Hereford cattle. Customer service is a theme around here, and we enjoy helping our "families" at shows with the cattle we sell.
We have been very fortunate to have done very well with Copeland raised Herefords. This past Denver was one for the books for us! We raised the National Champion Horned Female who was purchased by Fawcett's Elm Creek Ranch and McKay Cattle Company, thank you guys for your trust in that female. We also had a few division champions and reserves. But the biggest accomplishment for us was winning the Premier Horned Hereford Breeder award, something that was truly humbling for us all. Our club calves from our online sales have also gone on to do some great things for all families involved.
"If you do what you love, you will never work a day in your life."
After Matt and I got married, life took a few turns and I ended up starting my own company with a great, longtime friend of mine, Kent Jaecke. Focus Marketing Group, Inc. (FMG) came to be in November of 2010 at the Cardinal Hall of Fame Café in Louisville, Kentucky. I will never forget that day.
From there it was a leap of faith and a lot of hard work, but this business grew and it grew FAST, furious and big. We began this journey with four dedicated team members. From the start, we made sure to treat people right and offer top-notch customer service. We wanted to be a "one stop shop" for the livestock industry and make the marketing process easier on our customers. Today, we have nine talented FMG crew members who cover sale photography and videography, show photography, web and print design, social media management, creative photography and promotional videography for our customers from coast to coast. Our motto remains, "Our only FOCUS is you".
Like any job, some days can be challenging, but we still have fun with our customers and each other. Together, we strive to make livestock marketing an enjoyable process for all parties involved. My co-workers are my ROCKS, I couldn't do this without them and FMG would not be where it is today without them. I cannot thank them enough for their dedication and time they put into this company. Y'all are AWESOME!
Historically, picture/video day is stressful for everyone involved and we work hard to make it more enjoyable! If the photographer is a little more laid back and easygoing it creates a more relaxed environment, which allows everyone else to loosen up and even the cattle aren't as tense … well most of the time …
I also would like to take this time to thank all of our FMG customers for the continued support. You have shown incredible patience and unrelenting faith in our work, as well as allowed us to take risks and try new things. You know who you all are.
The customers, friends and acquaintances I've made along the way I will forever hold close to my heart. You all make this craziness worth the long hours, late night drives and hard work. The friendships I have made through this all are endless.
I'll end this with another one of my favorite quotes, "Create your own job. Become the master of what you do. Fully immerse yourself in your culture. Be humble. You are never above having to pack boxes. Never forget where you came from. And always be polite. Good old-fashioned manners can get you very far." Jenne Lomardo.
Life is a crazy adventure, enjoy every minute of it! I've been blessed to have a great one so far.
Thank you to The ShowTimes for asking me to write an article for the magazine. Keep up the great work gang!
Brandon Callis
OK
I will start this article with one of my favorite quotes: "The only way to live a better life is to love the life you've been given". I, Brandon Callis of Minco, Ok, am currently the livestock judging coach at Redlands Community College in El Reno, OK. It all started for me in 1983 being born to Dwight and Lorena Callis of Needville, TX which is about 30 miles south west of Houston. My dad is a retired county agent who served for 33 years as a 4-H agent in two counties. My mother has served as an assistant principal at a middle school and has been in education for the past 23 years. I am in the middle of 3 children. My older brother Cornelius is a large equipment operator and my younger sister Ashley is a special education teacher back home. Education, serving God, and agriculture are 3 big areas we take seriously. Our family's Ag roots stem from both sides, but my interest in the raising of livestock starts with my dad's parents. For a couple decades my dad's family owned and operated a small purebred Brahman herd in southern Texas. They exhibited and sold Brahman cattle through south Texas. Many of my early summers were spent at the family's ranch feeding cows and cowboying anything I could on horseback in Edna, TX. Rodeo, that's where my heart was early on. Thinking I would be the next Fred Whitfield, I practiced night after night roping a dummy calf 100 times every summer at my grandparent's place. When I turned seven my parents decided rodeo was going to be too expensive, and they bought me a Dorset lamb instead. When I was younger we also spent lots of time at a neighbor's barn where we kept my brother's show steers. I grew to love cattle while visiting and assisting my brother. A gentleman by the name of Kent Herzog served as my daytime sitter and teacher while my dad checked 4-H projects and my mom was in school. Kenny, as we call him, became a lifelong influence for me. He was one of my dad's most loyal friends. He introduced me to the world of show steers. We fed two local show steers and I won both years. I thought to myself, this is not that hard. After winning the local shows, we dove into the Texas major show steer scene. We had shown lambs and made the sale at the Houston Livestock Show, however, major steer shows were a beast of its own. A small jackpot in central Texas was my first show outside of our county. When we loaded up to leave this fast talking, hyper, athletic guy jumped in with us to help clip. I had to share a bed with this stranger later that night. We put 5 people in a double bed room. The room cost $25, so as you would expect the beds were more like cots than beds. I did not know this guy but there was something cool about him and we got along great. His name was Brandon Horn. Most people knew him then as a cattle fitting, pig selling specialist. Today everyone knows him, and if you are fortunate enough to know him, well you can image how fun my first show away from Fort Bend County was. We showed Red Angus steers mostly and a few crosses the next few years.
I always consider myself the most blessed person alive. However, when I was younger, I was very competitive and wanted to win each show. We never got the big one won, but along the way we were blessed with some breed champions and sale makers. My mother would always tell me when I got home and pouted about getting beat that "maybe God just has a bigger plan for you. Losing will happen, you just need to know how to handle it." The great thing about the Texas junior show program is that there is opportunity to get some return on investments even if you don't win the show. The support system, sales, and staffs down there are second to none.
When I was a 4-Her I had started to get interested in livestock judging. For those who aren't from Texas, you might not know my dad. I can say with confidence that he is the most well respected multi-species judge in the state. I would follow my dad around from county fair to county fair to watch him judge. At this time my passion for sorting livestock started. I always noticed both then and now that no one has a negative comment to say about him after he judges a show, win or lose. Everyone says he is great with the kids and sees the stock. I always wondered that maybe I could be fortunate enough to get the opportunity to sort as many shows as he does. While at my first judging contest I met a new professor, Dr. Chris Skaggs, from Texas A&M who coordinated our district contest. Little did I know the role he would play in my college and adult life. My first college plan was to go to Blinn College, judge, and then transfer to A&M. The coach of Blinn College, Doug Pierce, didn't have a scholarship program at the time. He told me to look at some other options, but if I still wanted to come judge I could. After our state contest my junior year I was recruited by a couple schools in Texas and one in Oklahoma. I choose to visit the Oklahoma school, Connors State College. I don't think my parents were as keen on the area as I was, but they came along with me to visit. We liked the college and I enrolled there. My livestock judging coaches there were "The Jerry Mcpeak" and Mr. Blake Nelson.
My experience in the junior college system was one of the best times of my life. All through high school I would considered myself the driven and focused type that never had a girlfriend. If it wasn't livestock or sports it didn't matter to me in high school. My plan was to finish school with my PhD and go into extension or teach at a university and then focus on a family. God's plans always trump ours. The first night at Connors I fortunately but unfortunately (there's a story there but you had to be there) had a run in with a beautiful young lady on my team from Oklahoma. Two months later I had a girlfriend. I now call her my wife Kelly. I take one life changing revelation from my two years at Connors: God's plan is better than yours, and she has been the biggest reason I'm where I'm at today. My parents raised me in a manner that God and love are very important in the lives of any successful individual.
I know that I've always been "different". My parents also raised us to believe that God and love are also color blind. You will never find me blaming anything on race. I see it as a blessing. After all, my judging teams never have a problem finding their coach after a contest, unless the lights are off or someone tall is in front of me. But as I tell my judging kids, if you live by God's rules it's a them problem not a you problem. My next stop was Texas A&M where my heart had always been. Yes, I am a fighting Texas Aggie!! Kelly and I were both blessed to be a part of the 2004 national champion livestock judging team coached by a young Mr. Ryan Rathmann. There is an All American plaque that sits on a shelf in our house, but it's not mine. Yes, she is that good. The next decision in life was do I step into the real world or keep schooling. I choose to continue my education and go to graduate school at Kansas State University. Most masters programs are two years. After two months of living in Manhattan, KS I was asked to go drive a van for the judging team. When we are young exhibitors we often look up to judges or place them on an, in my opinion now that I am blessed to judge a few, underserved pedestal. I was driving one of my judging idols around on a judging workout, Dr. Scott Schaake. This is why 2 years went to 4. I now got to travel the country and learn from him and hang out in his barn and work a little and soak up the Simmental breed. It seemed perfect that not only did he judge everywhere, but he also raised quality Simmental cattle. Life was good, except the fact that Kelly lived and worked in Dallas. I finally decided to grow up and get married. It was a great start for us and we are thankful for the lessons learned and people met in Kansas. The PHD thing was still a goal so I called Skaggs for more advice. After I received my masters, I returned to A&M to pursue a doctoral degree. When we moved back to Texas, our first child, Braedon was born, so I took a job coaching at Blinn College for four years. For those who don't know, when you marry an Okie you most likely will end up back in Oklahoma. Texans might be the most boastful people around, but Okies are without a doubt the proudest. They love Oklahoma. So now we are happily living in Oklahoma. I work at Redlands, and we own and operate a diverse livestock operation where we raise Simmentals and club calves. We also sell a few sheep and goats every now and then. We are raising three children: Braedon (6), Kylie will be 4 in April, and Cambrie who will be 1 in March. Livestock and kids have been my family's mission since I can remember.
My job allows me to meet and work with the most amazing people and our future leaders while looking at livestock. I have had so many great influences in my life and God has sent them to me in unexpected times and places but they have benefited me greatly. I am the most blessed person in the world and you can't tell me otherwise.
I will part with this. To those fortunate enough to win the big ones, always remember to be thankful, because it isn't easy. Those who were like me who don't, God still has a plan for you. Keep pushing.
Thanks and God Bless. ▪
Tracy Goretska
TX
Tracy's passion for cattle sparked at a young age where he was active in 4-H showing cattle and grew up on a farm. Dave Jennison helped Tracy get started showing and clipping as a child. He later worked for Lavern Massman when Lavern was having sales. "Lavern gave me the opportunity to work for him. He showed me the ropes and taught me invaluable lessons for which I've always been thankful," Tracy recalled. "Clipping was how I started out – I clipped a lot of sales all over the Midwest, including for Bob May, where I learned a lot." Tracy also did a lot of clipping in Nebraska; where he became friends with Dave Stoltz. "I always hoped I would be able to clip half as well as he could!" Tracy spoke a lot about how much he admired and looked up to Davey. In 1996 and 1997, he and Barry Nowatzke hosted a sale together in Michigan City, Indiana. In 1998, Tracy decided to try to sell a few calves out of his home in Russell, Iowa, where he has had his annual fall sale ever since. ▪
FAVORITE PART OF WHAT HE DOES...
...being able to make a living doing what he loves to do. He loves going to shows with his daughter Macey and looks forward to when his son Cash is old enough to show.
BIGGEST ACCOMPLISHMENT...
...the overall accomplishment is just being able to do it. He is thankful that Goretska Show Steers has had some success over the years.
ADVICE FOR OTHERS...
...Work hard. Take small steps – it doesn't happen overnight. Don't get discouraged.
FUTURE GOALS...
...to continue to sell the highest quality of cattle we can.
BARRY NOWATZKE, IN-
I have known Tracy for over 25 years. I have been associated with him on many different levels - from competitor to co-worker to partner and mostly as a friend. From the first time I worked with Tracy, it was clear to me that he had such a passion that he will settle for nothing less than perfection. With that passion and unparalleled talent, he is nearly unmatched in the Show Steer Industry for his ability to find them, sell them, fit them, and make them win. There are few that have the ability to do those things on the level Tracy does, let alone do all those things on that level. The mark he has made on the Show steer Industry will be everlasting.
There are a lot of young fitters and clippers that look up to Tracy and want to clip like him. Good luck with that! LOL! We all know Tracy is a great clipper. What everyone needs to know is that that is only a small reason why he is so successful. His work ethic is second to none. He always pays attention to the little things that some people take for granted. He conducts his business as a professional and has earned the respect from his peers and customers by doing so.He is the kind of positive role model we need in today's society. ▪
WADE RODGERS, IA-
I've known Tracy since I was about the age of 15. He is someone that I have always looked up to. It was constantly my hope that I could someday be able to achieve the talents of presenting show cattle at the level of quality that he can. Tracy has a very good eye for cattle and an unmatched work ethic. He is a true example of how doing honest and truthful business will lead to success. I'm very fortunate to have been able to meet and role model myself after several great people in the show cattle industry at a young age. After all of the people I've had the pleasure of doing business with in my short time, he's still at the top of the list!! ▪
Cherry Knoll Farm
PA
Cherry Knoll Farm is a name synonymous with quality. The Black Angus cattle operation, located just outside of Philadelphia, PA, defies the law of averages. It operates with only 50 head of cattle, yet accumulates winning titles across the nation against contenders who have ten times the number of cattle.
In 1989, Margaret and Bob Duprey moved Cherry Knoll Farm to its current location in West Grove, Pa. At that time, Margaret's passion was focused on high performance dressage horses; nevertheless, fate has a wonderful way of fulfilling wishes. Margaret's childhood dream was to own a farm and Brian Fitzgerald joined the team as the Cherry Knoll Farm manager. In 1993, Margaret's focus expanded to include Angus cattle.
"She always wanted to be like Old MacDonald," husband, Bob laughed. "Margaret's passion is evident in everything she does, and with the Black Angus cattle, it is no different."
Brian, Margaret and Bob began to cultivate the herd and, shortly, Cherry Knoll owned a nationally respected herd that turned heads in the livestock industry. Following a nine-year tenure, Brian passed the baton to his brother, Tim Fitzgerald, who currently curates the prize-winning herd and manages all the cattle breeding and operations of Cherry Knoll Farm.
The Fitzgerald's roots run deep in the Angus breed. Tim was raised in western Nebraska in an Angus family on a nationally prominent Angus ranch. He came up through the ranks of the renowned National Junior Angus Association (NJAA) program, and holds a B.S. degree in Animal Science from Oklahoma State University where he was a member of the 1989 National Champion intercollegiate livestock judging team. During his career, Tim has judged numerous beef cattle shows of almost every breed at all levels of competition.
Margaret recalled the conversation with Tim that would become the foundation for Cherry Knoll Farm's cattle operation for the next two decades. "I explained to Tim that we only had this much land which prevented us from accommodating the large herd that he'd been used to while working in West Virginia. We had to keep the herd manageable — so we should focus on quality not quantity. This is how we developed the cattle we have." Cherry Knoll Farm is operated on that philosophy, and the personal attention to detail is the secret to the great success it enjoys in its breeding Angus cattle that are competitive on the national level.
Cherry Knoll cattle are bred to fit a variety of programs, with a primary focus on high profile genetics, proven cow families, and the elite sires of the breed. Cherry Knoll Farm's clientele include Angus breeders, National Junior Angus Association (NJAA), 4-H and FFA exhibitors, as well as commercial producers seeking the added benefits of utilizing advanced, contemporary Angus genetics. The Cherry Knoll breeding program strives to exceed the goals of its customers and is recognized for its unique ability to raise cattle appropriate to all of these markets.
The Dupreys are passionate supporters of the NJAA. The Dupreys sponsor various Angus events, as well as sell their cattle to many of the juniors during their annual Fall Sale. "We support the NJAA because the children are the future of the Angus industry, the future of America and the future of the world," Margaret said. It is the exemplary breeding program that made Cherry Knoll Farm the winning choice for the NJAA Leaders Engaged in Angus Development (LEAD) Conference venue. The LEAD field trip to Cherry Knoll Farm included more than 150 juniors from across the country and Canada.
In addition to touring the farm, the juniors were able to spend time with the Dupreys, Tim and the cattle during the 2014 LEAD Conference, themed Forefathers & Farmers: Cultivating Angus Youth. The participants took careful notes and read the tags of the calves, asking questions and preparing for the October sale.
Tim shared his vast knowledge with the participants. He described the day-to-day operations of Cherry Knoll Farm, their breeding philosophy and strategy, as well as the rising concerns the economy forces breeders to confront. He acknowledged that Cherry Knoll Farm is an exceptional facility and credited the success of the operation to Margaret and Bob's philosophy, vision and generosity.
"I really wanted to show the kids that you can work for beautiful people, in a beautiful place and give back to the community," Tim said. "Cherry Knoll Farm is a special place, and we were thrilled to host the NJAA. We have the greatest set of babies ever raised, and it is our philosophy of quality over quantity that has allowed us to succeed. It was important for these kids to understand that bigger isn't always better. The truth is 'better is better'. So, you don't need 3,000 head of cattle to compete against the big guys."
Tim continued, "I think it was wonderful for the kids to meet Margaret and Bob. Probably some of the kids were surprised about how approachable and real Margaret and Bob are. Margaret is so much more than an owner… she is a supporter, she is a mentor, she is there at the in-gate, and she even helps to breed animals that get this close to perfect."
The annual event provides an open line of communication for members of different associations to share ideas, exchange plans and establish goals. Each year, the participating juniors collectively choose a highlight location to visit, and Cherry Knoll Farm was at the top of the list for 2014.
"Although we do not have children of our own, Bob and I feel it is vitally important to support younger generations. We know education plays a very important part in the future, and we do what we can to help out as much as possible," Margaret said.
In 2007, Cherry Knoll Farm clinched the Grand Champion Heifer and Grand Champion Bull during the National Western Stock Show, a nearly impossible feat. Many of the winning heifers and bulls are offspring from the Cherry Knoll stock, including some of the greatest made females to ever enter a show ring, such as Cherry Knoll LSC Rosebud, Cherry Knoll Elsa and Freys Arkpride of Cherry Knoll.
Cherry Knoll Farm is currently a leading force in taking genetic breeding to the next level. Tim explained his breeding methods in determining what pairing will produce the best offspring. "You are never going to have the 'perfect' cow, but you can sure get close. When breeding an animal, my main objective is to have that cow produce a better animal than what she is. It's a game. There is not just one bull out there that will fix everything; it is all trial and error. We try to breed that perfect one, that is what you try to do, and our results show just how close we get."
Although Cherry Knoll Farm is not set amongst hills with cherry trees, the name encompasses the history of Margaret's extensive roots in the equestrian industry. The original Cherry Knoll Farm was located in Newtown Square, and rivaled President Madison's home, Montpelier, where owner Mrs. Jean Liseter Austin duPont's husband, William, had grown up. The house duplicated everything about Montpelier, down to the woodwork on the interior. Cherry Knoll Farm became well known for their cattle and horses. Much later, Margaret rode at the farm and fell in love with its atmosphere and name.
Mrs. duPont's sister, Miss Anna A. Austin, allowed Margaret to keep the name when she began her own facility in the West Grove location. Mrs. duPont was a dedicated horsewoman who rode, showed and bred horses for most of her life—she was a fixture at horse shows across the country.
Similar to Mrs. duPont, Margaret's equestrian interests were nurtured early in life. She was a little girl who fell in love with a pony, and her passion only grew. She owns some of the most competitive high performance Grand Prix dressage and show jumpers in the world. Margaret, herself, trains with International Dressage rider, Todd Flettrich, in pursuit of her dreams of one day competing on an international scale, as both an owner and rider.
Flettrich earned a spot as the alternate on the 2012 U.S. Olympic Dressage Team only two years after competing at the prestigious World Equestrian Games in Lexington, Ky. Margaret admitted that she sees much of herself in Flettrich—filled with a competitive and ambitious spirit. Flettrich has ridden Amadeus and Otto at international dressage competitions, going head-to-head with the best in the world.
Margaret's famous show jumper, Cedric, ridden by Olympic Champion Laura Kraut, qualified for the 2008 Olympics, and helped bring home the Team Gold for the United States of America. Cedric continues to prove himself a superior equine athlete in show rings around the world, capturing four prestigious Longines Global Champions Tour (GCT) Grand Prix wins and finishing in the third place for the 2013 GCT Leading Rider Championship. Kraut believes he is one of the "best athletes in the world." Margaret is also a shareholder in the Stars and Stripes syndicate that owns Andretti S, one of Kraut's most competitive mounts. He was unveiled in 2014 during the Winter Equestrian Festival in Wellington, Fla., and will one day fill Cedric's position as her top international competitor.
Her dedication to the equestrian disciplines extends much farther than dressage and show jumping. Duprey is also a significant proponent of para-dressage, a growing sport in the United States. Paralympian Rebecca Hart and her own Schroeters Romani, owned in conjunction with Cherry Knoll Farm, quickly became an unstoppable partnership since the fall. They led the Grade II para-dressage ranks in the United States, and closed out the para-dressage competition during the Alltech FEI World Equestrian Games 2014 with solid scores and an outstanding freestyle debut, which Margaret was on-site to watch.
Cherry Knoll Farm continues to standout as the best, in every show ring they enter. The team at Cherry Knoll Farm works diligently to provide the best, always striving to be the finest in the world because they focus on 'quality not quantity'. For more information on Cherry Knoll Farm, please visit www.cherryknollfarminc.com. ▪
Deb Miller
IA
(Previously Vorthman)
I grew up on a century farm in the rolling hills of southwest Iowa near Treynor growing corn, soybeans, alfalfa, cattle and hogs. My parents are Roger and Ann Vorthmann and I have an older brother, Chad and a younger sister Erica. Today, our family operates a Limousin herd of around 50 head. In the past, our family had a commercial cowherd and used Limousin bulls. Over time we gradually sold the commercial cows and added to our purebred herd numbers.
To market our Limousin cattle, we have had a private treaty sale every September for the last 12 years. We do the majority of the work ourselves and it has been a successful way for us to market some of our cattle as well as have an open house for fellow breeders to come see our operation.
Growing up, my brother and I showed together since we are closer in age. Our first purebred heifer was purchased for my brother for a 4H project. I was 8 years old and I started showing in 4H at the age of 10 years old. I showed breeding heifers, steers, hogs and lambs, for 1 year. Like many, we didn't know much about showing cattle when we started. My dad did the clipping at that time and I can remember when we used to shave a straight line across the belly with a flathead clipper. I can also remember shaving a square on their butt…I guess we thought it made them look more square and thicker.
I have been to every National Jr. Limousin show since 1987 except for one year. In fact, the National Jr. Limousin show is just one of the many traditions that have evolved in our family because of our involvement in the Limousin breed. I showed at my first National Jr. Limousin show in 1988 at Des Moines, IA. The year before we traveled to Longmont, CO to see what it was all about so we wouldn't look like total rookies at our first Jr. National. That year I spent all but $20 in my checking account on a show heifer at the Iowa Beef Expo, her name was Amarillo. In my anxious little mind I thought I purchased a great one-- then I showed her that week and received last in my class. From that point forward I was determined to work harder than anyone else. Hard work paid off and Amarillo won her class and was Reserve Champion in her division at the Jr. National show and had lots of admirers. I was offered a nice price to sell her, but I refused. She went on to produce several successful calves. I sold a daughter in Denver for $10,000, another daughter to Minerich for $12,000 and she also produced several good herd bulls.
In 1989 I had a home raised heifer named Sugar-N-Spice. She was my favorite color, dark cherry red. I was very fortunate that summer to be selected Reserve Grand Champion at the National Jr. Show in Stillwater, OK. Over the years, I have had the honor of raising and exhibiting several Bred & Owned Champions. One of my bred and owned highlights came in 1999 when I raised and showed the Reserve Grand Champion Bull at the National Western Stock Show with VORD Halfback.
My parents have been great help and support over all the years. Early on, my mom told my brother and I "If you get up and do your chores and take care of your calves like you should, I will take you wherever you want to go." Well, we went to 30+ shows that spring and summer in Iowa and that is when I found my love for clipping cattle.
I would find the best presented cattle and watch the clipping and fitting. Then I would go practice what I saw. My brother went to a Stierwalt clinic one summer, he was so excited to come home and share what he had learned. We would get random cattle in from the pasture and practice for hours and I always had the saying "practice makes perfect" in the back of my mind.
In high school, I started getting the hang of presenting show cattle. When I graduated, John Sullivan offered me a full-time position. I was still showing Limousin cattle at that time and did not feel comfortable working on another junior's cattle that I would be competing against (this is when Sullivan's had Limousin). My brother and I still helped John, but it was not full-time.
In 1991, my brother Chad was helping Mike Hartman with their Llama and I think miniature donkey sale when he came across a Limousin heifer, Cookie. Cookie, in my mind, is one of the most famous Limousin cows ever. Chad bought Cookie from Mike and won reserve champion at the Junior National. Chad then sold Cookie to John Sullivan, who then bred Cookie to a bull that we would have never thought about using. That mating went on to be one of the most successful matings in Limousin history.
I then went on to work for John on a part time basis. It was very scary to me at first when I started clipping, I didn't want to take too much hair off, especially when I was working on someone else's cattle. The scariest moment of my career was in Louisville when Dave Allan, who was in charge of Sullivan's show cattle, told me that I was clipping tops and tailheads on show day. I had done everything for myself at shows, but never when I worked for someone else. I was scared to death. But it was that day in Louisville that it really made everything click. Some have many names for me, Perfectionist, Drill Sargent, Voo Doo Woman. People can say whatever they want, but I truly believe that the ability I have with a set of clippers is a God given talent. Not only do I get to share my talents to breeders around the country, I've had the opportunity to watch young cattlemen grow into the amazing people they are today. It's truly an honor to hear some of them say that I taught them something along their journey to who they are today. Along the way, I have had many people believe in me and give me opportunities to learn. This helped to build my confidence and helped me to be who I am today. It has taught me to always try to be better. I am constantly learning and don't like to give up until I am pleased with my work. Some say I'm a perfectionist, I do not like that statement because I want to keep improving my work.
Over the years I have many people believe in me and have had the opportunity to work for. I have helped Sullivan's, Deer Valley, Hackworth's, Andrews Land and Cattle, Carl Weathers and countless others that I have helped at shows or part time. Most of my full time employment has been with Limousin operations although I have worked on several breeds over the years. I have been from coast to coast working and showing. I have been very fortunate to have worked on several national Champions. Today, I spend a lot of time on the road traveling to and from different places and jobs. I enjoy getting to see the country and appreciate the friendships that have evolved from my cattle experiences.
In 2002 I was honored to be selected as the Limousin Herdsman of the Year at the NWSS in Denver. At that time, I was taking care of show/sale cattle for Andrews Land and Cattle from Olympia, WA and working on them in Iowa at Shane Lindsey's place in Prairie City. I was the first female to win this prestigious award. It meant so much because there are so many industry greats to win that same award.
A lot of people ask me what my next step in life is. Yes, I still want to clip for other people, but at my age, I would like to do more for myself. I've always had cattle of my own and I feel in the past, I haven't put as much thought as I could have into my cow herd/ breeding decisions. In the past year, I have culled cows and have mated differently. I have also purchased very unique Limousin genetics that I feel can change my program for the better. Although the Limousin breed isn't as popular as it was 15 years ago, I still feel like they have a very important purpose in the beef industry. I see myself raising quality Limousin and Lim flex cattle which has been my passion since I was very young.
Another question I get quite often is any advice or words of wisdom to youth that wish to do what I do. To keep it short, I tell them to learn from the beginning. What I mean by that is learn how to break one correctly, wash one correctly, comb one correctly, blow one correctly, then clip and fit one correctly. I often see so many people try to do it the opposite way. I personally have more respect for the people who do the little things right rather than just be able to fit a leg or something. The number one advice I have to give is, never think you know it all, because you don't… no one does. And girls, it can be a bumpy ride, but don't give up!
Some other things I do with my spare time is I am a Beef leader for my 4H club that I grew up in as a kid. It means a lot to me when I am able to work closely with the kids and families and try to help everyone learn and get better. Also, I help put on a showmanship clinic at our county fair every year. Getting to be a professor for Stock Show U has been another way I get to teach young exhibitors. I really love doing these types of things since it helps the next generation of cattlemen.
I've always seen myself doing what I do, but I've never dreamed I would be doing this as long as I have. I have always pictured myself by this day and age having a family of my own, but sometimes the good Lord has a different plan and gives you other opportunities that you wouldn't trade for the world. One of those is being able to meet up with friends at shows across the country. I am so blessed to get to experience this and be able to make a living doing what I love. ▪
Brock May
WI
Brock May is a true competitor. Many know Brock for his many national champion steers. If you have had the oportunity to show or stall by him at a show, you have seen first hand a different side of him. Brock has always been humble. It is easy when you are winning and on top. What really stands out about Brock is how he is when he doesn't come out on top. Brock is always the first person to congratulate a fellow exhibitor that wins the show. He is always kind and always there to help someone when they need it. That is what makes Brock an easy choice for The Showtimes Hall of Fame.
Brock May has shown numerous national champions, ranging from prospect shows like the Badger Kick-Off Classic, to major accomplishments such as winning the American Royal three times! He was selected Reserve Champion in Denver in 2007, and followed it up with being named Grand Champion just four years later. In 2012 he pulled off a rare feat of winning both Grand and Reserve Steer at the Wisconsin State Fair! Brock's cattle were always well fed, highly presented and were 12 o'clock on show day. Anyone who shows cattle, knows the hard work and dedication it takes to compete at that level. Now that his junior showing career has come to an end, Brock can be found helping his younger sister Lauren with her steers at shows. Congratulations Brock on being our latest Hall of Fame member!
WHERE HE IS NOW (as of 2014)
This past spring Brock finished two years at Lincoln Land Community College in Springfield, IL, where he was a part of the judging team. He is home for the summer working steers with his sister Lauren, doing cow work of his own and helping his dad Bob with his cows as well. He has also continued to do some fitting demonstrations for Weaver. Most recently he has been to Urban, OH; Escanaba, MI; and Indianapolis, IN for the Angus Jr. Nationals. He also judged a county fair in Shelbina, MO! This fall he will be heading to Stillwater, OK for school.
Pearl Walthall
MO
Q: What is your background and how did you become involved in the livestock industry?
A: I grew up on a farm in North Eastern Ohio. That farm started out as a dairy, but became, predominately crops and beef cattle. The farm consisted of a purebred Hereford cow/calf operation along with a feedlot. This was an education in the best of several worlds. During my youth, I also had exposure to the processing side of the industry as well. It became a challenge for me to pick out the best finished steers on hoof and then view the hanging carcasses to see the end results. Although I like the challenge of selecting the best carcass steers, I loved the cow/calf operation more, and it lead to my love of breeding and showing cattle. My grandfather, who had graduated from The Ohio State University with a degree in animal science, also had a love of showing cattle that was passed onto me. He used to tell me stories of his trips on the trains, traveling with the show cattle. Through my grandfather's stories and his passion, I caught the "show bug!" Grandfather's passion lead me to become a 4-H member. At the age of 9, I enrolled in 4-H and have been showing cattle ever since. When I was learning about showing cattle, my father took me to a nearby county fair to watch other 4-H members show so I could learn some techniques. With my father beside me, I studied them very methodically and entered my first showmanship contest the very next week. In my first showmanship contest, I was second…I did not like being second! So, I entered 24 more showmanship contests over the course of several years and won all of the rest! I continued my education by joining FFA when I reached high school; being one of the first females in my school district to become an FFA member. You could say I had a gift to show cattle. This gift got me jobs to show professionally starting at the age of 16. I showed for several large Hereford operations such as Spring Creek Farms, Pierpont Ohio and Glennkirk Farms Maysville, MO. My younger years taught me you could show your way to the top if you worked hard enough.
Q: What is your current involvement in the livestock industry?
A: My Husband Greg Walthall and I currently have a Simmental, Angus, and SimAngus® cow/calf operation. We have several wonderful partners that we flush donor cows with, and market an elite group of cattle each year. In 2006, we sold our entire Simmental herd to Hudson Pines Farms in Tarrytown, New York. We loved those genetics so much that, over the next few years, we bought back several daughters. Those daughters make the genetic base of our current herd. One of the females that we bred and bought back was Denver Champion, HPF MS Pep 27T. We currently own her with Black Watch Farms and Herbster Angus Farms.
Q: You have been extremely successful in the show ring. What are your successes as well as some highlights of your show career?
A: I could write a book on this question, and I have threatened to do so! After owning WW Cattle Company, our fitting service, for over 20 years and having at least 60 head of show and sale cattle at our place at all times, I cannot come up with everything we have won. I can, however, count over 23 National Champions that Greg and I have shown over the years. Two of those National Champions were cattle we bred ourselves. In our minds, that is our most rewarding accomplishment. As I think about my successes, many are personal and not just a winner with a purple banner. One of my favorite stories is when I was in college and traveled to the NWSS with Glennkirk Farms. We had over 50 head of Herefords there, and I was outside in the tie outs brushing on cattle, because that is what you did back then, you brushed them dry! I was brushing away, and thinking how lucky I was to be in Denver working for $20.00 a day when one of the crew members came stomping up to me. He said, "The only reason you're working here is because of the way you look! You are taking up a good mans job!," and then he stomped off. In my opinion that was the best thing anyone could have ever said to me! I didn't get upset, I just thought to myself, "I need to do this job better then any man could." I then set off to accomplish just that! I think that was a turning point in my life, and for the next 30 years I worked as hard as I could to achieve this goal. Some of my other successes come from being a problem solver. Back in the '70s when we first started showing yellow and white Simmentals, the trend was to comb the hair straight up on the cattle with a liner. This technique worked great on the other "better haired" breeds, but not on the course, flat Simmental hair! I set out to find a solution. Shortly after a few outings with the bad hair Simmies, I was in Denver and saw Darrell Hammons with a steer. His hair was brushed forward and was smooth. I thought that could work with my Simmentals. After being laughed at the first year for making my hair go forward, I think this method of grooming actually caught on! My ideas also changed the way tails were done. One year we were at the American Royal, and I had already shown fifteen head with about ten left to go. I noticed the tails were not at the right level and were tied up wrong. After the fifth time I had been summoned to the chute to give tutorials on the correct level of the tail, I took the clippers and cut the tail off. I said, "Now there is no guess work!" I went back to the ring as they all stood around the chute with their mouths open. I think after a while that trend caught on also. I think I will write that book!
Q: What was the greatest thing you have taken away from your involvement in the livestock industry?
A: Total fulfillment and bliss! I am one of the luckiest people in the world! I have been able to take a love and passion for cattle and make a living from it. Therefore, it isn't a job. It is a way of life! I get up every morning and love what I do. The friendships and bonds that have been formed from being involved in this industry are a true blessing. There have been so many of life's lessons that have been learned through my many experiences along the way! I would not change a thing about my life and I have no regrets.
Q: What was the inspiration behind Pearls Pics?
A: Since I was a small girl, I have always had a camera in my hands. I progressed into taking photos for the yearbook when I was in high school. Throughout my years on the show road and working on our fitting service, my love for photography continued. Owning the fitting service opened a unique opportunity for me in the realm of photography. Customers always needed their cattle photographed and, sometimes out of necessity, extra work was needed to make end's meet. Filling a void, I took the opportunity, as I had helped every major livestock photographer get great photos, so I had a good base of knowledge. I knew I could take great pictures. I began taking all of our client pictures for promotion of the cattle we were fitting in our service. People began asking Greg who took our photos of our cattle, and he would reply that Pearl did. That is how my on location photography began. Secondly, when you own a fitting service, not much income comes in the months of June and July. I approached several local shows for a photographing job, and before you know it, Pearls Pics was formed. I started photographing at the Missouri State Fair fourteen years ago with the intentions that anyone and everyone who wanted a picture could receive one. We could never get a marketable picture to use for advertising when we were showing, and my goal was to make sure any exhibitor could get a great picture. It costs a lot of money to exhibit livestock ,and a good picture documenting a win is a necessity. What started out as a part time job turned into a full time job! The fact that I had so many already established contacts in this industry, gave me a jump start for my new business. The capability of knowing the physical strengths and weakness of an animal can help in the positioning of that animal. Not every animal has the mobility to stand correctly and I feel it is my job to make the animal look correct in its stance. My inspiration is making the cattle look their best, and for my client to get the best picture possible.
Q: If you were not doing what you do now, what would you do instead?
A: I can't even imagine doing anything else. I will always be in the cattle business in some form or facet. I am a cow-aholic and I need my daily fix of cows in some form. I was recently in Virginia with one of my friends, Amanda Raithel, getting bulls ready to photograph. I looked over at her and said, "I love doing this washing, drying, clipping and photographing. It doesn't get any better, unless you could do it on horseback!"My desk is positioned so I can see cows out the window while I'm editing pictures; they have to go by my window to get a drink and I can heat check in the afternoon during breeding season while I'm on the computer! It works great! I really don't want another job!
Q: What is your goal for the future? Or something you would like to obtain?
A: This is probably pretty sad to say, but I have reached most of all the goals that I have set for myself. I told my son, Justin Johnson, that I never set my goals high enough because I had already reached most of them. I want to continue breeding good, sound functional cattle that can contribute not only to our breed but the beef industry. Greg and I want to make an impact in the industry not just chase the almighty dollar and make that one big sale. On a person level, I want to continue photographing on location for as long as I can. There is something to be said about being outside in the fresh air with great people and good cattle, it is extremely calming to me. If I had to pick a goal, however, it would be to be selected to photograph a major livestock show.
Q: Both you and Greg have judged shows across the country. What are some of the shows you have judged and what does it mean to you to be on the other side of the mic?
A: I started judging shows back when I lived in Ohio in the '70s. I didn't have a problem with giving my opinion. Greg and I have judged shows at the NWSS, Fort Worth, The American Royal, The North American, numerous State Fairs, district shows and Beef expos. Judging shows, in our opinion, is a major responsibility. We want to do a fair and honest job and judge cattle like we want to be judged. We have been on the other side where politics played a big part or someone had an agenda or just didn't know what they were doing. I have always said that I don't mind getting beat by a good one, everyone benefits in the long run for good cattle winning. I have shown under judges who have never shown an animal, bred, fed or raised cattle for a living and defiantly did not calve them out and get them bred back. If they did, they wouldn't be picking the type that they are. When Greg and I judge, we don't expect everyone to agree, that is just not going to happen. What we do want you to know is how we see the cattle and how we project them for the future. We judge from the ground up and they have to be sound, functional, deep sided, with a good angle and slope to the shoulders, long hip structure with a natural muscling, which should show easy fleshing. (Easy right?) As judges with no pedigrees, what we do not know is the genetics which plays a huge part with how that animal turns out. We have to use phenotypical traits as tools for our assessment. That said, there are a lot of great judges out there that I love to listen to. I really do like to hear someone else's opinion about my cattle, you can always learn something! We never get tired of looking at cattle! It is so rewarding to go to a show and have the opportunity to judge good cattle.
Q: Is there something about you that most people do not know or that would surprise them?
A: Most people do not know that I used to show horses. I showed Saddlebreds and Quarter Horses. Economics showed me that the six steers I showed every year paid for the two horses and trainers. It didn't take me to long to figure out where I was making money and where I was spending it! I also played five instruments and played in a symphony orchestra. That one usually throws everyone! The most suprising thing about me for most people is when they meet me ; I am nothing like they expected. You can't always judge a book by its cover and you don't always get what you see... .live life with an open heart! Good things will come to you!
There are many people that have been a huge influence in my life and best of all great friends that have taken this journey with me. To all of you, Thank You!
Nick Reimann
SD
We knew right from the start that Nick was a people person. Nick was always genuine, you could tell as soon as you met him that he had a lot of raising. From the start he was a natural seller. People liked Nick and they wanted to buy from him. He had that little extra that most people don't have, you either have it or you don't and Nick was one of the few that did. I've never seen someone that so many people thought he was their very best friend. I've talked to Kent Reimann several times through all of this. There are two stories that exemplify how Nick thought. Kent called a family meeting last winter and wanted to talk to Nick and Barry about how many cows they had, which was a lot, and Nick said, "Is that all." Nick was a big thinker. His dad asked him once, "Nick why don't you slow down and just enjoy life a little more." He said, "Dad I want people to know Reimann Ranch from coast to coast." Old buddy Nick you got it accomplished. There was more people at that funeral that had showed National Champion cattle than any funeral I have ever been to or heard of. All the great ones were there for you. When I made big decisions the only one I really ever asked about it was Nick, and I think he did the same with me. I always knew what was right in my mind but I always felt better knowing that Nick thought what I was doing was the right thing. That would be on a personal or business decision. I'm going to miss your calls Nick. We made a lot of trips to South Dakota and stopping at Nicks was one of the highpoints. We all wanted to see what Nick had in the pasture. Our crew has a lot of people that felt Nick was one of the "great ones." He was a buddy to all of us. You never met someone that didn't like Nick; he was just that kind of a guy. Nick damn sure knew what a good one was supposed to look like. He either bought the good ones, whether it was a cow, a steer, a heifer, or a bull, or he made someone pay for them. The club calf business is going to miss him personally, but they are going to miss him in a business sense too. Nick was a big part of our sale, he loved Irish Whiskey, he believed in them, and he hammered away at a lot of them. I don't really think it was your time Nick, but sometimes life deals you a bad hand. We feel so bad for your wife and little ones and the whole Reimann family. You died with some great men that day, all doing what you loved. For whoever is reading this when you go to get in that car with a person that's been drinking or get in a plane when the weather is bad, listen to that little guy on your shoulder and think of Nick. Nick was never afraid to stand alone, for some reason that night he didn't. They all got on that plane together. I talked to him on Saturday when he landed and told him how glad I was he was safe on the ground because of the weather. Sunday I said, "I sure feel better about you flying today" and he told me the weather still wasn't very good. I wish I could tell Nick not to get on that plane that night, I think he would have listened to me. I've kicked my butt a thousand times I didn't, I never felt good about it all weekend. If we all lived up to our potential like you did Nick it would be a pretty awesome industry. I'm damn proud of all you accomplished. It's amazing for 33 years what you did. I'm just glad I got to be a little part of it. There is a quote that reads, "Talent is cheaper than table salt. What separates the talented individual from the successful ones is a lot of hard work." You had the talent and you worked hard. Keep raising the great one's Nick! There won't ever be a long, skinny-necked Whiskey that walks through our sale ring that we won't think of you! Our deepest condolences go out to the Reimann, Beitelspacher and Rau families. You are all in our thoughts and prayers.
- John Griswold
It was a privilege to know Nick. Two of the best steers we ever owned came from him. This last fall was not only Lisa's, but our family's last market steer show at Louisville. We had fun talking about the possibility of a "big win." Nick came through with one of the best steers we ever owned; however, right before it was time to start clipping him and head east, the steer lost his teeth. No one was more disappointed than Nick. He immediately lifted our spirits by offering us a partnership on an Irish Whiskey heifer. We will forever miss the future that that partnership could have had. We enjoyed working with him, and he always put forth a special effort to see Jim. His love for his family and the cattle industry was obvious. His passion was contagious. He was kind. We will miss his camaraderie and most of all his smile. The Reimann family will always hold a special place in our hearts.

- Reid Family

I've never really stopped to think about it, but 15 years ago when Nick and I first crossed paths, who would have thought we'd be where we are today? It was just the beginning at the GCC showbarn when we were on the washrack instead of in the clipping room, the days before smartphones where we weren't on the phone all day, it was the place where we had no worry in the world besides trying to figure out how to turn our passion into a living. We both watched, analyzed, learned and experienced hands on from some of the greatest in the industry. As lucky as we were to have all these people who took us under their wing, I was just as lucky to meet and have Nick by my side through it all. Throughout all the miles spent driving, all the cattle bought and sold, all the hours on the phone, all the early mornings thinking about what to accomplish next, there is not one single moment Nick and I didn't share. The determination to make cattle his living didn't end there. He grew into one of the greatest himself. His family, friends, colleagues and the youth of today all looked up to Nick. He strived to make his life better day in and day out and had the love and support for everyone he knew to improve right there along with him.Nick's memory will continue to live within pieces of all of us. Although it is unimaginable he was taken from this life way too soon, I feel comfort in knowing I am left with his guidance in my heart, his voice in my head, and his laughter in my ears. Nick was always there to make someone's bad day better. I hope we all continue on with his legend of striving to be the best spouse, parent, son, friend, cattleman and idol. He will be greatly missed, but never forgotten.
- Luke Dorris
There are way too many stories to tell about Nick that I don't know where to even begin. He was the type of guy that could make you laugh no matter what mood you were in. He loved Kyrstin and his kids more than anything, and would call and tell stories about them often. He had the utmost respect for his parents and grandparents. He looked to his brother for advice and had a bond with him that few would understand. Nick left a mark on the cattle industry in his short life that was huge. As another friend said, he was one of the few that actually lived up to his potential. As we remember him, I hope that we will strive to be better ourselves and be more like he was. Until we meet again my fine friend "Here's to the girl in the little red shoes."
-Jason Krick
Everyone who has ever been acquainted with Nick, they know he was a man of integrity, loyalty and passion. Passion not only for the cattle industry, but the people involved in it. The vision he had was remarkable, and he was a person that left an everlasting impression. Our family was blessed to be apart of his life and acquire his drive for success, and love of the business. We know in times of darkness and sadness light can only be shined through trusting the Lord and his plan, and that Nick was here for a purpose. Our hearts go out to his family and close friends. The cattle industry lost an outstanding individual and we can only hope to remember Nick, and continue to strive to fulfill what Nick set forth to accomplish.
- Schnoor Family
My husband, Garrett Hartwell, and I have known Nick Reimann for many many years. I grew up showing cattle with him and Garrett met him while he was going to school in Oklahoma. We attended Nick's funeral along with so many last weekend. There were some great stories told about Nick. There was a story told about how he and Kyrstin actually met. How someone told Kyrstin to call Nick because if anyone could cheer her up, and make her happy, it would be Nick. Well he did obviously, and we all know how it turned out. Into a very happy marriage. Well I was telling my daughter Ashlinn, who is 7 about Nick. I was telling her some great stories about Nick and his family. There was one that particularly stuck out to me. Nick, Luke Doris and Kyrstin were at our house one spring looking at calves and it had just rained quite a bit. We were all standing outside including Ashlinn who then was about 2. Well, Nick being who Nick is, starting encouraging Ashlinn to jump in the mud puddles and play in them. She started and Nick in typical Nick fashion just started egging her on more and more. Needless to say I was not pleased, but Nick, Luke and Garrett were laughing their asses off. Nick always found a way to make fun out of any situation!!! After I told her that story she started asking questions about why Nick had to die? I told her that sometimes Ashlinn we just don't understand why God needs certain people in heaven, but someday we will know. She looked right at me and said Mom; I bet I know why Nick had to go to heaven. To cheer somebody up that was sad up in heaven! I found that pretty remarkable that she could say something so simple, yet so true. I along with so many people have been struggling with why Nick had to go at such a young age, but Ashlinn put a lot into perspective for me that night. I shared this story with Kyrstin and she really appreciated it.
- Kari Hartwell
I don't know if anyone can fully put in words the impact that Nick had on all our lives. I don't know if I've ever known anyone with a more positive outlook than him. No matter what, everything was always going to be ok. I always think about the one day he came in the barn and said "Choate, how we gittin' along?" My reply was "Nick, I'm feeling a little overwhelmed!" He immediately burst in to laughter, while I myself didn't understand why that was so funny. After that he would always ask me "you overwhelmed today?" and always chuckle. I began to realize that the reason he found it so humorous was that "overwhelmed" was not in his vocabulary. Everything he took on he took on the whole way, and nothing was too big for him to accomplish. Nick loved the cattle business and the people in it, and especially loved helping each and every kid that showed interest. At the end of the day though you knew where his biggest love was, and that was at home with his wife and two children, which made me respect the most. So with that I say rest in peace Nick Reimann, you will always be missed, always be loved, and certainly never forgotten!
- John Choate
Nick Reimann was an amazing man and a wonderful person; I was so fortunate to call him a great friend. Nick and I go back to the early 90s when we were competitors showing steers and heifers. It never mattered how we did or who beat whom, at the end of the day we were all together with a group of friends laughing and having fun. That friendship and camaraderie continued through the years. He always had a smile on his face and was the first to lend a helping hand to anyone who needed it. He truly was a great one. When I was in South Dakota for that tough week, it was obvious how many lives he touched with the outpouring of support shown throughout the industry. There is a long road of mourning and sadness ahead for his family and friends, but we will cherish the memories and times we enjoyed together and find peace in that. I will never forget Nick Reimann and the friendship we shared, I will miss you buddy!
- Kyla Copeland
I was truly privileged to call Nick my friend although he was taken to soon I am grateful to have spent the fun times we did together. I've met a lot of people in the short time I've been in the cattle business, but I've never met any as happy to live life as Nick. No matter how bad a day or whatever troubles have come my way, I always relied on him to make me laugh or realize things were always gonna work out. No matter if you knew him for 5 minutes or 5 years he had a charm about him like no one I've ever met. He was a true legend in the cattle business, and I am truly blessed to have called him my friend.
- Wade Rodgers
Gib Yardley
UT
Gilbert T. Yardley has a life that is rich in history and friendships; many formed from within the cattle industry; acquaintances' that make a life complete and full. Gib was honored in 2006 at the 100th Anniversary of the National Western Stock Show in Denver, CO. He has shown at Denver for over 34 years and has attended for over 64 years. He spent his life pursuing the lifelong dream of raising good cattle. For many years he traveled throughout the United States with feeder pens and show calves. The Cow Palace in San Francisco, American Royal in Kansas City, Pacific International Show in Portland, OR, and the North American Livestock Show in Louisville have all housed Yardley Cattle throughout the years. There had never been a heifer pen show at Denver before, but there wasn't any rule in the premium book that stated you couldn't take heifers to compete against the steers. Gib took the first pen of heifers ever shown in Denver, and next year Denver had a heifer pen show! He had steers that won every major show and for many years dad traveled everyplace in the country to watch them show. Eventually though, time caught up and he realized he had better start raising a family. My granddad Yardley was in Partners with his two brothers, and they were always in the cattle business. One brother, Uncle Al, would take a herd of steers and cows and drive them to winter range down on the Arizona strip. He would take a pack horse and potatoes and salt bacon and live in a tent out there with them all winter. In the spring of 1908, he was coming home from Arizona, and when he got to the northern end of Long Valley, he took the wrong canyon and ended up in the head of Asay Creek. He said this was the most beautiful spot that he has ever seen in his life. It was a beautiful mountain meadow valley with some big springs and the most beautiful streams in the world. He saw a man there that owned it, and he said he wanted to sell it, so he came home and got my granddad and they went back and bought it for 5,000 dollars. This has forever changed our lives. They then acquired one of the first forest permits on the Dixie National Forest, running 500 head there, which joined the ranch. It is 70 miles from Asay Creek to Beaver, and they always drove those cattle back and forth on horseback, taking about three and a half days, until the late 1940's, when we started trucking them. In 1920, Granddad went back to Kansas and brought the first Hereford cattle to this area. Again in 1939 and 40', they went to Colorado and bought replacement heifers from the old master Hereford breeder of the United States, Fred DeBerard of Kremmling, CO. Then we bought registered Herefords, both bulls and heifers, from many other top breeders of the country. We had as good of Hereford as there were in the West. About 35 years ago, we started cross breeding some of them with Angus, and then when they brought the first Simmentals to Canada, I went up to see them and the Maine Anjou, started breeding them, and the rest is history.
Until I was 18 years old, my dad was in partnership with his brothers, Ike and Roy. We would start haying the 20th of June, and haul hay six days a week until the middle of September. We were cutting, raking and hauling all at the same time, using eight to ten teams of horses.
When my dad and his brothers divided up, I worked with dad until he died. I was so busy breeding good cattle that I didn't get married and start raising kids until I was older in life. I met Denise, who was raised in Coalville, Utah, and we got married on April 18, 1981. I never thought that I could love anything as much as my wife and my children. I was the eldest and only boy in my own family. I have five lovely sisters that all graduated from college and were all school teachers, and all but one of them lives along the Wasatch front of Utah, and the other in Omaha.
I was always active in 4-H and FFA, and started showing cattle then, and have enjoyed it ever since. I always believed in doing my very best at everything I ever did. In fact, my Uncle Roy called me a perfectionist. So I have always tried to raise the very best cattle possible. I have always liked to have the best corrals and fences, gates and improvements, so that everything is convenient and handy. I have always loved good, fancy colored horses, and I got my first paint mare when I was 14 years old, and I have had that same family of horses ever since. They are just like part of our family. We do everything we can on horseback, and spend many long hours in the saddle. Quite a few years ago, we bought two winter range allotments 40 miles west of Beaver, and we winter most of our older cows out there without feeding hay. They have to calve on their own and do it all. They have to have natural fleshing ability to take it. We have gotten rid of the cows that haven't done well out there. We have Indian Rice Grass and some native desert browse plants that are wonderful feed. Since then we have been scattered out for 100 miles between winter and summer ranges. We spend half of our time coming and the other half going. I started artificial breeding in 1968, and have done more of this than anyone else in our state. One year, we bred over 600 head, I have always tried to buy the best bulls I could find in the nation, besides raising some very fancy herd sires.
In closing, I would like to leave you with the words of the greatest president the United States ever had-the immortal Abe Lincoln: "You cannot bring about prosperity by destroying thrift. You cannot strengthen the weak by weakening the strong. You cannot help the wage earner by pulling down the wage payer. You cannot further the brotherhood of man by encouraging class hatred. You cannot help the poor by destroying the rich. You cannot establish sound security on borrowed money. You cannot keep out of trouble by spending more than you earn. You cannot build character and courage by taking away initiative and independence. You cannot help men permanently by doing for them what they could and should do for themselves." ▪
Mark & Deb Core
IA
MARK
Mark was born and raised in Pleasantville, Iowa on a small diversified farm with its roots in Hereford cattle and Yorkshire hogs. Although financial resources were limited, his parents did what they could to support showing steers, heifers and pigs on a limited basis. Although he never had the opportunity to win big, it was these humbling experiences that instilled the love of animal agriculture and the desire to compete. Upon high school graduation he looked toward college life. Marks older brother Phil had always influenced him greatly, and he decided to follow in his brothers footsteps and he attended Iowa State University and joined the Alpha Gamma Rho Fraternity. These were decisions that would shape his future. The Fraternity brought him friendships that would help him make it through the unexpected and early death of his father during his sophomore year. Iowa State brought him the opportunity to not only gain the valuable life lessons that come from a judging program but most importantly provided him a mentor in coach Dr. Chris Skaags. Under Dr. Skaggs direction, the team won the National Championship in 1986. Mark often reflects on that year and the fact that the first big contest , "Denver" was only the fourth judging contest he had ever participated in – EVER! Upon graduation from ISU, Mark started a dream job with Syntex Animal Health in their sales territory division. Not only was this a great career opportunity, the location was perfect as his mother was in failing health and he and his brother Phil were focused on her and trying so save the family farm. As Mark was advancing in the corporate world at Syntex and working with his brother to build a nationally competitive Maine-Anjou program, along come a Minnesota gal by the name of Deb Stade. Mark has been blessed with the opportunity to work for Vermeer Corporation, a 65 year old family owned Global company less than a thirty minute commute from Core Farms. He has held numerous roles in his eighteen years at the company and currently serves on the Senior Leadership team as Vice-President and Chief Marketing Officer. Although the chase to attain company metrics is fun and challenging, his real joy associated with work comes from "providing opportunities for others". He loves nothing more than to identify "Rock star" talent and recruit them into the organization. Many of these current employees have a strong background in animal agricultural.
DEB
Deb grew up in Jackson, a small agricultural community in southwest Minnesota. It was there, on her parents grain and cattle feeding operation, that she found her passion for livestock. Along with her two sisters and one brother, Deb grew up walking beans, picking rocks and doing 4-H chores. Jackson County had one of the most intense and successful 4-H livestock judging programs in the entire country. The influence of that program, under the direction of Ron Harder, helped shape many of the decisions she would make for her future. She recalls that her 4-H team often traveled with the South Dakota State University Collegiate Judging team coached by Dr. Dan Gee. It was because of those contacts that she decided as a seventh grader she would attend South Dakota State, major in Animal Science and be on the livestock judging team. She never looked back and graduated with her degree from SDSU in 1982. Being a member of the Livestock Judging Team was, without question, the most impactful decision she ever made. Being a competitive person by nature, having a passion for livestock and being shaped by incredible mentors like her father Calvin Stade and coaches Harder and Gee, allowed her to develop character qualities that would shape her future. After working in the livestock industry for 5 years she made the decision to go back to college and get her masters degree from Colorado State University. While there, she assisted Dr. Clint Rusk with the livestock judging team and completed her masters program in 1988 under the direction of Dr. Robert Taylor and Tom Fields. It was soon after that she found herself in Platte City, Missouri at the American Chianina Association working for Terry Atchison. Over the years Deb had spent a great deal of time working with a close friend, Barb Ohlrichs, fitting on several Chianina breeders show cattle strings. It was these contacts that led her to her work as a communications director for the association. In 1990, Debs career led her to being selected as the Executive Director of the Iowa Beef Expo, a job she held and loved for 9 years. It was during the beginning of that career that she would meet Mark. They started dating in the fall of 1991, became engaged four months later and married by September of 1992. Although she loved her job, eventually her responsibilities as a full time mother to two beautiful daughters, and managing the day to day responsibilities of their purebred cattle operation were more than full time and she decided it was time to prioritize. The kids and cows weren't going anywhere, so it was time to give up the Expo. This was not a easy decision for a Masters educated highly driven person, but was the pivotal point of child and cattle operation development for the Cores'. It was a decision she never regretted. In a blink those two little girls, Bailey and Kennedy have grown up to be a sophomore in college and junior in high school.
CATTLE
Core Farms, a partnership between the two Core brothers continued to grow to the point of National Maine-Anjou breeder of the year in 1996. Exhibiting one National Champion and producing one in the Maine breed and one in the Chianina breed were certainly highlights. Just as Phil had blazed a trail for Mark in the early years, now Phil's daughters Lindsey and Morgan were doing the same for Bailey and Kennedy. They were both heavily involved in the barn, in the pasture, in school and on the Maine-Anjou National Junior board. Over time the cow herd transitioned into one of multiple breeds. This being primarily the result of the girls showing "other" breeds so that they weren't competing against customers.
BAILEY AND KENNEDY
Over the years, many people have asked us, how did you get Bailey and Kennedy to get so "hooked" on showing at such a young age? Their older cousins Morgan and Lindsey were instrumental in making that happen. Role models are wonderful things particularly when they were as exceptional young women like their cousins. Because I stayed home and took care of the farm, the girls had no choice but to be part of all aspects of the farm. From sitting in their car seats as infants while we helped the vet do a c-section, to riding on the Kubota with me to check pastures, they did it all. I'll never forget riding down the road one day in the pick-up and all of a sudden Bailey points to a pasture of cows and yells "Hey Mom, look, standing heat!" Then of course there was the time she went to school and explained to the kindergarten teacher how daddy breeds cows. Both the girls were the resident "cow experts" in their elementary classes. As time has a way of doing, the girls just developed the passion and work ethic that is such an important element of being involved with show cattle. Of course, it made a huge difference to have a mom that loved the business as well. At our house Dad had to go to his job at Vermeer every day so it was just us girls to be in charge of the show barn. It has been the worlds best opportunity to stay connected with each other and be such an important part of each others lives. We couldn't have shown as hard or as successfully as we have if it wasn't a team effort. We need all of us to contribute if it is going to happen. Bailey made the decision as a sophomore in high school to quit sports and focus all her energy onto our cattle operation. She has been an incredibly important part of the day-to-day management of our show cattle. She can manage every aspect of the show barn and farm if we need her to. Sometimes we worry we have put too much responsibility on her shoulders, but she can handle it. Of course there is nothing she enjoys more than showing a good one. She lives, breathes and eats that world. About two years ago she started dating a wonderful young man named Jared Boyert, who was working for Cates Shorthorns at the time and is currently teaching and coaching at Black Hawk Junior College. He too is passionate about showing great livestock and it is so much fun watching them find their place in this business. There is no doubt in my mind they have the drive and passion to be successful. Mark and I aren't sure if we have the energy to keep up with them. Bailey is currently a sophomore at Iowa State University majoring in Agriculture Communications and Animal Science.
Kennedy has always pulled a double duty in that she is an excellent athlete as well as being as talented as her sister in the show ring. She has had to figure out how to balance the extra effort and time it takes to be an exceptional basketball and volleyball player, as well as fulfill her love of showing livestock. Kennedy has played a high level of AAU basketball since 5th grade and recently just scored her 1000th career point in high school ball, doing it in her junior year. As her Mom, I love sitting in a gym and watching her play basketball every bit as much as I love watching her show. As a parent, all you ever want is to see yours kids find a passion for which they are willing to sacrifice, and see the rewards for their efforts. Kennedy amazes me sometimes on how she fits it all in. Along with sports, she is a straight A student, a student leader in every organization she is in, and finds time to be a great friend to others.
Mark and I couldn't be more proud of our daughters. They have made the job of parenting pretty darn easy and we can't wait to see what the future holds for them.
ADOPTED KIDS
As if there wasn't enough going on in the Core household, over the years Mark and Deb have opened their home to 12 different young men and women who have lived with them while they were either doing internships or starting their first jobs in the area. All these relationships have come through livestock involvement in some way from such as LJ Ashorn (Bernhard) who was Marks ring steward at the National Hereford Show, to Bellana Putz (Rayner) who purchased and showed a National Champion female bred by Core Farms as well as Kylee Deniz (Williard) who we got to know during the year that Bailey exhibited the Reserve Market animal at the National Western Stock Show. These young people have truly become "big brothers and sisters" and most importantly role models to Bailey and Kennedy. Some of the early live ins are now having their own children beginning to show so it just makes for an even bigger show family. The Cores are looking forward to this years addition to their family- Ms. Syann Foster who will be interning for Vermeer as a Forage Solutions marketing intern. "Of all the success our family has had in the show ring over the years, no banner can compare to the joy that all these young people have brought to our family. These "extra kids" continue to be part of our lives and we love each and every one of them," says Deb. At Bailey's graduation two years ago, they had license plates in their yard from eight states because of the "extras" coming "home" for the celebration.
JUDGING
Judging shows is a true love for both Mark and Deb. Between the two of them they have Denver, Louisville, Houston Steers and Heifers, Fort Worth Steers, San Antonio Heifers, Tulsa, numerous State Fairs and National Junior Heifer shows on their resume. With an already overtasked home life, doing these judging events can sometimes add an incredible amount of complexity in their lives, but the opportunity to see great stock and meet families from around the country is truly a blessing. We respect the honor and see it as a privilege to be asked. In the last couple years, it has been fun to get the calls from show management that ask will either one of you or both of you come judge our show. Doing them together is something they look forward to in the future. ▪
MARK'S LIFE TIPS
I'm a big believer that anyone, yes I mean ANYONE, can be successful in the agriculture industry. When I was trying to show as a high school kid, we did not own a truck and trailer so I was only able to go to a show when we could borrow one from a friend. I say this some times before I select a champion at a show, but I am always afraid that those that need to hear it have already loaded up and went home. "The best I ever did at the Iowa State Fair was seventh in class. As I get older, I can see that many times the ones that really make an impact in the industry are those that had to work their tail off and be an entrepreneur, just to be third in class. I often think of folks like Wade Rodgers who today everyone knows as a dominant player in the show cattle industry. Most don't realize that it didn't come without work and sacrifice. The Bob Mays, Goretzkas, Jirl Bucks, and Wade Rodgers of this industry make it look relatively easy today, but they weren't "born" into it, they simply made it happen with hard work! God made each of us different, and yes some may have unique skills, but fortunately the most important trait to success depends entirely on ones mindset - WORK ETHIC.
DEB'S LIFE TIPS
I thank our good Lord almost every day that he gave Mark and I this cattle business way of life as a tool to raise our daughters. Mark and I discuss every now and then how we would have more money in the bank and more time on our hands if we hadn't chosen this path. I think as a parent there are two things that are important for you to do for your child. First help them find their passion. I don't care if it's needlepoint. If that is their passion find whatever avenues you can to support them. Give me a kid with passion over one with just talent and no passion any day of the week. The second thing you need to do for your child is to teach them to be a competitor. At our house the sign on our cooler reads "Don't be afraid of competition just be prepared for it." Being a competitor doesn't mean your goal is to beat everyone everytime. In fact, I never go to a show with a goal to beat a particular person. To me it means if I have done everything within my means to select to the best of my ability, if we have made wise financial decisions along the way, if we have done every bit of my homework we have to do to be ready, if we have fed to the best of our knowledge, if we get one fit and shown to the best of our ability then we are a competitor, and most importantly we have to do all this with integrity and character. Mark and I decided a long time ago we would never make a decision in order to win that would put our daughters in a compromised position. If you can't look your own child in the eye and know you have been honest in all that you have done in order to achieve your goal reaching that goal just wouldn't mean a thing. Finally, a competitor has to accept that when they walk into that showring, the last 5% of the equation is out of your control. There is always going to be that person standing in the center of the ring who has the final call. That doesn't mean he is always right but it is his job to complete the circle.
Scott Schaake
KS
If someone would have asked me 40 years ago my career goals and where I would call "home" I am sure the role of University professor in Manhattan, Kansas was never on the radar. In fact my career is a result of encouragement from friends and family to pursue a profession in academia.
I am the oldest of four siblings and raised by conservative, honest, hardworking parents who instilled strong family values. Like all of us who were so fortunate to grow up on a family farm, I have vivid memories of our family working together and always willing to make sacrifices in order to keep the farm financially stable. I will never forget the early mornings spent in the soybean field hoeing weeds out, the long days spent on an open cab tractor with a six row cultivator throwing dirt to next year's crop, and the hot days of summer putting 20,000 square bales in the barn. The first time Dad put me behind the steering wheel on the hay truck was an experience. I sat on a stack of books and could barely get the clutch to the floor. Dad would put the truck in gear, point me in the correct direction, and he would scurry to jump on the back and begin stacking hay as the loader delivered it to him. I learned quickly to never engage the clutch when traveling downhill and then out of fear, quickly let the clutch out and slam on the brakes. The result… was a load of hay and my father tumbling over the hood of the truck and landing on the ground in front of me. Fortunately, no one was seriously hurt. I knew at a very young age that I had a real attraction to the livestock portion of our operation. As a kid we would travel to Missouri to buy feeder pigs and would run them in the same feedlot as the cattle. It was a real treat when dad allowed me to skip school and travel with him to the Kansas City Stockyards to sell a load of fat hogs or cattle. I distinctly remember the activity and smell of the old yards and my father trying to deal with the commission companies.
At eleven years of age, my dad helped me select, halter break, and feed my first steer for the county fair. My steer, Cocoa, stood last in class at the fair and received a white ribbon from Dr. Miles McKee of Kansas State University, the judge. I was disappointed that day, not only for standing last, but also because that white ribbon meant that my steer was ineligible for the premium auction. Still, despite my disappointment, I committed myself that day to feed a better steer, to work harder the next year, and because of the impression Dr. McKee left on me, to judge shows someday.
I spent the entire day at ringside observing this legendary judge at work. I came to realize his passion, ability to educate, and his respect for exhibitors were unprecedented. Since that day, I have been fortunate enough to show under or observe some of the all-time greatest judges of our time including: Joe Lewis, Don Good, Dan Hoge, and a number of others. As a young exhibitor, I showed a few champions, of which I was very proud, but more often than not I didn't take home the champion banner. I was always interested in the judge's reasons for preferring another calf over my own. The comments made over the microphone were part of an essential education that I valued. I also realized that each judge had a different opinion as to which specific traits were more important or necessary in their evaluations. I always tried my best to take into consideration the comments of these learned judges when I selected my next year's calves to show. All of these great judges, regardless of the type of calf they preferred, shared a common theme of professionalism, honesty, communication skills, and the ability to educate. These are the same principles that judges today aspire to and live by.
I will never forget the day my parents shipped me off to Manhattan, Kansas and enrolled me at Kansas State University. That same day my dad informed me that I would need to find a career outside of our operation because it was not big enough to support two families. That was a sad day for me and certainly a feeling of disappointment. I was not sure of a degree plan, but because of Dr. McKee and Dr. Good, I knew I wanted to be a part of the Animal Science program and a member of the judging teams. Kansas State has a rich tradition and some of the great leaders in Agriculture have been members of that program. As a student at Kansas State I was surrounded by some of the most highly respected faculty and coaches in the country.
Upon graduation from KSU, I pursued graduate work and livestock coaching duties at Clemson University and the University of Kentucky. As fate would have it, the coaching position at Kansas State would become available, and I have been honored to coach within a historic program behind eight legendary coaches since 1903. I have been blessed to coach some of the brightest students of which many are recognized today as leaders, and outstanding judges. My family today not only includes my wife and two sons, but also the more than 250 judging team members who have been part of our lives the past 21 years. My former students make me proud and they are the reason I enjoy my profession so much. Even though I have retired from coaching, I plan to continue my role as an educator at Kansas State.
Today, my wife of 28 years, Kandi, and sons, Shane and Shilo, and I aim to live by the same family values upon which I was raised. We work hard together as a family. My wife and I support our sons at youth sporting events and livestock shows. Our family has a passion for agriculture, its people, and we strongly support youth shows. I will never forget the day when my youngest son, Shilo, reminded me what junior programs are all about. After getting beat at a show where we took a steer and thought we had the quality to win, rather than pouting or throwing a fit he turned to me and said, "Dad, not much we can do about it now, the steer looked good, we did our best, and I had fun." It reminded me that we do all this for our children because our children enjoy it, and for the Schaakes, it is truly a family event. ▪
Robert Funk
OK
You can tell a lot about a person by their handshake. From our initial meeting with Robert Funk, Owner of Express Ranches, by his stalls at Louisville, we were instantly drawn to the man's success, knowledge and kindness. He exuded a confidence that we knew we wanted to share with our readers. With a tip of his cowboy hat and a firm handshake, we were well on our way to discovering the story of Express Ranches.
Based out of Yukon, Oklahoma, Express Ranches is not only the largest seedstock cattle operation in the United States for the third year in a row, but part of an empire that was started from the ground up by Washington native Bob Funk. The combination of Funk's passion to succeed and desire to help others has led to record breaking bull sells, multiple champions, a one of a kind scholarship program, and many more successful endeavors. When asked what the inspiration was behind Express, Bob lit up and shared how it all started with a childhood dream.
Bob has been around cattle all of his life. In fact, he worked for 11 to 12 years on his cousin's dairy farm in order to pay for college. He obtained his bachelor's degree in business administration and theology; followed by graduate studies at the University of Edinburgh, Scotland in business administration and theology, and completed his master's degree at Seattle Pacific University. While Bob would continue on to receive three honorary doctorate degrees from SPU, Oklahoma Baptist University and Southern Nazarene University, his desire to obtain land and one day own a ranch of some magnitude led him to Yukon, Oklahoma. Twenty years, thousands of acres, and multiple businesses later, Funk has not only fulfilled, but beyond exceeded, his childhood dream.
Express Ranches is composed of four ranches located in Yukon, El Reno, Shawnee, and Perkins, Oklahoma. Together, the ranches approximate 20,000 acres. According to "The Land Report: 100 Largest Landowners in the United States," where Funk is listed 54th, " In addition to his Oklahoma holdings, Funk enjoys a considerable presence in Northern New Mexico, where he owns the legendary UU Bar." Bob's love for his New Mexico Ranch is obvious as he describes the 180,000 acres that house commercial cattle, 7,000 elk, bear, deer, wild turkey and mountain lions. It is developing as one of the largest elk hunting ranches in the world. However, while his status as a landowner is impressive, his presence in the cattle industry strikes closer to home.
The classy look of the "EX" and color blue tied to Express Ranches has become a staple brand image at cattle shows and sales. It is practically impossible to walk through the Angus or Limousin barns at a national show without taking notice of Funk's crew's impressive, top quality setup. Bob's philosophy on marketing is to always project yourself as one of the larger operations – whether you are or are not. Funk shared, "When it comes to business, the most important thing is marketing. The second most important thing is the actual production." Express Ranches emerged with the bull head as its first logo, but later updated to the better known "EX". This logo is found everywhere from their signs and jackets to the freeze brand on their cattle's left shoulder. Not only has Express Ranches nailed Bob's number one business requirement, the production aspect of his first rate cattle operation speaks for itself.
Express Ranches is composed of high quality Angus and Limousin cattle which incorporate both good EPD's and phenotype. While these have to have EPD's to fit the country's needs, as Express sells a lot of cattle in Nevada, Colorado, Arizona and Texas where there are large pastures, they have to be phenotypically correct in order that they don't break down with age. Heading up the cattle operation at Express Ranches is its President Jarold Callahan. According to Bob, "Jarold is one of the finest evaluators of cattle in the industry." He has a solid cattle and judging background including serving as the Oklahoma State University livestock judging coach for 11 years and judging 400 to 500 shows. His talent and expertise have contributed to Express Ranches' success, as he selects, sorts and monitors all of operation's cattle.
Bob and Express Ranches' attention to detail and quality has placed them at the champion photo backdrop on numerous occasions. They have produced three triple crown winners and just recently sold the highest selling Angus bull of all time for part interest at $330,000. While multiple calves have had a special impact on Bob's life, when asked to pinpoint his all time favorite, the bull 1407 makes his way to the top. 1407's low birth weight and high growth numbers not only put Express Ranches on the map, but revolutionized the Angus breed. Bob's cattle operation expands farther than the show ring, sales and with breeding. His desire to help others led to the creation of a scholarship program for the exhibitors of Express cattle.
For Bob, it was a simple fact of life – no scholarship, no school. Therefore, when he had the opportunity to design a scholarship program that not only encouraged youth to work hard, but also attend college, he jumped at it. Express Ranches' program is a one-of-a-kind progressive scholarship that awards Express customers with scholarship money in accordance to the shows they win (i.e. county, state, regional, and national). Over the scholarship program's 18 year history, Funk has awarded approximately 3.25 million dollars to 370 kids nationwide.
The Express name is not exclusive to the cattle industry. Express Employment Professionals is a successful human resource company that was founded by Funk nearly thirty years ago. Originally, Bob's religious beliefs inspired him to be a preacher. While he could not see himself preaching from a pulpit and working inside all of his life, he has used his HR business as a type of ministry. Through his work, he is able to help people every day. To Funk, "Finding people a job is extremely rewarding." He feels that in today's world especially, it is crucial to keep our Christian values alive. All of Express' conventions feature prayer breakfast as well as invocation at every meal.
Another avenue of the Express brand is the draft horse industry with Express Clydesdales. Bob's passion for the horses developed when he was showing cattle in Canada and spotted two beautiful black Clydesdales with white blazes and feet. From there, he worked to develop the first six horse hitch in Oklahoma and has gone on to have three-time world champions and five-time national champions.
Bob Funk's passion to succeed has blessed him with the opportunity to give back in multiple facets of life. He is a franchise owner of the AAA hockey team the Edmonton Oilers and previously the AAA farm baseball team for the Texas Rangers, and is the agent to 11 PBR cowboys and 4 PRCA cowboys. Bob works hard to make life better for other people. He has a heart that beats to help others.
The positive impact that Bob Funk with Express Ranches has made is wide spread across multiple industries and lifestyles. Whether it is in the cattle barn, the human resource business, or aiding youth working hard to earn scholarship money, his desire to help others and be the best has had a domino effect. From recognizing the quality of his cattle and professional presence at shows to talking with him one-on-one, what started with a handshake has led us to discover some of the amazing things Bob Funk has accomplished; and leaves us excited to see what he will do in the future for the cattle industry. ▪
Eugene Ritchey
CO
Virtually every individual involved in the livestock industry has used, or is familiar with, Ritchey Ear Tags. What the majority of these individuals do not recognize, is the story behind their livestock identification system. Ritchey Manufacturing Company, based out of Brighton, Colorado, has been improving livestock identification since Eugene Ritchey and his wife, Jo, started it in 1963 with the invention of the one piece, flexible tag with a permanent paint application. The Showtimes Magazine got the inside scoop from Gene and his son Craig Ritchey at the family owned and operated business, located just south of Brighton, Colorado.
According to Gene's mother, he began inventing things before he could even crawl. In fact, he patented his first invention, hydraulics and welding loaders, at the young age of seventeen. Seeing how the use of the well-established hot brand was painful on livestock, Gene invented a less painful form of identification, freeze branding. The invention that has made him the best known throughout the livestock industry, however, is his new and improved ear tags. He created his first ear tags with the use of an old press and a mechanism that is comparable to a cookie cutter. Over forty long years later, Ritchey Manufacturing is still up and running with the help of Gene, and his children Grant, Craig, and Becci. Jo, who passed away in 2001, was very instrumental in the company's success. As Gene puts it, "We wouldn't be where we are today without her."
Ritchey achieved his success and outstanding reputation with his wife, Jo, by his side. Jo Ritchey was not only the vice president and owner of Ritchey Manufacturing, but she was also extremely active in the community. She was a member of the District 27J Board of Education, the community Drug and Alcohol Task Force, and the Brighton Chamber of Commerce board of directors. In 1987, Jo was named the Woman of the Year by the Brighton Business and Professional Women's Association. Jo's memory will always be a part of Ritchey Manufacturing.
The dual color engravable tag (a three layer tag allowing for the top layer to be engraved off to expose the idle layer as a permanent number) now has a selection of four styles and twelve tag/core color combinations.
Faber Family
IA
There are two sides to the livestock industry – the old and the new. Its foundation is the old fashioned values of hard work and character. At the same token, it combines those values with up-and-coming trends and technology. It is the only trade that incorporates both ends of this spectrum seamlessly. On the cutting edge of this combination of past and future is the Faber Family from Sioux Center, Iowa. Through a recent interview with Dr. David Faber, I learned how his family's involvement in the livestock, primarily cattle, industry incorporated family time, show ring successes, and a company that has pushed the livestock industry into a whole new dimension.
Dr. Faber was born and raised on a livestock farm in Illinois. While he considered himself only an "entry level showman," he became interested in cattle as a youth and exhibited them at the local level growing up. When it came time for college, Dr. Faber attended the University of Illinois for both his undergraduate degree and his study of Veterinary Medicine. He was extremely interested in bovine reproductive technology. At that time, traditional Embryo Transfer (ET) was just beginning as a surgical process and required a degree to practice. Towards the end of his schooling, Dr. Faber decided to take one year to practice food animal veterinary medicine. With Sioux Center, Iowa being a region dense with livestock, he moved there from Illinois to practice the trade. During this year, he began doing embryo transfer work in addition to general practice. At the completion of that year, Dr. Faber made the area his permanent residence after developing a love for the area and people.
Sioux Center became the starting block for Trans Ova Genetics. Founded in 1980 by Dr. Faber, Trans Ova Genetics is the leading reproductive and genetic technology company in the United States. There are two facets to the company: Agriculture and Biomedical. In addition to embryo collection and transfer, Trans Ova Genetics offers services in In Vitro embryo production, sexed semen via flow cytometry, ultrasonography, cloning and genetic engineering. While the company's biomedical toolbox is impressive with cloning and producing genetically engineered animals to serve as medical models; the primary focus of Trans Ova Genetics is to achieve greater genetic gain for both beef and dairy cattle. The reproductive and genetic technology that Dr. Faber has introduced to the livestock industry has allowed cattle producers to strengthen their genetics and zone in on traits that they wish to pass on in their herds with more ease. A recent technology that is becoming mainstream in the current industry is cloning.
ViaGen is a subsidiary company of Trans Ova Genetics that specializes in the cloning of bovine, equine, and other species. Dr. Faber describes the cloning of livestock as an extremely powerful tool to use when a producer needs genetic copies of high quality animals. The genetic gain cloning provides to the livestock industry is uncanny. Not only does it carry on quality traits, the technology gives producers the capability to greatly expand their reproductive potential, keep up with demand for offspring, embryos and semen, produce an animal stud that is genetically identical to their best steer, barrow or gelding, reduce the impact of unexpected injury or death, and quickly improve the quality and consistency within their herd while expanding their marketing opportunities. By flipping through a recent edition of The Showtimes, walking through herd sire ally at Denver, or following the sires of show winners, one will quickly catch on to the increasing use of "Clone" following multiple sire's pedigrees. The livestock industry is utilizing Dr. Faber's technology and the results have been impressive. Without Trans Ova Genetics, the livestock industry would be years behind its current state. Dr. Faber's interest in the livestock industry, however, expands wider than Trans Ova Genetics into his family and personal life as well.
Dr. Faber and his wife Kay raised their three children, Sara, Dan and Tyler, around cattle and in the show ring. They valued showing as a family and consider it a "great family hobby." When their children began to show, the Faber's set four goals in relation to competing. The first goal they instilled in their children was to win with grace and lose with dignity. They realized that they would get the opportunity to lose more than they would win and made a conscious effort to set examples to others around them. To understand that hard work and passion overcomes most short comings was their second goal. This statement holds true in the show ring as well as all areas of life. Third, Dr. Faber and Kay wanted their children to be self-validating and not let others set their opinions of themselves. Every time they walked into the show ring, they taught them to listen to what the judge had to say about their project. Then they were to look in the mirror and see if what he said held truth. For example, if the judge told them that their calf was not sound. They, in turn, would validate if he was right. If so, they were to fix it. If not, they were to find out how they had given him that opinion. The ultimate purpose of this goal was for their children to have self confidence in themselves. Finally, they never wanted to come home saying, "We should have." If you work hard and do everything you can, then there is no reason to not hold your head up high – win or lose. These mindsets enabled the Faber Family to have a strong show ring presence all throughout their show careers. Over a 13 year period, they were Supreme or Reserve Supreme 26 times at the Iowa Beef Expo, the Iowa State Fair and Ak-Sar-Ben. There were 12 of the 13 years when they had a Supreme or Reserve Supreme steer or female at the Iowa State Fair. While Sara, Dan and Tyler have all aged out as junior livestock exhibitors, the Faber's continue to get together to go to the fair and talk about cattle and showing. The family memories that their involvement in the cattle industry has provided them is irreplaceable. Faber and his family are prime examples of how the livestock industry entails both lost values and constantly evolving technologies. From Trans Ova Genetics and its impact on the industry to the Faber's rewarding involvement in the cattle show ring, they have worked to take from the industry all that it has to offer while giving back to it in any way they can. A very special moment came in 2008 when Tyler Faber exhibited the Grand Champion Market Steer and the Supreme Champion Breeding heifer at the Iowa State Fair. In 2010 they exhibited the Grand Champion Steer with a clone of the 2008 steer. . While they initially cloned the 2008 steer following its win at the 2008 Iowa Beef Expo in hopes of producing a bull calf (which they did), the win itself was something to be proud of as it allowed the Faber's to showcase cloning technology. As the steer industry is constantly progressing, however, cloning is still best used with breeding females and bulls to improve genetics and produce rare carbon copies. Tomorrow, the present will be the past. Given all that Dr. Faber has accomplished as a professional and father, it will be exciting to see what the future holds. ■
Ron & Becky Thompson
TX
They didn't set out to revolutionize the club calf industry, but according to some of their best supporters, that is exactly what Ron and Becky Thompson of Whitesboro, Texas, did when they started Showsteers.com.
Ron and Becky both started out with ranching experience. Ron, growing up near Wessington Springs, South Dakota, surrounded by good grass and good cattle; Becky was raised on the Grand River Ranch in northwestern, SD. They both participated in showing cattle, horses and rodeo through 4-H, high school and state associations.
As they grew up, they learned about sound, performance-based cattle and horses. Ron and Becky both developed an "eye" for the good ones, whether it was livestock or what they invisioned for the promotion of their own cattle.
Prior to the creation of Showsteers, Becky had been involved in the tourism industry as well as the development and promotion of several businesses and organizations including the South Dakota Rodeo Association and her own flower shop. She continued to develop an eye for design and the best ways to creatively position businesses or organizations.
Ron brought another important skill set to the table. He is a quick learner, and when he commits to learning a craft, he dives in. When they decided that a website was the next best way to promote their club calves, Ron read all of the manuals available on web development and tested them out on the computer. He showed Becky the basics, and from there they were able to build a solid foundation for what would eventually become the first website for show cattle.
Do you remember when there was advertising that didn't have www in it? When Showsteers.com was officially launched in 1998 it was seldom heard of or seen. With the start of Showsteers.com the club calf industry quickly became accustomed to it!
Bobby May was a buyer of Thompson Show Steers' calves and became aware of Ron and Becky's venture into marketing on the World Wide Web. He asked them to create a web site for his business and that's when Showsteers.com became the First Club Calf Directory. By 1999, they had grown to 100 customers and today have over 1000 club calf producers, promoters and show- related industries listed on their website. Showsteers.com continues to be the most visited web site of its kind and their customers benefit from the thousands of daily visitors.
"We've always tried to provide an affordable and useful website to help others promote their club calf businesses," Becky says. "And we've worked hard at being on the leading edge of technology."
Showsteers was one of the first sites to utilize social media in the form of a boardroom. "It was a place where people could post questions and get answers. It wasn't in real time like social media is today with Facebook, Twitter, and Blogs, but it was a way for people in the club calf industry to connect and talk about pertinent issues," Ron adds.
Ron and Becky have added team members to Showsteers who blog on the website. "We have some great young people who are becoming leaders in our industry, and they have a voice on Showsteers.com. They talk about shows, sales, and the things that are on their minds. It gives Showsteers a unique voice and an appeal to young exhibitors and their parents," Thompsons say.
Keeping with the theme of advancing technology, they have recently developed an App for Showsteers.com that you will find very soon in the Apple Store. You'll be able to locate club calf producers in a specific area on a Showsteers map App. It may now be accessed by going to www.showsteersmap.com.
You might be wondering how Ron and Becky ended up in Texas when their ties and roots seem to be so deep in South Dakota.
According to Becky, "Ron had always had a passion for horses and had a reining horse project going in Wessington Springs. We made a special trip to the Whitesboro area because that's where most of the reining horse people were. We drove by a small ranch (compared to South Dakota) that had many of the things we wanted in a horse place, and it didn't take long for us to decide to take Showsteers and Ron's reining to the next level. Ron's youngest son Chad was in a position to come back to the ranch and maintain and further develop the Thompson Show Steers herd."
Since that time, Showsteers has expanded tenfold and Ron's training program for reining horses has become very successful. He was ranked #4 Non-Pro Rider in the National Reining Horse Association (NRHA) for 2012. Ron has been the leading seller of two-year-old reining horses on the prospect sale at the National Futurity for the past eight years. Ron continues to use the same attention to detail and promotion he learned in the club calf business to become a success with his reining horses.
Showsteers has also continued to evolve. The site has been redesigned several times and it brings a fresh new look always keeping ease and use-ability in mind. There are new features added to the site quite frequently. Becky and Dianna Elder, who works remotely from Pella, Iowa as a web designer, keep a close eye on what's new on the web and what could be the next big thing for Showsteers. Becky feels customer service, attention to detail, and completing web site updates in a timely manner is what sets Showsteers apart.
The Thompsons say that Showsteers.com has been an unforgettable experience. They are thankful to everyone who has helped make it what it is today. Becky says the business continues to grow, and they couldn't have done it without their clients—people who they see as friends. ■
Winegardner Family
OH
The Winegardner Family not only excels with their genetics in the show ring, but as leaders and supporters of the cattle industry.
Winegardner Show Catle, is a family owned and operated business that started from the ground up in 1982. Over the years they have expanded from not only raising Chi influenced cattle, but Maine, Shorthorns, and a few other breeds as well.
Whether it is judging a national show, hosting the 2012 National Maine-Anjou and Chi Junior Heifer Show, or simply working hard together as a family in the barn, the Winegardner family epitomizes the core values of the livestock industry.
We hired Kurtis Klingaman full time last June. Had our annual Harvest of Excellence sale the first Saturday in November. We exhibited the National Champion Chianina bull at the NAILE and the National Champion Chiangus heifer at the NAILE.
Held an online embryo sale in March with Premier Online Sales. We have been busy at the jackpot shows with the heifers and steers that we sold in the fall and have had much success in the show ring with many claiming top 5 honors. We have been busy calving and selling semen on our promotional bulls. We sold bulls and a heifer at the NWSS Chi and Maine sales and sold bulls in the Ohio Beef Expo Maine Sale. We have several heifers that we sold entered for the Summer Junior Nationals in the various breeds.
TYLER AND NATALIE had a baby boy named Beckett Allen on 4/5. Tyler is a partner in Winegardner Show Cattle, LLC. Natalie is an elementary school teacher.
ASHLIE is an RN and works at Blanchard Valley Health System full time in the emergency department.
HANNAH is a junior at Bluffton University majoring in Early Childhood Education. She will be student teaching 1st grade in the Fall Semester. She also works part time at the Learning Tree Daycare. She is on the National Junior Shorthorn Board of Directors. She is getting ready to show at her last junior nationals this summer in the Shorthorn and Maine-Anjou breeds.
MELANIE is an RN at Lima Memorial Health System and works full time in the Family Birth Center and manages the books for Winegardner Show Cattle, LLC.
BRAD is a partner in Winegardner Show Cattle, LLC and also grain farms with his brother.
"My competiveness wraps up all of the values I have come to appreciate growing up in the cattle industry. It is my motivation to work hard. Working hard taught me responsibility. Responsibility taught me to have respect for others who work in the industry and my family and Christian values have gotten me through the rough spots that life brings. My life verse is taken from Philippians 4:13. It says "I can do all things through Christ who gives me strength." This is the scripture I live my life by and the reason I can do the things I have accomplished. Jesus gives me the strength to achieve my goals. Without Him, I am nothing. With this verse, along with the values my parents have given me and the opportunities that showing cattle has afforded me I have no other option than to succeed in life."
-HANNAH WINEGARDNER
Willoughby Family
IN
Dan Willoughby was born on a small farm in Westfield, Indiana, where the family raised beef production cattle and 4-H calves, along with his grandfather's standard bred horses. It was there that family chores turned into a lifelong passion for Dan. Even as a little boy the barn was the location Dan preferred best. In high school, with the direction of his agriculture teacher, Alan Myers, Dan learned to channel his competitive spirit and interest in livestock into what has become a career in an industry he loves. Little did he know at the time that his ever growing interest in the sheep market would soon become the launching pad for what was to become Willoughby Sales, Caldwell Willoughby Sales, The Pig Planet Auctions and theHorseAuction.com.
After graduating from Purdue University Dan married Carol Hamer Willoughby. During these early years and what Carol calls her "introduction to motherhood" the Willoughby's traveled the country with some of the best livestock youth in the country; buying, selling, marketing and showing livestock on local and national levels. Then in 1993 the Willoughby's were truly blessed with the addition of Justin Daniel Willoughby. "It's funny to think back at how time truly flies, says Carol, from Justin and his entourage of 'big brothers and sisters', to his final year of 4-H where he had transformed into the mentor for the next generation of show youth. Four decades latter these individuals are still who we count among our family." Justin is now a freshman at Indiana University studying marketing and communications.
In 1995, Dan and Carol decided to take a leap of faith and take the passion that had once began as a hobby, and turn it into a business. Dan attended Kenneth Gregg's auctioneers' school in in Lubbock, Texas. After two years hosting Private Treaty sales Dan decided to take things to the next level. In 1997, the first Premier 10 and Midwest Elite Show and Sale was held; now in its 16th season this sale has become the Nation's Largest Sheep Prospect weekend.
Dan has always viewed the livestock industry from a national perspective and recognized the need for better contacts between the producers and consumers. In 2005, on a cross country drive back from Oklahoma, Willoughby Online Sales was born. "We (Mike Crowder, Matthew Hayes and I) had just left the live sale of of long time clients Deb and Brad Ott, Vince McGolden, and Mike Hindman and were headed down the I-44 corridor when we started discussing the best means of marketing these animals to a broad based audience. A few hours and many miles latter these same three clients had signed on to be the first to use this new platform. And the rest as they say is history!" Dan adds, "We are truly grateful to those who took a leap of faith in this platform as this facet of our organization has grown exponentially over the past 8 years.
Having noted the tremendous growth and success online sales were bringing to the sheep Industry Dan and longtime friend Todd Caldwell joined forces in 2011 to create Caldwell Willoughby Online Cattle Sales. Neither of these men could even imagine the sky rocketing growth that was about to take place when the set out on this joint venture. Dan recalls a conversation that he had with Todd in March of 2011 about the possibility of booking 10-15 club calf sales for the fall of 2011. Conversation turned to action as they made appointments with several breeders in South Dakota and Indiana. In April of that year they made the trek to South Dakota where Todd's salesmanship and business connections helped to solidify the interest in the online sale platform for the cattle industry. They turned these same skills to the home front where they made it a point to visit with and secure interest from as many Indiana breeders as possible. Early adopter Jeff Miller recalls, "It was a very foreign concept to me, selling cattle over the Internet, but I trusted these men and thought, why not?" Miller added that it turned out to be a wise investment on his part and a great way to get calves into great show families' hands. My average went up over $1000 per head from 2011-12, you can't beat that!" Miller Show cattle can also claim the 2012 Grand Champion Steer at the Indiana State Fair that sold through his fall CW Cattle online sale.