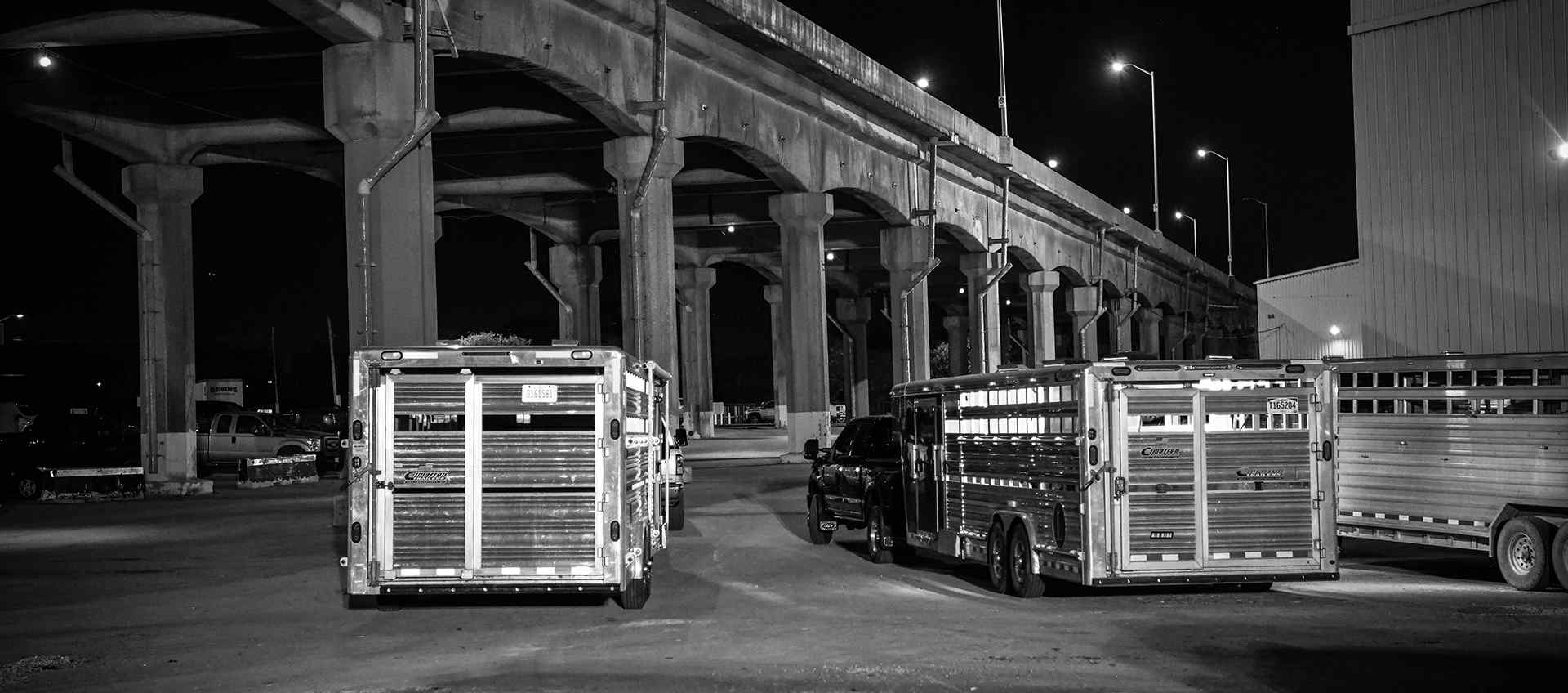 The Showtimes introduced our Hall of Fame in January 2009 and have included new inductees with each issue.
To be inducted, individuals must achieve something great in the livestock industry. They may be an exhibitor, judge, animal, show official or someone who makes a great impression.
Submit your Hall of Fame Nomination!
Inductees
Bobby & Mandi Maddox
TX
How did you get started in the
Livestock Industry?
Mandi – I grew up on a farm and ranch. We raised and showed pigs, I also showed sheep my Jr. and Sr. years of high school. I would say my brother Justin Whitefield was a key part of getting me started in the industry.
Bobby – I grew up on a farm and ranch and showed on a small scale. I would say my major influencer in getting me started in the industry is Dr. Bonham.
How did you meet?
We met through a mutual friend, Charlie Long.
What are some of the most meaningful successes?
Mandi – Defiantly the first time we won the San Antonio Stock Show and Rodeo Steer Show together in 2008 shown by Kaiti Robinson, also in 2008 the Grand Steer at the Houston Stock Show and Rodeo shown by Madison Kelly. A few other special ones would be the 2015 Grand Steer at the Fort Worth Stock Show and Rodeo shown by Madilyn Priesmeyer, the 2017 Grand Steer at the Fort Worth Stock Show and Rodeo shown by Mikala Grady and the Patriot in 2020 shown by Mason Grady.
Bobby – My first Fort Worth Grand in 1986 with Ed Priesmeyer and the Fort Worth Grand in 2015 with Ed's daughter, Madilyn Priesmeyer. The whole year of 2017 was special, winning grand or reserve grand at seven major shows with Mikala Grady.
What is something most people don't know about you?
Both – Our lives have always been ruled by Boston Terriers, currently Charley and Izzy.
Mandi – I showed pigs and sheep growing up, but never worked with show cattle until I met Bobby.
Bobby – I showed sheep growing up and only a couple of steers my Jr. and Sr. years of high school. I also judged livestock in Junior College at Redlands Community College where I roomed with Steve Bonham, Ron Bailey and Mark Copus and was on the livestock judging team with Charlie Long.
What experiences have led you to where you are now?
Mandi – Meeting my husband and changing from a cosmetologist for people to show steers. Also working for Steve Bonham and getting numerous opportunities helping families show cattle all over the country.
Bobby – To make a very long story short, it started with my first job after JuCo, working for Charles and Betty Herzog and Stevie and Kent Herzog. Then working with Buddy Priesmeyer, John Ben Carrabba, Jim Martin, Mark Ray and Steve Bonham. They have all given me experiences that have led me to where I am today.
What people have impacted your life the most?
Mandi – My parents; my brother, Justin Whitefield; Shane Tinnin; my Ag teachers, Gary Ross and Mark Gary; and numerous friends along the way.
Bobby – My parents, Buddy Preismeyer, John Ben Carrabba, Steve Bonham, Ronald Cole, Gary Watts and numerous friends along the way.
What is something you would like to accomplish going forward?
Both – We plan to continue furthering our business, Melatoninimplants.com, which we share with Matt Turner and Shane Vanzant; to continue to be successful in the showring at the highest degree and lastly to live a long healthy life with each other.
This is why you do it?
Mandi – It is my passion. There is nothing mor gratifying than the process of helping kids reach their goal in the show ring.
Bobby – I love the people and the competition.
Jack Stoltz
NE
WHAT IS YOUR BACKGROUND?
I grew up in the Elgin area and was involved with the cattle operation alongside my dad Phil. I have been married to my wife Joanie for 42 years! We have 2 sons, John and Justin. John is married to his wife Sam and they have 2 children, Sage (7 years old) and Jack (5 years old). John helps out on the ranch full time and Sam works at the bank in Elgin. Justin works for a company called Spreetail (E-Commerce) and helps with the cattle operation in his free time.
WHAT HAS BEEN YOUR GREATEST SUCCESS?
My dad and I held our first calf sale the Fall of 1973 and we've continued that sale every Fall since then. In fact, this upcoming fall will be our 49th club calf sale. When we started it, we were just selling calves to local 4Hers, then grew to State kids and have since grown to kids all over the U.S. and Canada. We've been in the business as long as anyone has and have truly stood the test of time. We've sold Champions at every level and have met so many amazing and wonderful people along the way.
WHO HAS IMPACTED YOU THE MOST IN YOUR LIFE?
I would say my dad Phil has had the biggest impact. They've always said he is the one who invented the "show steer". We kind of started this whole deal and to see what it has turned into today, is just remarkable.
HOW HAS THE CATTLE INDUSTRY CHANGED OVER THE YEARS?
If you go back and look at them in the 80s, they were tall and hard doing. Now they are soft and easy feeding. Back then it was always a challenge to breed them tall enough. But it's more of a job to bring them back down and put some middle in them. It seems like we had better bulls for breeding them tall vs bringing down their frame. Just as the cattle have changed over time, so has the presentation. The families that feed them have improved tremendously over the years. There are many more feed experts and new additives to help families feed them out. The fitters have also gotten very good over time. It never stops for them. The hair is always getting better and the products they use are constantly evolving to make the animal better presented.
WHERE DO I SEE THE SHOW CATTLE INDUSTRY GOING?
I really think the past couple of years the show steers are dang good and are extremely well presented. I'm sure things will continue to change as time goes on, but one thing will always remain number one to me and that is structure.
What started out as just selling a few steers here and there around the state, has grown into an enjoyable full-time job, still amazes me. I've had the pleasure of meeting many outstanding people along the way but seeing the kids succeed is still the best part for me. Raising club calves truly has been a passion of my life.
-Jack Stoltz
Ratliff Family
KS
The story of Ratliff Cattle began back when farms had a little bit of everything to them; sheep, hogs, cattle, a hen house, and some farm ground. Gail Ratliff, or Tub as he's better known, was born in 1938 and grew up near a small town in eastern Kansas known as Westphalia. Tub grew up showing sheep and in 1955 had the Grand Champion Market Lamb at the Kansas Junior Livestock Show. However, it wasn't until he had a family of his own when his only son, David, came to him with the desire to show cattle. Liking the muscling and added thickness they saw being developed by the Limousin breed, and knowing several prominent area breeders, they decided to purchase their first registered Limousin female in 1979. Their female was purchased from Ron and Carolyn Holland who were instrumental in getting the first Limousin bull to the United States. With this purchase, Ratliff Cherry Creek Limousin was born.
Throughout the 80's and 90's Cherry Creek Farms exhibited at several shows including the National Western Stock Show in the yards as well as on the hill. They also attended Limousin Junior Nationals showing in the open show, exhibiting at the American Royal, Kansas State Fair, the Ozark Empire, and countless others.
During this time, David and his wife Michelle had started a family and raised their 5 children in the heart of the Limousin breed. Morgan, Cheyanne, Madison, Chase, and Maycee attended the Limousin Junior National show for roughly 20 years, only missing a couple in between. Morgan's first Limousin Junior Nationals being held in Kansas City in 2000 and ending with Maycee's last in West Monroe, Louisiana in 2020. Throughout this time, the kids had many accomplishments in the ring with steers, heifers, and bred and owns.
For several years, the farm also had an annual registered Limousin bull sale and occasionally an open female sale. In 2010, the family farm had a dispersal of their Limousin herd. However, growing up in the breed, David, Michelle, and the kids just couldn't seem to stay away from Limousin Cattle. The kids stuck to their roots of showing Limousin but diversified in other breeds throughout their show careers. They were fortunate enough to show a few good ones along the way that are now an important part of their donor arsenal. It was when David's kids began showing different breeds, that the farm became better known as Ratliff Cattle.
In the fall of 2015, Herman and Judy Symens convinced Tub to take a vacation, something he had not done for several years. The 3 went up to Canada where Tub found a Purebred Limousin by the name of Riverstone Charmed. When he came home he showed pictures and videos he had taken on his iPad, convincing his family how great of a female she really was. Despite the low quality photos he had taken, the family was convinced to try and buy her. A few weeks later Tub and David purchased the female over the phone, all while sitting in the kid's high school parking lot between Chase, Madison, and Maycee's basketball games. This would be the moment that the family credits in forever defining their operation.
It was Madison Ratliff, the middle child, that showed Riverstone Charmed. Charmed, or as the family nicknamed "Larissa" gave the family an unforgettable show career, with their biggest success being the first ever Limousin female to Supreme the North American International Livestock Expedition in 2016. Not only did Larissa have a huge impact on the families show career, but it's the impact she's made as a donor that has forever changed Ratliff Cattle. Their second biggest accomplishment is being able to say they raised the 2021 Supreme Champion female at NAILE 5 years later. (Ratliff HowBoutIt 008H, shown by Sara Sullivan) Not only are they the first two Limousin females to win NAILE, but they are the first mother daughter duo to ever supreme the show to date.
The family credits a great deal of their success to Tub and David, not only for providing the kids an amazing show career growing up, but also for all their hard work over the years in establishing what Ratliff Cattle is now today. In an industry where family is everything, the Ratliff kids couldn't be more thankful for their parents and Tub for allowing them to grow up in the show industry. Because of two generations of hard working and driven men, the kids grew up seeing the work it takes to be separated from the Average Joe to what it takes to win. They pride themselves in the countless hours spent alongside each other learning not only about cattle, but the greater attributes the industry has to offer.
Currently, David and his son, Chase, manage Ratliff Cattle together. It consists of a commercial cow/calf operation in eastern Kansas that focuses on embryo transfers for not only themselves, but also as a satellite for others. The donor's the family accumulated throughout their show careers have become a vital role in producing females for their annual sale. These consisting of Riverstone Charmed, Purple Ribbon, Danica 5017, MRRC Forever Charmed, CZRC Fashion, and Ratliff Gabby. The first sale was held in the Fall of 2019 with the most recent being this past October. The family has been extremely fortunate over the last couple of years in capturing some success with females that they have sold. It could not have been made possible without the great families and homes that continue to trust the genetics of their program. They look forward in continuing to grow their operation and work alongside many future families to come. •
Randy Mullinix
IL
What takes two farm kids from Maryland and catapults them to multiple National Champion Titles in both the Livestock Judging & Show Arenas? A combination of fierce competitiveness, family and love for what they do.
"If you love it that much, there's zero reason you cannot accomplish it."
Chris and Randy Mullinix's lives are our version of the American Dream. They grew up 30 minutes West of Baltimore and 1 hour outside of Washington D.C. They were raised on a farm family consisting of their mom Charlotte, dad Gene, three older siblings, Doug, Mark and Beth, and younger brother Patrick. 100% of the Mullinix family's income came from their work in Agriculture. They worked the land and the majority of their dad's day-to-day was spent working their two grain elevators. Chris and Randy's passion, however, was on the animal side of it. The Mullinix's primarily raised cattle. They did not feed the huge numbers like you see out West, but for their area, it was a relatively large feed yard along with a smaller cow herd.
Chris and Randy started building their Hereford breeding program at the age of 10 or 11. They worked on everything together from such a young age, including making the mating decisions for their operation. Chris reflects how they fell flat on their face growing up, but they never settled for average. If they were going to do something, they were raised to do it right. With every failure, they went back to the drawing board to come back stronger.
The pair never showed outside of Maryland until they attended their first Junior National Hereford Expo in 1987. They exhibited three head. All three stood at the bottom of their classes. They went home, however, not with their tail between their legs, but with a plan. Through hard work and dedication, the next time they exhibited at JNHE, it was with a 2nd place finish and Top 10 Showmanship Honors. In fact, after winning the Quiz Bowl as a team of two (as they were the only exhibitors from Maryland), the Hereford's made a rule requiring a three-man team. Their mentality to always better themselves and achieve their goals has led them to be two very influential people in our industry today.
Chris and Randy were as fierce a pair of competitors as you will ever be around.
"The first person I tried to beat every day of my life was my brother [Randy] and he did the same with me. I am proud of that. We ultimately chose different paths in the livestock industry, but I strongly believe that a great deal of the success we both have had can be attributed to that part of our life" Chris reflected.
Randy's love for cattle intensified the older he got. He was a very good student and was on the course to pre-med until he met Dan Hoge. At the age of 15, Randy was a member of the Maryland State 4-H Livestock Judging team where he finished in the Top 10 at the National Contest. After the contest, Hoge would check-in with him every 3-4 months. It took convincing of Randy's dad to be on board with the Junior College route.
"Where we came from in Maryland there are so many four-year colleges…it's a different mindset than the Midwest. He [my dad] was dead against it [going to a Junior College]. The beginning of that Summer he came out to Kewanee with me, and we spent a day with Dan Hoge - and that's all it took. It's amazing how it progressed to Chris being a Junior College teacher – that's how quickly your mindsets can change." Randy shared. "It changed my life forever. If I had never met Dan Hoge at that 4-H Judging Contest, who knows. We farmed and I obviously would have in some form or fashion had something to do with Agriculture and something to do with cattle. But, per say, that I would be this intensely into the Purebred Hereford business and do this, probably not."
Following his tenure at Black Hawk, Randy followed in his brother Chris' footsteps and graduated from Kansas State University.
"We always had a fascination with K-State. My dad would always tell this story about years ago, back in the late 50s, when my Granddad showed carloads of fat steers. He would go to the Eastern National Livestock Show. Penn State, back in that time when Herman Purdy was there, was where it was at. In 1957, my Granddad's carload of Hereford steers beat Penn State and Don Good from Kansas State was the judge. For us, living out in Maryland, from that Don Good deal we inherently had a love for Kansas State."
After college, Randy settled into the Midwest starting out with a handful of cows. He began with custom fitting as a means to get his genetics out there. Randy was then fortunate to be given the opportunity to start working with Tennessee River Music on their daughter Randa's show string. With the ability to concentrate on one large custom fitting client, he quickly grew their cow numbers to over 150. When Randa's Junior Career concluded, so did his custom fitting days.
Randy has a deep love for the purebred cattle business. "Whether it's the Hereford business or any of the purebred businesses, the people are awesome. It's a family atmosphere. I sit here and talk about what I could have been doing and I can't imagine myself anywhere else."
Over the years, Randy and his wife Jamie have made a name for themselves in the Hereford breed with their operation, Purple Reign Cattle Company. What started as a passion as a teenager has combined with his competitiveness and fundamental desire to do well at what he does has produced industry leading donors, sires, and National Champions. He has spent his career enhancing the Hereford breed to give them the respect he always knew they deserved. His goal has always been to raise incredible beef cattle.
More important than the cattle, however, are the people to Randy. "It's amazing how a bovine can make human beings become a family. These four-legged creatures can intertwine human lives."
The competitiveness between Chris and Randy has only gotten stronger over the years. With that competitiveness comes respect. They drive each other to be the absolute best that they can be.
"Quite honestly, if you look back 30 plus years ago, the odds are probably completely stacked against two kids from Maryland ever doing the things that we are doing. And yet, if you want it, work hard at it, in the right environment, with the right people around you, then there is no reason you can't, and shouldn't, accomplish whatever you put your mind to. Don't ever let anyone stand in your way or tell you can't accomplish it. The two of us [Randy & I] are prime examples of people who had found what we loved and made careers out of it that most people would have said could never have happened." Said Chris. "If you love it, go for it."
Chris Mullinix
KS
What takes two farm kids from Maryland and catapults them to multiple National Champion Titles in both the Livestock Judging & Show Arenas? A combination of fierce competitiveness, family and love for what they do.
"If you love it that much, there's zero reason you cannot accomplish it."
Chris and Randy Mullinix's lives are our version of the American Dream. They grew up 30 minutes West of Baltimore and 1 hour outside of Washington D.C. They were raised on a farm family consisting of their mom Charlotte, dad Gene, three older siblings, Doug, Mark and Beth, and younger brother Patrick. 100% of the Mullinix family's income came from their work in Agriculture. They worked the land and the majority of their dad's day-to-day was spent working their two grain elevators. Chris and Randy's passion, however, was on the animal side of it. The Mullinix's primarily raised cattle. They did not feed the huge numbers like you see out West, but for their area, it was a relatively large feed yard along with a smaller cow herd.
Chris and Randy started building their Hereford breeding program at the age of 10 or 11. They worked on everything together from such a young age, including making the mating decisions for their operation. Chris reflects how they fell flat on their face growing up, but they never settled for average. If they were going to do something, they were raised to do it right. With every failure, they went back to the drawing board to come back stronger.
The pair never showed outside of Maryland until they attended their first Junior National Hereford Expo in 1987. They exhibited three head. All three stood at the bottom of their classes. They went home, however, not with their tail between their legs, but with a plan. Through hard work and dedication, the next time they exhibited at JNHE, it was with a 2nd place finish and Top 10 Showmanship Honors. In fact, after winning the Quiz Bowl as a team of two (as they were the only exhibitors from Maryland), the Hereford's made a rule requiring a three-man team. Their mentality to always better themselves and achieve their goals has led them to be two very influential people in our industry today.
Chris and Randy were as fierce a pair of competitors as you will ever be around.
"The first person I tried to beat every day of my life was my brother [Randy] and he did the same with me. I am proud of that. We ultimately chose different paths in the livestock industry, but I strongly believe that a great deal of the success we both have had can be attributed to that part of our life" Chris reflected.
This competitive nature did not begin and end in the show ring. Once Chris knew there was an opportunity to compete in livestock judging, he was all in. After being on the 4-H State Judging team at the age of 15 he then dedicated his final year in 4-H to Dairy Judging on one of the country's most elite Dairy judging programs [as he was unable to compete in livestock judging after making the state team at a younger age]. Then he set his sights on a 4-Year University as Ag Programs at the Junior College level were non-existent in his part of the country.
A big influence in his life was Dr. Scott Schaake. Around the time that Chris was on his State's 4-H Livestock Judging Team, Schaake was working on his PhD at the University of Kentucky while also serving as the University's livestock judging coach. In that same time frame, he was the judge at the Maryland State Fair. Mullinix admired how Schaake evaluated livestock, who he was as a person, and it was definitely something that intrigued him to look into a program Schaake was coaching [the University of Kentucky at that time] and seek his advice. After looking into multiple options, Chris decided that Kansas State University was the right fit for him.
As fate would have it, when Chris started as a Freshman at K-State, Dr. Scott Schaake received the job as the next Livestock Judging Coach there.
"A couple of years later when it was my turn to become a member of that team, I got to have him as my coach as well. It's amazing how things come together, and I felt very very fortunate that I was able to work with him and learn from him as well." Chris stated. "Maybe a little Divine intervention landed me where I am [in Kansas]."
Chris was a member of the 1995 K-State's National Champion Livestock Judging Team while also being named High Individual. Throughout his stint at K-State, he was a member of the Dairy Judging Team, Wool Judging Team, Livestock Judging Team, AGR and multiple Student Organizations.
Many opportunities were presented to Chris due to his decision to go to K-State. One of which was being offered the head judging coach position at Butler Community College right out of college. He spent 16 years in El Dorado where he coached multiple National Champion Livestock Judging Teams and influenced countless individuals who have gone on to make their own marks on the livestock industry.
"I had an administration that gave me an opportunity at 22/23 years old, gave me my first job I ever had, to take the reins of that livestock judging program and build it how I saw fit. I didn't realize how lucky I was at the time, but I sure do now. Boy did we have an amazing run. Some of my best friends were also my students. The list of people that I have had the opportunity to coach, now to see what they are doing in their own careers, in the livestock business and judging major shows has been pretty cool." Chris explained.
In 2013, Mullinix made the move from El Dorado to Manhattan where he still serves as the Livestock Judging Coach for K-State. Last November, he led that team to victory as the National Champion Livestock Judging Team. The win made Chris the third person in history to win the National Championship as an individual, on a team and as a coach. Joining Dr. Scott Greiner and his mentor and former coach Dr. Scott Schaake with the historic feat.
When asked what's next, Chris said, "I just don't know any more if there is another step in this part of my career that can outdo the two that I have been fortunate to have. I hope we can continue to do the same things that K-State has been built on long before I was here. The things that Dr. Don Good [K-State Livestock Judging Coach 1948-1966] helped to put into place that Dr. Scott Schaake continued to build upon. I just feel lucky to be the next person asked to maintain that tradition. I feel very fortunate from a career standpoint the place that I am in and the things it has afforded me to do. I hope we can continue to build on that, continue to bring great people here to K-State and knock out a couple more National Championships before it's all said and done."
Chris is a leader in the livestock arena, a coach, a husband to his wife Elissa and a father to his three children Mason, Kinsley and Cameron. As he reflected on his life, his accomplishments, and his new role as a show dad with his oldest son starting to show, the competitiveness, family and love that drive him day-in and day-out are evident.
Last November, when his team was named National Champions at Louisville, it was the first awards banquet that his parents had missed since he started coaching – and they would have been there if it had been opened to everyone.
"At 46-years-old my parents still show up. That's how much it means to my family." Chris stated.
The competitiveness between Chris and Randy has only gotten stronger over the years. With that competitiveness comes respect. They drive each other to be the absolute best that they can be.
"Quite honestly, if you look back 30 plus years ago, the odds are probably completely stacked against two kids from Maryland ever doing the things that we are doing. And yet, if you want it, work hard at it, in the right environment, with the right people around you, then there is no reason you can't, and shouldn't, accomplish whatever you put your mind to. Don't ever let anyone stand in your way or tell you can't accomplish it. The two of us [Randy & I] are prime examples of people who had found what we loved and made careers out of it that most people would have said could never have happened." Said Chris. "If you love it, go for it."
Blake and Wravenna Bloomberg
IL
Blake and Wravenna Bloomberg are a union of two of the most talented and competitive people I have ever had the opportunity to work with. My witness of their passion and impact on the livestock industry dates to the first day of Animal Science at Black Hawk East in the Fall of 2003. The day they met.
At exactly one o'clock in the afternoon, the auditorium at BHE was filled with around 70 Freshmen. I opened with, "I want all of you in this auditorium to look around." I paused for the next minute. "This is the greatest assembly ever assembled at Black Hawk College."
Sitting amongst those freshmen were a young man from Illinois, Blake Bloomberg, and a young lady from Nebraska, Wravenna Phipps. They didn't know each other at that moment, but it didn't take them long to start dating. Both Blake and Wravenna were members of the esteemed '04/'05 BHE Livestock Judging Team that won Kansas City, Louisville, Denver and Houston. One of only three teams in Junior College history to win all four contests. After having marked cards at every National contest, both Blake and Wravenna continued this trend on the University level.
The passion Blake and Wravenna have for youth in the livestock industry is exemplified in their children – especially their daughter Breckyn who has started showing. I watched Blake grow up, and his talent happened so naturally. I am big into genetics. Genetically speaking, they both received a world of talent and ability from their families.
What Blake and Wravenna have to offer the livestock industry from an education standpoint is unmatched. In over 50 years, there has never been a time more important than now to recognize families like the Bloomberg's. It is because of individuals like them that we will continue to have livestock and Agriculture focused events moving forward.
History will record Blake and Wravenna Bloomberg rewriting livestock showing history – and they are just getting started! It has been fun to be a part of and I look forward to watching it all evolve the next 10-15 years!
- Dan Hoge
I'm a firm believer that God puts certain people in your life for a reason. Blake, Wravenna and their kids have truly been a blessing in my world and we have created a friendship that I'll forever be thankful for. Some of my favorite memories are the thousands of miles Blake, myself and Oklahoma State judging teams traveled in the vans. Several laughs, triumphs and tears were shed traveling across the country, but one thing is for certain - Blake's and Wravenna's passion for the team members and success was unparalleled. I took it for granted back then, but now I can say it was pretty dang awesome learning from the best coach in the game. Leaving home was never easy in college, but thankfully Wravenna and the kids became my second family and it has been enjoyable watching them grow up and have success in the show ring. If there is anything I want them to know, I just want to say thank you for everything you have done for me over the years and being role models for many in the livestock industry.
- Kyndal Reitzenstein
When you start talking about industry greats and people who truly have made a lasting impact on not only the cattle world, but also on countless student's life, it would be foolish not to consider Blake Bloomberg, and his wife Wravenna, at the top of the list. Together, they are truly an inspiring class act paving the way for women judges while constantly striving to develop not just exceptional stockman, but even greater young people. I'm extremely grateful livestock judging made our paths cross and am proud to call them both mentors and friends.
- Kylie Patterson
I have had a great deal of people that have influenced my life over the years, but I don't think anyone has more than Blake and Wravenna. They are two of the greatest people I have ever known. They are family. Not only are they BOTH incredible livestock evaluators, but they provided me with opportunities that many others would have never considered. Blake was not only a coach and mentor but a big brother to me in so many ways. They stood up for me and supported my sister and I like we were their own. I think everyone who judged for Blake would agree that he is a winner and will teach you to be a winner, but more importantly, he will continue to help you in your career and your life aspirations long past graduation. There's no two people that I would say have a greater impact on the industry and the future of the livestock industry more than Blake and Wravenna Bloomberg. I couldn't imagine having judged for or been an assistant to anyone other than Blake, and I am beyond thankful to call them and their family my family as well.
- Ashley Judge
Blake and Wravenna Bloomberg are the true definition of friends that become family. They will be there for you during the highs and lows of life. In the Fall of 2016, Blake took a wild and untamed group of Black Hawk students under his wing and turned us into National Champions. What people didn't see was a team that became a family. A family that is still together today. Blake truly earned my full respect when he delivered the worst news I've ever received in my life. The Bloomberg's helped me through a tragedy and for that, I'm forever grateful. They stood by me through the worst moments of my life and will stand by my side on the happiest day of my life. Most people see the competitive, intense family at shows and if you are lucky like I am, you get to see both sides of the Bloomberg family. All I have to say is Thank You for the Trust and Love you have shown towards Brynn and myself.
- Grant Colvin
Charles & Heidi Anderson Legacy Livestock Imaging
KS
Capturing a legacy isn't something the Andersons simply do; it is the life they create. From the beginning it's always been about the story, the people, the why.
Charles and Heidi Anderson, founders of Legacy Livestock Imaging, have been photographing livestock shows across the country for over a decade. Every year, the Legacy team photographs 30-40 shows from junior nationals and majors to state fairs and county progress shows. With the help of more than 40 professional photographers who span the nation, Legacy commits to sharing each exhibitor's unique story and highlight their success.
Legacy Livestock Imaging was created when a classically trained professional photographer fell in love with a cattleman. A coincidental meeting designed only by the grace of God, Charles and Heidi met at church. What started as a marriage between two people who love each other blossomed into the fusion of two different worlds colliding. Legacy blends Heidi's creative eye with Charles' agricultural roots to capture magic.
Surrounded by the rolling Flint Hills of Kansas and Shorthorn cattle, Charles was shaped by the livestock industry. As a fourth generation on his family farm, Charles was born and raised on a century farm in Leonardville, Kansas. Growing up, Charles was actively involved in 4-H and FFA exhibiting national champions at Kansas State Fair, the National Western, American Royal and Louisville. Alongside his parents and brother, Ivan, Charles and Anderson farms raised quality shorthorns that sold nationwide and now raise limousine cattle. Cattle was and still is a family endeavor for Charles. Much like most of yours, Charles' story is rooted in tradition and legacy.
Heidi grew up a military kid being the daughter of a Lutheran pastor who also served as a Colonel in the United States Air Force. Growing up on Air Force bases around the country, she was exposed to unique perspectives, grand adventure and a variety of people. Heidi experienced life behind the lens as a kid and fell in love with photography. You could seldom find Heidi without a camera in hand. After 15 years of dancing as a kid, naturally Heidi turned to photographing ballerinas and then portraiture. After meeting Charles, Heidi took her camera ringside to learn what her cattleman's world was all about. Since 2005, Heidi has been an active participant in the Professional Photographers of America where she has earned a number of national and international awards and had images displayed in many museums including the Smithsonian Museum of Art.
Together Charles and Heidi have five kids: Abby, Morgan, Connor, Parker and Lilly. Each of the kids have their unique interests. Abby takes after her mom with a passion for the arts and a wicked eye for photography. Lilly is an elegant dancer and the world's best ear getter at the backdrop. Connor grew up with a passion for agriculture showing cows and pigs. Parker is always on the go playing a slew of instruments, being an Eagle Scout and a high key super genius. Morgan is a dancer, showman and spitfire all rolled into one. Since starting her show career in 2014, Morgan has found great success, most recently winning Grand Champion Purebred Limousin Heifer at the inaugural Cattlemen's Congress and built a network that will last a lifetime.
Legacy is a family affair! As Charles and Heidi watched their own kids grow up, they also were watching their thousands of show kids grow and find success both in and out of the ring. Whether success is met with a champion slap or helping hand and consoling hug, Legacy captures moments. While show photos are the main emphasis of Legacy, Heidi still taps into her roots as a portrait photographer. Weddings, seniors and family sessions continue the way Legacy tells stories. Photographing clients isn't just about taking a picture, it's about representing the relationships, the heritage and the emotion of the individuals both in and out of the ring.
The agriculture story encompasses so much more than just what happens in the ring, which is why some of Heidi's favorite shoots happen on the farm. On farm marketing shoots allows Legacy to tell the visual story of an operation from start to finish. From the barns that have homesteaded operations to the wrinkles of delicate hands tending to a calf, each piece of the puzzle is captured to tell a unique ag story.
Legacy isn't a photography company; it's a story telling machine. With each click of the shutter, photographs are intentionally crafted to generate connection, cultivate emotion and capture precious memories. While Charles and Heidi are photographers, they also are some of this industry's loudest cheerleaders and these exhibitors' biggest supporters.
Legacy isn't something you leave, it's something you create.
Middleswarth Family
WY
John Middleswarth had dreams of a long-lasting family operation when he started ranching in 1916 near Cheyenne, Wyoming. For the next 3 generations, the Middleswarth ranching operation then resided in Goshen County, Wyoming. In 2016 The National Western Stock Show even honored Middleswarth Ranch for its 100 years of "Riding for the Brand" and for 50 years of participation at the stock show.
The Middleswarth's started in the registered side of the cattle business in 1942. Ed, John's son, traveled to Brazil in 1954 as a student and came back with a name and idea that put the registered side of the operation to the forefront. The "Cruzerio" line became a true trademark for Middleswarth Ranch, a line of cattle that were known for their high performance. The growing popularity of the Cruzeiros was made evident throughout the 1960's by large turnouts of buyers and high averages set. The ranches annual bull sale and high placings in the carload show at the NWSS became known.
In the early 1970's, Ed purchased RC Mischief D4, a bull, though never shown, that landed as one of the top sires in the Hereford breed. His sons out-gained all breeds, even cross-breeds, at one of the most recognized test stations at Billings, Montana. Both college professors and ranchers recognized D4 for producing a heritability factor in which each succeeding generation performed better than the previous. Throughout the 70's, sons and grandsons of D4 dominated the carload show at NWSS winning numerous divisions and even taking the grand champion in 1975 for the Middleswarth Ranch. Ed's son, Jay, also became competitive and successful in the showring with D4 calves.
Family tradition and achieving excellence has continued throughout the next generations. Jay took over the operation in the early 1990's, and has continued to promote the Hereford breed. Being active in the association and hosting different Wyoming junior Hereford events has always been a priority for the Middleswarth family. Jay and his wife Marsha raised their daughters Ashely and Jessica both in the state and national junior Hereford associations. As fifth generation ranching sisters, both have shared a deep passion for all thing's cattle. Throughout the years, the girls have had much success in the local, state, and national showrings. Outside, both girls also participated in most contests and many scholarship opportunities that the junior nationals provided. Ashely and Jessica both served terms on the state, and National Junior Hereford Association board of directors. There Hereford breed has been an influential part in the Middleswarth family's lives, and continues to play a role for the future generations.
Sankey's 6N Ranch Chris & Sharee Sankey
KS
Aside from staying right with God, nothing can affect your life more than who you choose to spend it with. Chris and Sharee Sankey of Sankey's 6N Ranch are a testament to this simple, yet tremendously significant, idea.
Chris and Sharee own and operate Sankey's 6N Ranch outside Council Grove, Kansas and have called that land home since the fall of 1982 when a Kansas City business family, the Norquists, were looking to sell or lease their ranch in the Flint Hills. Mrs. Norquist loved the show cattle aspect of the beef industry, and Sharee happened to cross paths with her at, none other than, the American Royal. There, the Sankeys were able to visit with her about their aspirations. This conversation proved to change the trajectory of the Sankeys, as it gave them the opportunity to lease the 2,000-acre 6N Ranch. In 1989 the Norquist family was ready to sell, affording the Sankeys the opportunity to purchase the headquarters site and the surrounding land. This purchase was the first building block of Sankey's 6N Ranch.
But before the 6N, the Flint Hills, and the American Royal conversation, Chris and Sharee Sankey were two students at Kansas State University on the same livestock judging team. Chris was born and raised in Sterling, Kansas, and was introduced to the Angus breed by his father and grandfather who ranched west of Hutchinson. Sharee was born and raised a Laflin, working daily within one of the Angus breed's pioneering herds, Laflin Angus Ranch, Olsburg, Kansas. The two married in 1978.
It's no wonder that with Angus roots and passion that deep, something grand was sure to grow.
Sankey's 6N Angus herd is focused on raising cattle that have quality from every angle. They believe that cattle first and foremost must have high quality phenotype. They also know that in today's world you must back that phenotype with genetic information that makes them relevant for the todays beef industry. They believe that there is no reason to sacrifice any of those parts for the other. It's the Sankey's belief that when you add up all those pieces you will find the recipe for their success! Together they have bred and raised two American Angus Association Show Bulls of the Year:
• Sankey's Lazer 609 of 6N (2007-2008) who was also Grand Champion Bull at the 2008 National Western Stock Show.
• Sankeys Justified 101 (2012-2013) son of Lazer who was Grand Champion Bull at the 2013 National Western Stock Show.
If you asked their opinion, they might also say that 2020 wasn't all bad, as they purchased and exhibited the 2020-2021 Show Bull of the Year.
• Silveiras Forbes 8088 (2020-2021) and he was also the Grand Champion Angus Bull at the 2021 Cattlemen's Congress.
They also consign bulls to the National Angus Bull Sale annually, as well as bull tests around the great state of Kansas and at the Midland Bull Test in Billings, Montana.
In 2018 they were awarded the National Western Stock Show Industry Leader Award, in Denver Colorado.
In 2015 together they were named American Angus Association's Herdsman of the Year and in 2021 they received the Western States Herdsman of the Year award at the Western National Angus Futurity in Reno, Nevada.
Both Chris and Sharee have served the association through state and national boards. Chris is a past member of the American Angus Association Board of Directors. Sharee is a past American Angus Auxiliary President where she worked endlessly to support the youth of the breed through scholarship programs. They both have served as the president, as well as, past junior advisors for the Kansas Angus Association.
The Sankeys know that the Business Breed isn't only about bulls, so they host an Annual Fall Female sale each September in Council Grove.
Angus cattle, of course, aren't the only reason Chris and Sharee keep the show barn rocking, the trailer rolling, and their work boots on at ages 65 and 64. Within them remains a strong dedication to the improvement and longevity of the Brangus breed.
Sharee's father, Bob Laflin (who needs no introduction) needed pasture for his small herd of Brangus cows, so the newlyweds obliged, sparking a fire that would go on burn brightly for decades. The strong use of AI helped expand and improve the Brangus herd, with a sharp focus on Brangus genetics that were more the type and kind of Angus cattle. Smooth underlines, and cleaner fronted Brangus were what the pair consistently bred towards. At that time, they were selecting cattle that were ahead of the times, as the Brangus breed is shifting more that direction today.
The base of their Brangus herd roots back to prominent Brangus herds like Brinks Brangus and Windy Acres in Texas, which are first generation Brangus. In the mid 90's the Sankeys ran about 100 head of Brangus cows, though today they run a few donors and elite females. Over 40 years, their tireless work and unmatched passion has afforded them great success in the Brangus breed. They've exhibited 3 National Brangus Show Bulls of the year, 2 National Brangus Show Females of the Year and Chris and Sharee were named the 96-97 IBBA Herdsman of the Year. Sharee has also served as a past IBBA board member and IJBBA junior advisor.
Sankeys Revolution 860K was Champion Bull in Houston 2003 and IBBA Show Bull of the year and almost 20 years later, Revolution is still influential in the herd today. The top current Brangus sire is Sankey's Special Op 108E, which is a grandson of Revolution, and he traces back to a first-generation cow that originated in Bob Laflin's herd.
The Sankeys remain highly motivated by the opportunity within the Brangus breed. Today their work focuses on the Ultra Black program, consisting of registered Angus and registered Brangus animals on either side of the pedigree.
Believe it or not, within all of the cattle raising, they also raised kids. Chris and Sharee are the quite proud parents of Cody Sankey and Jeana Hurlbut.
Chris and Sharee "drug us up and down the show road" as daughter Jeana affectionately put it, offering their children every opportunity to learn the value of hard work and sound competition. No matter what color ribbon returned to the stalls during the 80's, 90's and 2000s, the Sankey kids understood that their work was part of a grander vision for Sankey's 6N Ranch. Both Cody and Jeana were heavily involved in two junior programs attending both annual Junior National shows, served on junior boards, participated in contests and showed many class and division winners.
Cody and his wife, Lindsay, own and operate Sankey Angus outside Economy, Indiana. Together they are raising two children, Caroline and Cyrus. Cody is the Associate Vice President of Beef Programs for GENEX.
Jeana and her husband, Dustin Hurlbut, live near Raymond, South Dakota with two daughters, Bayler & Mattie. Together they own and operate Hurlbut Cattle. Jeana works for SCI Designs as a graphic designer in the livestock industry.
"We have been blessed in our operation from the beginning, as our passion coming out of college was to ranch, raise our family there and raise good livestock. Through the years there were challenges but with God's favor, we saw blessings come out of those challenges. Watching our grandkids grow up now in the livestock industry is exciting, as being 6th generation. It will be fun to watch them in the Junior programs as they grow. They all seem to love the cattle and horses." Chris & Sharee Sankey
In 1978, when Chris and Sharee began this adventure, a gallon of gas was $.63, a dozen eggs was $.48 and the television series Dallas was launched, taking the country by storm.
A lot has changed since then.
What hasn't wavered is Chris and Sharee's commitment to raise the best cattle they can, together. •
Shane & Tonya Meier
TX
When you combine ties to a United States President and roots deep in academia and sports, the result is the dynamic power couple of Shane and Tonya Meier. Over the years, they have taken Shane's background in Agriculture and Tonya's love for education and youth to impact the livestock world in more ways than one. Meier Show Cattle, Battle of the Cattle and most recently The Patriot, are all well-known entities with Shane and Tonya at the helm. Recently, The Showtimes had the pleasure of sitting down with the two to discuss both their outlook on life and their dedication to bringing out the best in those around them.
Shane was born and raised in Stonewall, Texas where his dad managed President Lyndon B. Johnson's ranch. L.B.J. passed away in 1974, the year that Meier was born; but his family continued to work the cattle and land for Johnson's wife and the government. Along with his two younger brothers, Shane grew up highly involved with the Hereford breed – heifers in particular. Over the years they added crossbreds and steers to the mix. In addition to the cattle, Shane found success in livestock judging where he was a member of the State Champion 4-H Livestock Judging Team and State Champion FFA Livestock Judging Team in consecutive years. He left home to judge and pursue an education at South Plains College in Levelland, Texas.
On the opposite end of the spectrum, Tonya grew up in West Texas where her focus was on sports and school. No livestock. Growing up, she was highly competitive in cheerleading. Following high school, Tonya attended Texas Tech University where she studied Pre-Family Law. Her passion for learning and youth led her to obtain a Master's in Education. It's this love of kids that has been a driving force for Tonya as both she and Shane not only tackle life, but approach it with the mindset of – how can we make it better?
And that's exactly what they have done…
Coming from the two different upbringings, together, Shane and Tonya have dedicated their life to taking a leadership role in producing opportunities for youth in Agriculture. Along with their sons, Mills and Mason, they own and operate Meier Show Cattle back in Shane's hometown of Stonewall. Although both boys are currently at Texas Tech, family is still an important aspect of everything they do. Over a decade ago, they founded Battle of the Cattle – also known as BOC. What started as nutrition clinics, camps and showmanship seminars, grew into a prospect steer show series, open to youth from all across the nation. One would think between their show cattle operation and BOC that the Meier's would be left with little down time.
In the Fall of 2020, Shane and Tonya felt the need of a Junior National type show for the show/club calf industry – as they are, in all rights, a breed of their own. What did they do? They announced the Show Steer Junior National that will take place July 21-25 in Abilene, Texas. The announcement came as an exciting spark across the industry! The Meier's plan to run the event similar to other breed Junior Nationals with various contests, activities and shows.
Just weeks after announcing the Steer Show Junior National came the cancellation of the 2021 Fort Worth Stock Show. Shane and Tonya did not miss a beat. They rallied their troops and formulated The Patriot Junior Market Steer Show. A Texas Major. Anyone who has never attended a major show in Texas may not grasp the magnitude of this type of event. Classes with close to 100 head and nearly 2,000 total entries (one calf per exhibitor) - it was no little undertaking. Yet, within a few months' time, Shane and Tonya executed what may go down in history as one of the most fun, big-time, smoothest run cattle shows. They did not leave one stone unturned; from the volunteers and decorations, to fundraising and organizing a sale where they raised thousands of dollars for the youth of Texas! All with a crew of less than 25 people!
Time and time again, Shane and Tonya have made the youth of our industry a priority in their lives. Everything they do they give 100%. They describe walking away from various shows and events over the years with the sense of, "How can we improve that?" They would take notes on things that were done well and things that could be done better. It is so important for them to use livestock to help raise kids and to do everything with the kids in mind.
Anyone who has attended a BOC event or The Patriot will attest to the atmosphere of positivity, inspiration and motivation. While at the end of the day, everyone strives for the Champion slap, Shane and Tonya tailor their shows to be highly interactive, educational and an outlet for people to spend time together and form relationships. A great example of this is the BOC's Panel of the Pros – an opportunity for kids at the show to talk to industry leaders, such as Brandon Horn and Clint Petzold. Not only does this provide knowledge, but it also breaks the ice for them to reach out and communicate with those leaders throughout the event and beyond.
One word of advice Tonya shared that she strives to live by is, "People will forget what you say to them, but they will never forget how you made them feel." What she and Shane do day-in and day-out is a prime example of living one's life in a way that betters those around them.
Graham Blagg
KS
The agriculture industry is based on pivotal business relationships, that in turn create life-long friendships that many in the industry can attest to. Growing up in a small rural community in the foothills of California on his family's Hereford ranch, Graham Blagg always had a passion for the livestock industry and the people that came along with it. Following graduation from Nevada Union in 2008, Graham served as Vice-President for the California State FFA. He traveled around the state for a year meeting with chapters and representing agriculture at various functions. In 2009, Graham moved to El Reno, Oklahoma to judge livestock at Redlands Community College under the instruction of Dr. Clay Elliott. Graham credits much of his success today to the knowledge and practical experience gained from Dr. Elliot. "Clay is one of the best marketing minds in the livestock industry. There is no price tag or tuition that can applied to the practical knowledge and real-world experience he taught us," says Blagg. Graham's team was highly competitive, and they saw numerous successes both years at Redlands. Graham remains close to several of his teammates, who are also still involved in the livestock industry today.
Blagg continued his judging career at Texas A&M University and was a member of the competitive 2012 livestock judging team. Graham finished his senior college livestock judging career by being named the 2012 NAILE High Individual. While at TAMU, Graham became involved in the Simmental breed through his job at the Texas A&M Beef Center. He traveled to the Texas major shows and Simmental Junior Nationals and got to meet quite a few of the people he does business with today, including his friend and mentor Jered Shipman. Graham graduated from Texas A&M in December 2013 with an Animal Science degree, and moved to Stillwater, Oklahoma to start marketing cattle with his good friend, Austin Perry. Graham started consulting for a few purebred operations across the country, acted as a sale day consultant for a few purebred Seedstock sales, and instantly became hooked. Fast forward to 2017, Graham and his wife Kasey, along with Jered and his wife, Haley, had the vision to create what is now known across the industry as Innovation AgMarketing, LLC. Graham and Kasey currently reside in Olathe, KS, where Kasey is the Associate Director of Channel Business Capabilities at Merck Animal Health. Living in Kansas has been pivotal for Innovation's success, as Graham is located within driving distance to several of his customer's operations and can make several herd visits a year prior to sale day. Graham's parents, Karl and Gail, have relocated to Kansas recently, and have been able to assist in the day-to-day tasks to keep things running smoothly. It takes a village to keep the business successful, and Graham is very thankful to have the support of Jered's family, his own family, and several friends who work to make sure that there are no issues on sale day.
INNOVATION AGMARKETING- THE STAGES OF DEVELOPMENTIn the infant stages of development, Innovation AgMarketing, LLC was formed with the visualization of creating a full-service sale management firm that specializes in a broad scope of services that directly benefits a program's profitability. As a progressive seedstock consultation and marketing firm, unwavering customer service, and a commitment to succeed are the core principles.
Blagg states, "Every program is unique; therefore, every marketing plan should be designed to fit the individual program's needs in order to elevate their level of success."
"Our services continue to evolve to best serve our client base. Every relationship is value based and we still believe in the meaning of a handshake and one's word," says Blagg.
Innovation AgMarketing has grown over the past three years and now manages 35 live auction sales per year. During the fall sale season, Innovation AgMarketing manages predominately female production sales for some of the Nation's most respected Simmental, Angus, Red Angus, and multi-breed show heifer operations. "The auction business is the most effective way to market your livestock, true price discovery is the auction way," states Blagg.
SALE SEASON
The fall sale season stretches from labor day weekend through the third weekend in December, with sales nearly every weekend in between for Innovation AgMarketing and their talented team. The spring sale season is heavily weighted with bull sales that begin in February and continue through May.
Blagg states,
"Bull sale season is based on relationships that are passed down from one generation to the next, it is satisfying to assist our customers in achieving their goals and helping them benefit from their year of hard work and devotion."
Graham continued by stating, "You work 364 days a year, as a producer you have to make sale day count."
During the Spring of 2020, Innovation AgMarketing assisted in the marketing of over 1400 bulls from January through May. The bull sales managed by Innovation AgMarketing, LLC include some of the premier seedstock operations in North America. Angus, Simmental, Red Angus, and Charolais are the primary breeds of bulls that sell in bull sales managed by Innovation AgMarketing.
In the Spring of 2021, Innovation AgMarketing will manage over 15 sales and assist in marketing more than 1400 bulls.
"I feel very fortunate to have the opportunity to work in an industry that I grew up in with so many people that share the same passion for the business," says Blagg.
THE ADDED VALUE THAT INNOVATION AGRMARKETING OFFERS
"Professional sale management is a convenience-based service that can aid in the success of an operation's sale event by covering the bases and making sure the minute details are addressed," says Blagg.
Graham also commented, "I take great pride in the service that the company I represent and those that work alongside me are able to provide to our customers."
In reality the sale preparation process begins 2 to 3 years before the event is scheduled to take place with breeding decisions and genetic selections. Blagg stresses that "It is important to have a product that is sought after by your customer base, meaning incorporating fresh genetics annually is imperative."
BID TO BUY...
"There is no better option than the live auction method of merchandizing livestock in my opinion," stated Blagg. "Selling at auction allows for true price discovery. It is more than just an auction, it is a chance for producers to gather, offer one another hospitality, and learn from others to help one's own program evolve. A live auction provides excitement and a competitive atmosphere. There is nothing like a fast paced, high energy auction sale!"
Blagg stated "I am a firm believer that the agriculture industry is one of the few communities in this day and age where a handshake and one's word is all you need to conduct business." He continued by saying
"Stand behind your product, believe in your product, and if something goes awry for your customer, work with them to make it right, it will pay off in the end. Always do the right thing, you can never buy back your integrity."
UPCOMING EVENTS
Innovation AgMarketing will begin 2021 with the pinnacle of their sale schedule. "In July of 2019, Christy Collins and I met in Kansas City for lunch. Little did I know that she would be offering the duties of managing the industry's most exclusive genetic sale, Embryos on Snow."
In 2020, Innovation AgMarketing, LLC managed the 14th Annual Embryos on Snow™ sale in Denver, Colorado. Blagg states, "It is an honor to continue the tradition that Christy and Jason built from the ground up over the past 13 years. Embryos on Snow™ is looked at as one of the most respected and premier marketing events in the livestock industry."
With the cancelation of the National Western Stock Show and the formation of the Inaugural Cattlemen's Congress, the 15th Annual Embryos on Snow sale will be hosted in Oklahoma City, Oklahoma on January 8, 2021 at the National Cowboy and Western Heritage Museum.
Vickland Family
CO
The name Vickland is known nationwide. We had the opportunity to show against them growing up at the Colorado State Fair, National Western Stock Show and jackpots like the Mountain States Beef Expo! Today, you read about their acomplishments such as winning Grand Champion Hereford Female at the Junior National Hereford Expo, National Western, American Royal and NAILE, but they've been competing sucessfully long before Vada was even old enough to show! Some of their major acomplishments include winning Grand Champion Steer at the Colorado State Fair in 2006, 2009 and 2014. In fact, their 2014 Champion in Pueblo was one they raised! They've also won shows like Ak-Sar-Ben in 2004, 2006, 2014, and the NAILE Steer Show in 2009! The Vickland Family has also found success at jackpot shows like the Badger Kick-Off Classic, Jackrabbit Classic, Kansas Beef Expo and numerous others over the years. They've won national shows across many breeds with both heifers and steers. Mark, Sarah, Emma, Hannah, Grant, Vada and Hans along with their parents Patty and their father, the late Jim Vickland were always competitive; from the Weld County Fair all the way to the biggest shows in the country! They are more than just a cattle family. They've won Judging Contests, Hog Shows, Goat Shows and even Turkey and Rabbit Shows! They're a family that has not only found a way to be successful, but be competitive for over a decade and a half! They also own and operate Vickland Show Cattle where they raise and sell competitve cattle. The Showtimes is excited to induct the Vickland Family into our Hall of Fame!
Conley Cattle
OK
Conley Cattle is owned and operated by Kyle and Amanda Conley along with their two sons, Case and Jack. Our herd managers are Alex Bauer and Cole Atkinson. We have an Annual Bull Sale, Annual Fall Production Sale, and a Spring and Fall online show heifer sale.
Conley Cattle was founded in 2006 by Kyle and Amanda Conley with Angus cattle raised by their families. Kyle is a 3rd generation Angus breeder from Clarksdale, Mo. Amanda is a 5th generation Angus breeder from Sulphur, OK. We purchased a farm in Amanda's hometown with hope to support a family of our own doing what we both love, raising quality cattle. Amanda also works as a pharmacist, and she prides herself in improving the health in our community.
From the beginning, our focus has been the foundation female. The more Kyle traveled to visit Angus herds around the United States, the more he began to figure out what cow families could influence our future as cattle breeders. Some notable cows were instrumental in our start: Double R Bar Pure Pride, Sandy 2355, Sandy 5104, PR Lady 909, Penners Ernestine 3496, Limestone Arkdale Pride U1847, BC Mignonne's Libby, and Sheza Star W3. We have built our herd around these donors, and they have produced numerous high sellers.
It is difficult to write about our present without understanding our past. We have many people that have helped us along way. Kyle's dad, Bill Conley, and Amanda's dad, Harris Penner, have been fundamental in our progress. They offer us the knowledge and understanding of the cattle business as well as the daily perspective of how to continue our progress. The late Bill Conley, Sr , past president of the American Angus Association motivated Kyle to be involved in the AAA and National Junior Angus Association. Mark Johnson and Chris Mullinix presented the collegiate livestock judging experience that allowed Kyle to not only obtain his college degree, but also to connect with teammates that have similar backgrounds and goals. Chris McCutchen and Mike Marlow hired Kyle right out of college and trusted his influence on the Angus breed. They educated him on the importance of customer service and showed him the importance of being well-rounded in this business. This training soon came in handy when it was time to move to Sulphur to start our own business venture. Not long after starting Conley Cattle, Mike and Dalton Hartman introduced us to raising and marketing other breeds of cattle. This has developed into raising some of the best Simmental and Charolais available. Kyle found M&M Outsider and partnered Troy Thomas and Mike Hartman in 2014. Outsider has gone on to be the top bull in the show cattle world. Along with Outsider, WS Pilgrim and SS High Voltage, these bulls have made us a household name in the herd sire directory. We purchased EXAR Blue Chip 1877B in 2013 from Express Ranches, and he went on to be the 2013-2014 Roll of Victory Show Bull of the Year. He sired some of best show cattle in the country, and his daughters have produced numerous high sellers along with his son, Conley NO Limit 8188. We remember feeling like we were headed in the right direction and gaining attention from respected breeders around the country.
2015-2016 were incredibly progressive years for us. We won Grand Champion Angus Bull at the NWSS with SMA Watchout 482. We partnered with Tyler Cates to purchase Watchout after he placed 4th in class at the 2015 NAILE. Kyle saw something special in this bull, and he was crowned champion bull just 2 months later. During this same time, we purchased 5T Power Chip at the 2015 State Fair of Texas, and he has gone on to be a breed leader for calving ease and phenotype. He highlighted our 2016 Annual Bull Sale, selling 1/3 interest to a syndicate. We purchased Stevenson Turning Point with a breeding group in the fall of 2016, and he went on to sire calving ease, performance cattle. His first sons highlighted our 2019 bull sale and were sold to customers all over the United States and Canada. Conley South Point 8362, Conley Extra Point, and Conley High Line 8045 were also sold in this sale. South Point was purchased by Wilbar Cattle and Poplar Meadows and went on to be the Champion Angus Bull at the 2019 Canadian Western Agribition and 2020 NWSS. We were awarded with the 2016-2017 Roll of Victory Show Heifer of the Year with Conley Sandy 5104, a daughter of Blue Chip, and her second natural calf was Reserve Grand Champion at the 2016 NWSS Junior Show for Kynlee Daily. She has consistently produced high demand progeny. Conley Express 7211 was sold in 2018 to a group of progressive breeders led by Express Ranches. He is off to an exciting start by producing promising heifers and bulls gaining interest and topping sales all over the country. Our 2020 bull sale was highlighted by the popular bull, Conley Expression (purchased by Semex and Predestined Cattle), Conley Prowess (ST Genetics), Conley Express 9174 (purchased by C-4), and Conley Express 9419 was the top seller bought by J6 Farm.
We hosted our 10th Annual Fall Production Sale this fall during unsettling times, and we were honored at the success. We measure our success by our customers' interest in our product, and this year was astounding. The cow families and sires discussed previously were ever present in our catalog.
Tom Burke and Jeremy Haag with the Angus Hall of Fame have managed our sales from the beginning. (Jeremy Haag):
"Conley Cattle is a program that is constantly in motion. From the very first time working with both the Conley and Penner families, I could see the passion and drive to build upon their strong Angus foundations and merge these experiences into a formidable Angus program. Both Kyle and Amanda have dedicated their entire lives to the business and have committed to raising their two boys in this great industry.
Their program's success is actually very simple, and it isn't due to the efforts of just one person or two, it is because they have the ability to find the right fit in those that work alongside them. Kyle and Amanda are aware of each individual's personal talents and gel them into where their talents are the most beneficial and with that comes success! This is why people like being a part of Conley Cattle, and the result is an efficient work team.
Kyle and Amanda have also been successful because of the breeding philosophy at Conley Cattle that is not like others around the country, they have bred cattle with one main thing in mind, the "Angus Cow". They understand that this is the single most important factor in the business, and they learned this from their fathers and grandfathers.
Conley Cattle has made tremendous strides in the last 10 years. I remember the first sale in Sulphur, Oklahoma with about 35 people there in the tent getting ready to sell about 50 lots of cattle. It wasn't easy as a sale manager but the best thing that they have done to build on this is to keep their sales on the same day each year, at the same time, and have stuck with it. Sounds simple but it isn't, most programs bounce around to new sale dates each year, a different time of the year, or just give up when they have a tough sale. You don't win the World Series every year, some years are better than other. I can tell you, they have stayed consistent on the third Saturday in September at 6:00 pm and it has become their day, simple concept, but it works." Jeremy Haag
The next generation holds the key to our success. Our herd managers and summer interns offer a new outlook and perspective on this industry, and their input is greatly valued. Our two herd managers, Alex Bauer and Cole Atkinson are instrumental in the success at Conley Cattle. Alex joined us in 2017, and Cole joined us in 2019. Employee is not a term we use here; we are a team. We feel that outlook makes us unique. We each allow the other to do what we are best at, whether that is taking care of herd health, livestock show preparation, farm improvements, sales and marketing, or customer service. Cole and Alex work diligently to ensure the cattle are presented to their full potential and that customers are pleased. We are passionate about the cattle industry, and we enjoy taking time to visit other operations. We are always happy to see what genetics are working for other programs and consider implementing those genetics in our program. We are constantly striving for progress.
We enjoy watching our customers exhibiting their cattle, and we were excited to watch our oldest son, Case exhibit his first heifer this past year. It was a learning experience for all of us! Our boys grow more interest in the cattle industry every season, and we are thrilled for them to exhibit the Simmental and Charolais cattle we have raised. They will also exhibit their Angus Bred & Owned cattle.
Our goals for the next ten years are beyond the showring. We want to continue raising sought after bulls and donors and investing in other breed leaders' genetics. We want to be even more present in the Bred and Owned portion of cattle shows, seeing junior customers have a return on their investment is important to us.
We pride ourselves in being approachable, accessible, and ambitious. We strive to make a positive influence on junior cattle members. Amanda and I grew up in this very same business, and we are thankful beyond words for our experiences. The associations and groups we are involved in have shaped our business and personal lives. I use the public speaking experience I gained through NJAA and collegiate livestock judging in our business daily. My advisors and mentors gave me the confidence to pursue this as my passion and career. We want those same experiences for our children and junior exhibitors. We are thankful for our past and pleased with our present. We strive to produce cattle that compete in the showring but still focus on raising cattle that work in the pasture. We want to be your source for bulls, donors, and show heifers.
Parke & Hatmaker Family
KY
Within the rolling hills of central Kentucky, the love of Agriculture and the beef industry has been bred into multiple generations of the Parke family. Today, a tarnished trophy sits above the entertainment center of the Parke family's home. A quick thought would believe this trophy was won at one of the major shows, but at closer inspection this 1951 trophy was claimed by Billye Rae Turpin, Doug's mother at the county fair. Doug was exposed to Agriculture through his family's farm where they raised tobacco and beef cattle in Richmond, Kentucky, and exhibited steers and heifers at the local county fair.

Doug was active in the Madison County FFA Chapter throughout high school, where his cousin Billy Glen Turpin served as the Agriculture Teacher and FFA Advisor. In 1975 Doug and his fellow team members were named the Reserve Champion National Land Judging Team, and Parke was the High Individual of the contest. Billy Glen introduced him to Simmental cattle when a relative Joe Turpin of Allied Simmental Enterprises dispersed in 1974 at the Louisville Stockyards.

While working on his Animal Science Degree at Eastern Kentucky University, Doug began working for a local Simmental operation Kieckefer Simmentals of Kentucky, followed by Benedict Incorporated, and lastly Breck Ellison Farms in Tennessee. Breck Ellison Farms was a leader in the Simmental industry, Breck himself serving as Chairman of the ASA Board, and worked to build an exceptional herd of Simmental genetics. When they dispersed in 1992, the dispersal was held at the local stockyards, but televised outside in a tent due to the size of the crowd which was unheard of at the time due to technology.

Following the dispersal of Breck Ellison Farms, Doug and Debbie, his wife of 38 years, moved back home to Kentucky where Doug began his own consulting business at Simmental sales across the country and Canada. His friend and mentor Doug Paul was managing sales and Parke traveled with him and assisted him at many of the sales. This was a time of transition for the Simmental breed as the cattle were transitioning from traditional cattle to solid reds or blacks. Doug and Doug were the dynamic duo Parke on the block talking the cattle, and Paul taking care of the clerking. Not only was Doug Paul fun to travel with, he taught Parke a lot about developing skills in marketing, promotion, and dealing with people. When Doug Paul decided to retire from sale managing, it seemed like a natural fit for Parke to continue on with the business, evolving his business from consulting to managing Simmental sales. Debbie took over manning the office, and the family business was born.

Doug and Debbie have one child, Holli. Growing up surrounded by the livestock industry and Agriculture, Holli quickly grew into the family's love for Agriculture. She was an active member of 4-H and FFA; competing and serving at the local, regional, state, and national level. Holli served as the Kentucky FFA State Secretary, and spent two years working for the National FFA Organization as a Conference Presenter.

The Parke family traveled each summer to the American Junior Simmental Association (AJSA) regional and national shows supporting junior members. In 1998, the Parke family loaded their own cattle and attended the AJSA National Classic in Columbus, Ohio as exhibitors. That first year, Holli asked to show a traditional red and white Simmental instead of the black Simmentals which were gaining popularity. Many people asked Doug why he traveled all over the country looking at and buying cattle, but his daughter was showing a red and white one. At the 1998 Junior Nationals that red and white female named "Holli's Best" was selected the Third Overall Female.

"One of the things I admire most about dad is that people gave him a lot of grief over what I showed. Due to his exceptional eye for cattle, many times he found a bargain, but knew the potential for greatness was there. My first Denver Champion was a $1,200 purchase," Holli states.

Holli's involvement with the AJSA continued as she got older serving on the AJSA Junior Board of Trustees. During the summer of 2008, Holli interned for the American Hereford Association (AHA) in the Junior Activities Department. Currently, Holli serves on the American Simmental-Simbrah Foundation Board. "I have been so blessed to grow up showing through the AJSA program. Some of my very best friends I have met through this program, and it has brought me some great opportunities. At this point in my life, it is all about giving back to the great organization that gave me so much, and raising my children in it."

In 2010, Holli married Drew Hatmaker of Tennessee. Drew quickly fit in and took an active role in the family business DP Sales Management. "Growing up, I knew of Doug. Sometimes its surreal to be able to work with someone who is so well known and respected, but I am blessed that Holli and I get to work with our family and learn from him," Drew says. The have two children Knox (6) and Breck (3). The boys understand the family business, and at a young age were traveling to cattle sales and AJSA events. Both boys logged over 20 states before their first birthdays. Breck Hatmaker, the cow enthusiast was actually born on sale day of the NAILE Select Sale in 2016. Drew and Holli own their own herd of Simmental cattle which base can be traced back to females Holli showed through the AJSA program. They also operate Hatmaker Homestead, producing locally raised vegetables and poultry that are marketed at their local Farmer's Market.

Today, DP Sales Management is a true family business. Drew and Holli have an active role in the business along with Doug and Debbie. DP Sales Management manages over 30 sales each year, and working with their clients to market their cattle not just on sale day but throughout the entire year. Our philosophy is that no matter how big or small the operation, there are marketing opportunities for everyone no matter what the price range. We take great pride in consignment sales; which allow some of the newest and smallest breeders to showcase their Simmental genetics. In 2014, seeing the rise of online sales they launched DP Online Sales, and host around 30 sales on their platform each year.

While assisting their clients and customers market their Simmental cattle through sales is the upmost importance; supporting and championing the Simmental breed is a part of their everyday life. Due to Doug's involvement in the breed for over 40 years, his knowledge of pedigrees, phenotype, and breeders is unmatched. He strongly believes that every breeder, no matter how big or small, matters in the very existence of the breed. Visit their home and you will get an education on the progression of the Simmental breed, just from the walls of their office. Totes of old Simmental magazines, "The Shield" can be found along with photos of notable bulls and females over the year along with reproductive parts of CNS Dream On, one of the most notable and breed changing bulls.

The entire family is especially supportive of the next generation of the breeders, serving as judges for AJSA Regional and National Classic contests and supporting scholarship opportunities like the Peter Courtney Memorial Scholarship. In 2019, the family was instrumental along with the Simmental Breeders Sweepstakes in organizing and hosting the AJSA National Classic in Louisville, Kentucky. Both Doug and Holli were members of the Simmental Breeders Sweepstakes Board who hosted the event, and Drew and Holli were coordinators of the show.

"Growing up in the AJSA program, I really felt like my AJSA career had come full circle assisting with the coordination of the 2019 Classic. Attending so many of the junior nationals over the years and interning with the Junior Hereford Association, I always kind of dreamed what I would want it to look like, and to have that opportunity was really special. I told Drew he might as well be the co-coordinator with me since he was going to have to listen to me all the time anyways!" Holli commented.

She continued on to say, "The AJSA National Classic is such a special event for so many families and so important for our breed. So many families are buying Simmentals right now, and it was important for me to show them what the AJSA can do for their children just like it did for me."

Doug Parke closes, "Our family loves being a part of the Simmental breed. I'm so proud that we all work together on a daily basis in our business, and it's a privilege to serve our customers, breeders, and the future of the breed."
Ashley & Jessie Judge
CA
"Work harder, push further, and care more than everyone else and God will do the rest."
When the Reid family asked us to put together an article telling our story, we couldn't feel more honored. To say that we have been attached at the hip since Jessie was born would be an understatement. We have been best friends since birth. Throughout life, we have constantly done things together and relied on one another through it all.
Our story and passion for the beef industry began in California. Our parents were working for a family by the name of Andrews in Dos Palos, California. At the time, they were very heavily involved in Angus and Red Angus cattle, and our parents were managing their show barn, cow herd and hay farm. By the time we were both a year old, we had been to every major stock show in the country, instilling a love for show cattle from the start. This passion for show cattle was countered with early experiences with performance based Angus cattle, acquired when our dad took a job at Vintage Angus Ranch when we were around 5 and 2, right before our younger brother Wyatt was born. Our dad was managing the Vintage cow herd, in what was at the time, a very tiny town in the foothills of California. It is hard to fathom but the town of La Grange had a biker bar and gas station and that was about it. The small town feel provided us some of the best learning experiences. Our parents never shorted us of an opportunity to drive the feed truck, help move cows or jump in to get some hands on experience with calving cows and processing groups of calves.
It was when our dad took a teaching position at Cal Poly that our family moved to San Luis Obispo and showing cattle really became a focal point in our lives. We joke that our parents most likely completely regret buying Ashley a Shorthorn for her first show heifer. After being heavily involved in Angus cattle for many years, we don't think our parents could have ever guessed that a Shorthorn female would lead to A LOT more Shorthorns over the years. Our first shorthorn heifer was named Strawberry, and she only cost $600. Strawberry was joined by an Angus named Lucy and a Charolais named Nikki. At the time, you couldn't show in California until the age of nine, and even though Jessie couldn't show, she worked in the barn just as hard. Those three years waiting and watching Ashley show when she couldn't were definitely some of the hardest for Jessie, but it just helped further develop her love for the work behind the scenes and her competitive drive to get in the ring. For us, we had to learn to work hard early, as our facilities didn't always make being competitive at a high level easy. Our very first "show barn" was just a lean to on the side of a hay barn. We felt pretty special when we moved and upgraded to an old dairy milking barn. The only concrete on the whole place was in the working facility lead up so we turned that into an outdoor wash rack, and the water pressure was so bad that we had to hook up a power washer just to get cattle rinsed. Even still, this was where our success in the ring really took off.

In 2004, we were lucky enough to win the California State Fair for the first time with a Shorthorn female by the name of Darla. We bought Darla from Dave Dillabo for next to nothing because she was part blind in her left eye and nobody else wanted to take a chance on trying to get her broke. At that time, we didn't have anyone working for us, it was just our family. Between us, Wyatt and our parents we still managed to get everything ready, which looking back is something we are so thankful for. Growing up, we were handed a can of glue, a comb and a set of clippers and told "Get after it. You can't learn just watching everybody else". Sure, we made a lot of mistakes, put plenty of gouges in leg hair and sprayed entirely too much glue at times, but we learned. We learned that we were just as capable as the next person and could fit and get one ready just like "all the boys".
Over the next couple of years, our family continued to build in success and numbers, which included Supreme AND Reserve Supreme females at the California State fair in 2006, 2009, 2010, and 2011, Reserve Supreme Female in 2008, and Supreme Female in 2014, just to name some of the more major successes. We had so many special and amazing heifers over the years, with a few steers sprinkled in, but there were a few that were especially special. In 2006 Ashley won with a female we called Erica, purchased from Silveira Bros. and the one who brought Craig and JJ Reinhardt into our lives. The livestock industry is incredible at placing pivotal people in your life, and to this day the Reinhardts treat us like their own kids and they are nothing short of family. In 2009, Jessie won with what would be the most influential Angus female we ever had, Chica. She is still producing to this day at 13 years old. 2010 was the year of Gus. You can talk to many who still remember the red neck roan female from WHR that Ashley showed that year. She ranks as one of the best Shorthorn females we ever had the chance to walk into the ring. Last but not least, 2011 brought about Kim, another special Shorthorn that we owned with Craig and Stephanie Steck. She went on to produce numerous champions and influence a lot of the genetics the Steck family still has.
No doubt the successes shared were true blessings, but it was the memories, lessons learned in the barn and the people we met that truly made this industry our forever passion and home. From the time Ashley was a freshman in high school, Jessie was in 6th grade, and Wyatt was just getting started, we took managing the show barn into our own hands. As hard as it may have been, our parents instilled in us a work ethic that cultivated a strong sense of pride in what we did and gave us the confidence to believe in our eyes and ability. Sure, our mom and dad would stop in every once in awhile to check and make sure things were getting fed right and help with any problems, but the show cattle were our responsibility to care for and learn how to get ready. If they were going to get fed, rinsed, worked on, whatever it may be, we were going to have to be the ones to do it. We can still remember the year we took over 20 head to state fair, including three cow calf pairs and two bulls. Looking back, we can't even believe the insanity that we had going through our heads thinking that was a good idea, but that was the beauty of it. Our parents were willing to do anything to make our dreams and desires come true, as long as we were putting the time and effort in to follow through and make it go.
Our parents let us fail often so we could learn. We still remember the first time they let us shave heads and tails on heifers and we didn't check the blades before starting. Halfway through shaving a red heifers head and after having already done her tail, we quickly realized that we were shearing with blocking blades… our fitting and clipping ability has come a long way since then! Through these experiences, we quickly learned that you don't have to have the most and the fanciest to make it work. The most we ever spent on a heifer was $7,500. Granted times were different then than they are now, but the reality was we had to learn to be successful without an abundance of money or the nicest barn in the world. We were told from the very beginning that in order to be successful we had to out-work, out-feed and out-show others. We took pride in taking care of our cattle day in and day out, even if that meant not going to the lake with friends. Showmanship was always at the top of our priority list, and our competitiveness between each other only fueled our desire to do better. Our parents encouraged us, but their expectations were always set high. The goals were always changing, the bar was always being set higher.
Despite all the success we gained in California, we never managed to win it big on a national scale. The best we ever did at a major national show was winning a division growing up. Looking back, we so greatly wish we could have brought home a few more banners at that level, but at the same time, it really made us into the people we are now. To this day, we feel this is a huge driving force behind our continued passion and drive to do better and be better.
As we got older, and our time in the show ring started to wane, we invested our time in developing our personal skills that would allow us to give back to the industry in our future careers. One of those avenues was livestock judging, which all started with the help of our mom, Becky. At the time when Ashley entered high school, our mom was teaching at another high school. Knowing how competitive the we were and our desire to potentially judge in college, our mom quit her job, choosing to run cows full time and fill in as our judging coach. While we had two amazing high school Ag teachers, who helped us achieve so much in the way of public speaking and leadership roles, our Ag teachers didn't have the livestock background our mom did. She taught us collegiate reasons format from the beginning and accuracy was always the priority, long past fancy terms and flamboyant presentation. There was no one more critical of us than her. To some it may seem harsh, but at the end of the day, it made us who we are today. It gave us the competitive edge and mental toughness needed to compete on the college level.
Our time in Junior College brought us some amazing teachers, the likes of Clay Elliot, Marcus Arnold and Taylor Frank. We both quickly found that you're only as good as the people you surround yourself with and all of these gentlemen gave us the stepping stones to go on and achieve even more success in senior college at Oklahoma State University. Oklahoma State and Dr. Blake Bloomberg were always the end point for both the girls. Ashley was a member of the 2014 Reserve National Champion team in Louisville, being named High Individual and High Point in Reasons. Shortly thereafter, Blake asked Ashley to stay on and help coach, and to help coach the team Jessie would be on. In 2017, Jessie, alongside her team members, were named the National Champion team; the first win for both Blake and Ashley. On the same day, November 13th, Jessie was named High Individual and High Point in reasons, making us the first siblings in history to both win high individual at NAILE. A lifetime of hard work, dedication and effort managed to pay off in one moment. To share a piece of livestock judging history with each other is something we cherish and it frames the epitome of our relationship with each other. It encompasses exactly who we are and just how close we are to one another. On both winning days, two of the most important influences in our life were there; our mom and Blake. The woman who started us on the livestock judging path and the mentor who believed in our talent and ability more than anyone else.
Today, Jessie works as a marketing brand coordinator for BioZyme Incorporated, the makers of Sure Champ and VitaFerm, and large supporters of youth livestock events and opportunities, while spending as much time working at Tree Lane Farms in Illinois as possible. Ashley has built her own free-lance marketing business, 805 Media Management, while also helping to manage Baty Livestock, a Simmental and Angus based operation out of Colorado. While we currently live over 960 miles away from one another and only seem to meet up at livestock shows, nothing has changed our relationship. We support each other, cheer each other on and push each other more now than ever. We still set goals together and set the bar high. We still both enjoy spending all our time in the barn working on cattle, talking about breeding decisions and management choices. Getting the opportunity to judge shows together is something that we never take for granted. Standing in a ring as siblings and sisters, getting to sort through stock in the industry we love the most is a dream come true for us. Getting to this point was not something that happened over night for the us though. It is an accumulation of years upon years of hard work, struggle, defeat, persistence, heart break, success and failure. The list of people we need to thank is insurmountable, but please know that if you have ever played a part in our lives, cheered us on and been there through good and bad, we appreciate you, more than you know!
We hope that our story, experiences and upbringing can inspire other young people in similar situations to have big aspirations and work hard to achieve your dreams. While we have different careers and different ways of operating, we both have big ambitions to help guide young people, and young women particularly, to achieve the highest level of growth and achievement. Even though we haven't been on this earth that long, here is a couple of things we've learned and hope will be helpful to some!
1. Never stop learning. Be open to listening to anyone and everyone. Go and work for other people, as it will teach you more than you know. It will give you appreciation for the way you grew up, and it will teach you tips and tricks that will make you better.
2. Don't put a limit on yourself. Don't let anyone else put a limit on you. There will be plenty of people who attempt to tear you down and tell you it can't be done. Don't listen to them. Choose the people who believe in you. The ones who don't accept mediocrity and expect excellence.
3. Be yourself, unapologetically. Never apologize for being competitive and driven and going after what you want.
4. Learn to be okay with failing. It makes you stronger and tougher for the real world. Failing teaches you more than success ever will, and makes achieving success that much sweeter when it does happen.
Lazy JB Angus
CO
A true American Dream story, a brand purchased by an Italian immigrant and his wife in 1926 and a teenager's Christmas wish to own an Angus heifer represent the start of an operation that has truly withstood the test of time. Lazy JB Angus run 300 Registered Angus females amidst the San Juan Mountains in Montrose, CO. Originally located in Louisville, CO, just outside of Denver, Lazy JB was founded by John and Rose Biella and their son, Frank and his wife Elizabeth. Hard work and determination kept the ranch going through the depression; Frank worked in the coal mines and Liz (Elizabeth) milked cows, tended to chickens, sold milk, cream, butter and eggs in town and raised three children, one of which would later be the reason behind the "Angus" in Lazy JB.
While Lazy JB had an array of breeds to begin with (mainly Herefords to be honest!), it was a 16 year old's Christmas wish that would be the start of a multigenerational Angus operation. Richard, the only son of Frank and Liz, received his first Angus heifer as a Christmas present. He named her "Black Diamond" after the coal mine his father Frank worked in. This female would become the foundation of the operation and be the first Angus female to wear the Lazy JB Brand. Richard was extremely active in 4-H and FFA programs growing up, participated in the 9th Annual National Western Stock Show Catch-It-Calf program and would later encourage young people across the state of Colorado to be a part of agriculture no matter the facet of the industry. Richard's passion for Angus cattle was passed on to his daughter Kathi (Creamer), who also grew up showing Angus– winning state and local titles. She served as a Colorado Angus Queen, held many offices within the CJAA and represented the state in the National Junior Angus Showmanship contest in 1975 where she was named among the top 15 finalist. She could often be found chute side, fitting cattle with some of the industry's top-hands, a passion she would later pass on to her children, Brandon and Britney.
Fast forward to 1999, when urban development began encroaching on Lazy JB, the dream of expanding the operation would become a reality as Richard, his wife Elaine, his daughter Kathi and her husband Jeff Creamer and family would close up shop in Louisville as the last working ranch/farm on US-36 between Denver and Boulder, CO. The ranch was relocated to Montrose where it was able to expand in numbers and allow Jeff and Kathi to live out their lifelong dream of a full-time ranching career.
Family owned and operated couldn't be truer than with Lazy JB Angus as the Creamer family run the day-to day operations without outside help and handle every aspect of the herd and land management. Brandon is a local county 4-H extension agent, and Britney is an area sales manager for BioZyme Inc. Both grew up in the Angus breed serving as Vice Chairman and Chairman of the NJAA board of directors, showing numerous bred & owned animals with the coveted Lazy JB brand and experienced successes that ranged from Angus Champion Bulls, females and steers, an ROV Show Heifer of the Year and a NJAS Showmanship Championship. Both play an active role in all aspects of Lazy JB. Brandon and Britney say they are extremely grateful to have parents that allow them to be directly involved in the day to day decisions and investments the operation make; from selecting herd bulls to purchase, to mating decisions, sale cattle selection, marketing and operational design and function, Jeff and Kathi are always open and encouraging to their input.
As within any operation, the hurdles that must be crossed to stay afloat in today's agriculture industry are inevitably always evolving. For Lazy JB raising cattle at high altitudes come with more obstacles than the average cattlemen deal with. The Creamers work diligently to conquer the obstacles of high desert cattle country and rise to the challenge by utilizing multiple tools and technology within their herd. All bulls and females are Pulmonary Arterial Pressure (PAP) tested and bloodlines are watched carefully to ensure that cattle can handle the stresses presented at high altitudes. "In many instances we cannot use the same sires as many of our fellow cattlemen because they just point blank cannot live at high elevation and don't work for our commercial cattlemen" says Brandon. "Our cattle forage on ground that is not suitable for any use other than grazing, in the summers we graze cattle; including donors and former show heifers up to 9,500 feet and winter cattle at 6,500 feet. These cattle have to be sound, fertile, self-sufficient and able to work in all segments of the industry from the showring to the pasture to the feedlot."
Cattlemen and those that raise livestock all have their own criteria and at Lazy JB they "don't follow trends; we know our cows and our environment, we study bloodlines and look at genetics to try to make the next generation better. The bulls we purchase are done so with a purpose and we know that longevity within your herd will result in the sustainability of the cattlemen" says Jeff. After a number of years marketing bulls private treaty and at consignment sales, they gradually built their numbers and held their first annual bull sale in 2001. The selection of these sale lots is not taken lightly and only 65 bulls are marketed through the annual bull sale. In the fall of 2010 an online show heifer sale was added where only the top 10-15 tier of world class show heifers and future donor cows are offered. "We believe in the power of the female, and that behind every great herd sire and future donor is the dam that raised them to be what they've become. The mother cow is the true factory in every operation; she will be the one that ultimately decides your future in the cattle business and this is a major focus for us when selecting the show heifers we offer each fall, we want them to not only be successful in the ring but when set into production" says Kathi. Replacement females and steers are marketed privately through the ranch or with Superior Livestock. While many reading this may most recognize the Lazy JB Brand from within the showring, they are a major source for commercial and registered producers to find the genetic needs for their cowherd to optimize their investment.
While they are grateful to be involved in many aspects of this industry they are quick to credit the showring for the life skill development, friendships and foundation it has built for their family. "We are involved in this industry because we love the challenge of producing superior cattle and seeing those cattle work for our customers. We all want to be successful," says Britney "I don't know anyone who doesn't. But we all measure success differently. For our operation, there's nothing more exciting than watching our bull customers command top premiums for Lazy JB sired calves, watching a kid achieve their goals within the showring or when you can say that a female from your herd has helped a family send their child to college, ensure that they could continue ranching another year or became the foundation of an operation that has grown ten fold, there's simply no better feeling," she adds.
We are extremely humbled and grateful of all the good in our lives that God has blessed us with and look forward to continuing our family's ranching legacy for generations to come. The Lazy JB brand is something very near and dear to our hearts and something we try every day to live up to while embracing industry advancements and honoring lifelong tradition. •
Linde Sutherly
OH
Linde Sutherly grew up in Leavittsburg, Ohio, on a small beef cattle farm. She loved showing cattle, playing volleyball and being involved in clubs and organizations as she was growing up. In 2001 she received a BS in Agriculture with a major in Animal Science and a minor in Ag Business from The Ohio State University. After graduation she worked for Producers Credit, Inc. in Columbus, Ohio as a credit analyst for 3 years. She soon found her passion for photography and pursued her livestock photography business full-time. A tiny show in Moundsville, WV was one her first shows she photographed and she will never forget the first large show she covered, the Eastern National Livestock Show. She says she will never forget those folks who gave her the opportunity to pursue her dreams, as none of her success would be had it not been for those peoplegiving her a chance. "I thank Jesus that He opened doors to guide me in His will for my life." Her parents were very helpful early in her career – after her mom retired, she traveled around to many shows, assisting Linde with printing and showing pics to customers in the small trailer they pulled around. "That seems like so many years ago!" Technology has changed so much in the past 20 years, and really changed the way they do business, using an app and website instead of driving the trailer around for an office for exhibitors to view photos is just one example. Ring shot photographers are another wonderful addition to the business over the years, providing great photos for exhibitors and jobs for photographers. Linde feels so very blessed that her small business has grown to serve so many and allows her to have fabulous photographers to work with around the country. She has mentored many aspiring photographers over the years and enjoys that opportunity.
Linde, her husband Dave, and their 9 year old son, Austin, reside in New Carlisle, Ohio. The have a small herd of cows that they enjoy, raising club calves to sell in the fall. They have achieved some success in the show ring over the years, and enjoy raising Austin in the livestock industry. Great friends, the value of hard work and responsibility, teamwork and spending time together as a family are a few of the things that come to mind quickly when they think of why they like being a part of this great industry. She and Dave also enjoy watching Austin play baseball and guitar, as well as they like seeing him snag a cow in the chute, helping to make breeding choices and then seeing the joy in his eyes when his favorite cow calves and having the opportunity to see all of that work throughout the year come full circle.
Linde's passion lies in her photo business. She truly enjoys having the opportunity to work with such great people at shows, with the same love for the industry. "Capturing those moments that people have worked for years to achieve is not something I take lightly. It's not just about getting a fabulous backdrop photo for every exhibitor. Our team is committed to providing outstanding service with a great attitude and having that show through every photo. I am so blessed to have a wonderful team of ladies with the same passion."
She enjoys volunteering her time and efforts for the youth in the livestock industry. When the Ohio State Fair was cancelled, her heart ached for the many kids that work so hard throughout the year, and wanted to provide a show for them to finish their projects. She has been involved in planning the Ohio Youth Livestock Expo, and is so excited that it is coming together because of an awesome team of people and generous sponsors, with the same goal in mind, "to get these kids in the ring!"
Linde serves in several areas of the beef industry as well. She is on the executive board of the Ohio Cattlemen's Association and is the president of the Clark County Cattle Producers. She is a co-chairman of the Cattle Battle, an Ohio BEST Show, which is known for it's community service efforts while providing a fun, costume class to raise money for the Ronald McDonald House. Teaching kids to help others is so very important, and any opportunity we can give them to do that, we need to do that. Since the charity show began 8 years ago, it has raised over $100,000 for charities.
Schrag Family
SD
For 22 years Cory and Melissa Schrag along with their 2 children, Sammi (21) and Jaxon (17), have carefully cultivated their century farm. For 100 years Shorthorns have roamed the pastures in Marion, SD, making Schrag Shorthorns one of the oldest herds in the nation. This year will be their 50th Anniversary of marketing those genetics at public auction at "The Family Event Sale" in October. Pride of the legacy and tradition of this family farm is evident, but it is a spirit of entrepreneurship that drives this operation.
Upon graduating from South Dakota State University, Cory furthered his education and attended the National Embryo Transfer School and studied under Dr. Peter Elsdon, where he learned how to conventionally flush donors and transfer embryos. Cory and Melissa then started Dakota Transfers, a full-service ET center, in 1999. This was an intense time of growing their business and their family. "I look back on those Dakota Transfer days as laying a great network and foundation for building a business," said Melissa. Cory's father, Doug, passed unexpectedly in 2008 so they made the choice to scale back Dakota Transfers and move to the home place to further the exceptional Shorthorn reputation that Doug had built.
Doug believed in the power of great cow families and that hasn't changed. "We are proud that the Augusta Prides and Revivals started here," Cory said. They have since added the Dream Ladies, Max Rosa, Missing Mirage and Myrtle Bo families. Most were purchased as show heifers for Sammi and Jaxon and now are headline donors. "Sammi and Jaxon have been lucky in the showring, but what I'm most proud of is the relationship they have with each other. They are each other's biggest fans," Melissa said. While focusing on building an elite Shorthorn donor offering, Cory and Melissa were bit by the entrepreneurial bug once again.
In 2007, ShorthornShop was born out of the idea to make it easier to register and breed Shorthorn cattle. "At the time, acquiring AI certificates was a real pain, so we thought if there was an online shopping cart to get certificates and purchase semen in any quantity needed, that this would only help the Shorthorn breed," said Cory. This online website was widely accepted and kept the whole family busy. Cory and Jaxon would pack semen and Melissa and Sammi would do data entry and invoices. ShorthornShop soon grew out of the lab they built and the Schrags made the hard decision to sell the business to Cattle Visions. "I will forever be grateful to ShorthornShop for showing my kids at a young age that with hard work and determination you can turn a little idea into a big opportunity," Melissa said.
The biggest idea was just on the horizon for the Schrag family. While Cory was in college, Lloyd Jungmann, founder of Hawkeye Breeders, had asked Cory if he wanted to operate a bull stud near his home. "Lloyd flew up to collect our bulls a lot and I was honored he thought of me, but I was young and wanted to focus on the farm," Cory said. The idea never left his mind and finally in the spring of 2016 the Schrags started the adventure that would be called 605 Sires + Donors. "Cory's first phone call was to John Weston, the most respected man in the business, and John agreed to mentor us," Melissa said, "From that phone call on it has been a fast and furious ride." Over twenty years of selling, buying, collecting bulls and shipping semen gave Cory and Melissa a blueprint of what they wanted in their own bull stud and ET center.
In four short years, 605 Sires + Donors has turned into one of the fastest growing reproductive centers in the nation. They can house over 100 bulls in peak season, have CSS and export capabilities and also do sexed semen collections. In 2018 they partnered with Trans Ova Genetics and created an embryo transfer/donor facility. Every two weeks, Trans Ova comes to perform IVF collections and conventional ET flushes. 605 also has the ability to transfer embryos on a daily basis and has purchased a recip program as well. "We understand how important these genetics are to advance your program and we will exhaust all avenues to help you reach your goals," said Cory.
605 is based on some simple principles: have a friendly and knowledgeable staff, utilize the most advanced technologies and practice safe handling procedures. 605 uses the CASA computer system. This system gives a complete computer read for semen concentration, breaks down motility into motile and progressive and gives a percentage for bent tails, proximal droplets, distal droplets, and dead cells. Each sample then has a video clip saved and also has a printed analysis stored in the bull's file. "It has been invaluable to have exact computer data to track the bulls and see their progression and how to best manage their care," said Melissa.
Communication is key. In order to have a transparent operation where the owners could track their bulls' and donors' progress, 605 had a computer program built just for them. This program allows the customer to log in and view jump schedules, units froze, semen shipped, current inventory and invoices. This has been such a successful program that they have even sold it to other bull studs. This year they also added online semen sales to further promote the genetics of their customers. Along with the advanced computer options, having a safe and accessible facility was of the utmost importance. "One of our favorite features is the drive thru drop off and load out for both bulls and donors, people just love that," said Melissa. They also are Umbarger, Vitaferm and Sullivan Supply dealers to be a complete stop for their customers.
While building 605 Sires + Donors, the Schrags decided to diversify their cattle operation and expand into the Maine-Anjou breed. "We have fallen in love with this breed, its organization and the breeders. Thank you to all that have made us feel at home in the Maine aisle," Melissa said. With this addition they renamed the cattle operation to Schrag 605. "Cory and I hope the entrepreneurial spirit is alive and well in Sammi and Jaxon and look forward to see what they can do with the 605 brand."
Effling Family
SD
"It takes a village." This seems like the best way to describe our operation. CK Cattle was established on July 18, 1997 when a "show jock" married a "sheep girl." Much has changed since then, but one thing that hasn't, is our passion for good livestock and the desire to surround ourselves with great people.
When we started this journey, it was predominantly a club calf and club lamb operation. As time evolved, we decided the purebred cattle better suited our goals. We started breeding Simmentals for the maternal side of our club calf project but liked them so well that they have remained the foundation of our operation.
As we added to our family, we also added breeds to our operation. Each girl has their breed of choice. It started as a way for them to not have to compete against one another but has grown into something much more for them….
Cagney:
I hold the Charolais breed very near and dear to my heart. It may sound ridiculous, but white cows would surely make the short list of things I could not dream of living without. My family's experience with the breed dates back to before I was even born. My dad worked at the notorious Thomas Ranch in the early years of his relationship with mom, and well, the rest is history.
It was after Cally finished her 4-H career that I got to be on the end of a halter of a Charolais, but I can assure you it was worth the wait. The year was 2010 and Charolais Junior Nationals were in South Dakota. I will always remember the string of heifers that year, females that have went on to be cornerstones for operations across the country. Most importantly, I'll never forget the people: Kendra Elder and myself duking it out in one of the most intense showmanship contests of my life, Cally Thomas and the rest of the Junior Board running a show, competing in the fitting contest against what would someday become some of my best friends in the breed, and Troy Thomas never leaving my side even though he had countless other juniors with cattle there. No words will EVER be able to accurately describe how blessed I am to have the Thomas family in my life. Not only was I given complete access to genetics of the breeds lead matriarch's, but more importantly a family that will go to the earth's end for myself and my family. To say the Charolais breed is special to me would be a vast understatement. I became hooked on the breed for many reasons, but that first Junior National did me in. My goals of becoming active in the junior program and having success in the show ring seemed farfetched, but with some luck and hard work 10 years later, I'm fortunate to say I've exceeded my 12-year-old self's dreams. Though my time in the junior scene is closing, I've only scratched the surface on what I hope to do, not only for myself within the breed, but what I hope to help my sister's accomplish in theirs as well.
Chesney:
My love for the Hereford breed began when I was just three years old. At the time, my dad was working as a field man for the American Hereford Association and my favorite thing to do was read the Hereford World. I would stare out the window every time we drove past our neighbor's, who had a herd of over a thousand commercial Herefords. When I was old enough, it was no question what breed I would show. The beginning of my show career included Hereford steers and begging my dad to let me go to junior nationals. Every time I asked, I was told it was too far away and too hot where it was being held. It wasn't until 2015, when I was 14 and had been to two other breed junior nationals (Simmental and Charolais) a couple times each, that I finally found my favorite of them all. Now, five years later, I can still remember that week in Grand Island like it was yesterday. The atmosphere of the whole week was like nothing I'd ever experienced. I was a new kid on the block but I didn't feel like it even for a second. The people were so welcoming, not to mention all the fun that was had. The Sullivan Supply obstacle course, the three-on-three tournament, and tailgating are still some of my favorite memories to this day. It was, however, the awards ceremony, of all things, that had me hooked. Everybody drug their lawn chairs into the middle of the show ring, we honored the accomplishments of the exhibitors in the contests throughout the week, and, my favorite, listened to the junior board members' retiring addresses. It was watching the board members hand off their jackets that made me realize that this was something I wanted to be a part of someday. Because of that first year's impactful experience, I plan to run for the National Junior Hereford Association Junior Board. Junior Nationals is still my favorite week of the year because it's my first chance to see all of my closest friends in one place since the year before. Hereford Junior Nationals has allowed me to make lifelong connections within the breed that I am forever grateful for.
Kenidey:
The Simmental breed always interested me, but it was in 2014 when I decided that this was the breed for me. That year was the first junior national I attended. Even though I did not get to show that year, it was the people that made me want to go back. That year I participated in the novice program. We did many fun activities that included visiting Church Hill Downs and the Louisville Sluggers museum. The week of activities brought me many new friends that I am still friends with today. 2015 was when I finally started showing. I was the youngest, so Cagney and Chesney got first pick of the heifers that year. I got the leftovers and that was my first Simmental. After a few years of attending other breed junior nationals and Simmental regional shows, I finally got to show at my first Simmental junior national in 2018. A fun filled week with close friends was topped off by being named Champion Percentage Female. I spent my whole summer in the barn and achieving this accomplishment made me realize that hard work pays off. I have learned many lessons from showing cattle. I have learned leadership, teamwork, and to work hard for your dreams. I have big dreams that I want to achieve, and I must work hard to accomplish them.
It takes a Village. With each of the girls having their breed and passion for Jr. Nationals, it has created some challenges throughout the summers. 2014 was the first year that we tackled going to two Junior Nationals at once. This is where our village comes in. We sent Cagney with a great crew to Charolais Jr. Nationals while the rest of us headed to Louisville for Simmental Junior Nationals. Cagney flew into Louisville from Wichita, and once everyone was together again, we began setting up, and we watched a heifer we raised win Hereford Junior Nationals via livestream. Since that summer, we have attended at least 2 Junior Nationals every summer, and some years all 3! We have been blessed with some amazing people who are always willing to help us out. We are certainly a fan of technology, being able to watch the girls achieve some of their greatest accomplishments from another Junior National is awesome.
There is an unending list of family members, operations, and pieces of livestock that we salute our success to. One thing that we are confident in, is that our undevoted dedication and passion for what we do has brought us to where we are today. Village, Army, Crew, Friends, Family; whatever you want to call them we've got the best one! Thank you to The ShowTimes for asking us to share our story.
Jirl & Brenda Buck
OK
Jirl grew up on a small cow calf operation which mainly produced Limousin cattle and ran yearlings on grass in the summer. His family showed heifers and steers and was involved in 4-H and FFA. The highlight of Jirl's junior show career was when his steer won a class at Oklahoma City his senior year. His dad, Bill Buck, was very talented at clipping and many people brought cattle to him to clip in the early days, as a result, Jirl learned some valuable skills at a very early age. He attended Murray State College and Oklahoma State University. It was during college that he had the opportunity to work for several top cattle producers including McKown Limousin, Magness Land & Cattle Co., American Cattle Services, Hal Courtney, and Ferris Ranch.
Jirl and I were married in the fall of 1988, and with very little in our pockets we started our club calf business. I remember making flyers by hand, photocopying them, and taking them to local shows, events, etc. This was before home computers and graphic designs were a thing. Jirl and a few of his friends built our first show barn. He traded and clipped show steers and cattle around the country. During that time, he made several great connections and worked alongside some of the most elite people in the business. Jirl partnered with Bobby May for several years selling show steers. He had the opportunity to be involved with many champion steers back then that he sold or helped prepare for the shows. There were many influential families that he worked with, which we credit for giving him the confidence that he could compete at every level, and the encouragement to make it on our own.
In the early 90's we were running a handful of club calf cows when a show steer customer, Dr. Bob Morton, approached Jirl about partnering with him on a set of registered Maine-Anjou cows. Little did we know what effect that purchase would have on our future. When the first calves were born Jirl realized the demand for high quality show heifers was on the rise, and high-quality Maine-Anjou cattle were in short supply. The commitment to the Maine business was wide open from there. We could not have found a better breed to be involved in than the Maine-Anjou breed. The Maine-Anjou people will always be our first cattle family. Jirl has served on the American Maine-Anjou Association Board and we also served as the junior advisors for the Oklahoma Maine-Association for about ten years. We have so many fond memories with the Maine breed, especially all the junior national trips with the Moore family and many other customers through the years.
In 1994, we decided to host our very first Fall Premier Sale in Lawton, Oklahoma to market our spring born females. In 1996, we had our first Spring Edition Sale to market our Fall born females. Both of those sales went well, taught us a lot, and showed us where we needed to improve. We celebrated our 25th Fall Premier Sale last October and we are gearing up for our 24th Spring Edition Sale in March, and we still strive to improve with each sale.
In 2009, we purchased our first Hereford female at the National Sale in Denver, the following year we purchased a heifer in that same sale for Bailey to show. That female was our first taste of victory in the Hereford arena, she won the Junior National Hereford Expo, Reno, Kansas City, and Tulsa. We were hooked! Now, here we are ten years later with 300 plus Herefords. The Hereford breed is another breed we are fortunate to be a part of. The association and the breeders are all awesome people and we appreciate all they have done for us. There were several people that were very beneficial to our good start in the Hereford breed, but some of the key players that helped us were Jack Ward, Todd Herman, Jason Hoffman, Mark McClintock, and Kyle Colyer. We can'
t thank them enough for their encouragement and advice.
The Buck family has always been a huge fan of rodeo and has always had numerous connections to people in the rodeo business. With that background and Jirl's interest in bucking bulls, the local veterinarian, Dr Ken Carlson, introduced Jirl to Dillon Page. The timing could not have been more perfect because the bucking bull industry had just formed a registry and was set to begin competitions for the bulls. The Page's had been in the business for many years and had one of the top breeding programs. Jirl persuaded Dillon to do embryo transplant work on a few of his elite females. The offspring from those embryos is how the D&H and Buck partnership began. D&H Cattle had the elite genetics and Jirl began helping them with their production sales and marketing. The Pages are partners, but more like family, they simply have the best genetics and strive to be better every day. We are not directly involved with the daily management of the bucking bulls. We run a group of the cows on our place, but the bulls are all managed by D&H Cattle. D&H hosts three sales annually marketing bulls, bred females, and pairs. We have been fortunate to have been involved in many of the great bulls D&H has had over the past 17 years. No doubt, the most noted bull we have ever owned is Sweet Pro's Bruiser. Bruiser is the Who's Who of the Bucking Bull Business. He was the World Champion Classic Bull, 3X PBR Bucking Bull of the Year, and PRCA Bucking Bull of the Year. On an interesting note, Bruiser's grandam was the very first bucking bull cow we purchased.
Buck Cattle Company runs 450 cows and produces Maine-Anjou, Hereford, and bucking bulls. We host two annual production sales in March and October. We also have several online sales throughout the year. Our bulls and groups of bred females are marketed at private treaty.
We are involved in this industry because we love the challenge of producing superior cattle and the awesome feeling of seeing those cattle work for our customers, whether in the show ring or in production. The junior program has always been a priority for our operation, there is no better program in the world for young people. They learn responsibility, sportsmanship, work ethic, communication skills, and are exposed to the best people in the world. Even if they don't remain in the cattle business, they have learned skills to help them be successful in life. Our goal when we began was to develop a team spirit with our exhibitors in our show barn, and we have been fortunate to work with many great families who are part of our team.
There are far too many people that have influenced our lives to mention them all. No doubt the most influential would be Jirl's parents. They believe in God, family values, hard work, and having a good name. The outfits Jirl worked for all had a part in directing his life and he was fortunate to have worked with top quality programs. Some people within the industry that definitely deserve recognition are; Bobby May, Mark Copus, Steve Bonham, John Boddicker, Jim Pannell, Ronnie Glover, Dr. Bob Morton, Dr. J Butler, Jerry Gibson, and Scott Manley. Many of those same guys are responsible for our success, however, we wouldn't be where we are today without Matt Scasta, Davey Young, Ethan Moore, Craig Moore, Brett Carter, Jeremy Clark, and many others.
Bailey grew up in the show barn. She had a love for cows from the start. She would ride her tricycle from our house over to the barn and park in her "parking spot" next to the guys' trucks and feed trucks. She started showing around age six and attended her first Jr. National Maine-Anjou Show in 2000 in Enid, Oklahoma. She showed her steer named Scooby. Scooby did not win that year but that class ribbon she received was just enough to spark her competitive spirit. She attended every Jr. National Maine-Anjou show from 2000-2014. She enjoyed competing in the contests, as well as, showing her cattle. She also served on the Junior National Maine-Anjou Association Board as a director and also as President. She began showing Herefords in 2009 and concluded her junior career in 2015 with Champion Polled Hereford female and Reserve Champion Horned Hereford female at the JNHE. Such an awesome way to end your junior show career! Her time spent in the barn, in the show ring, and serving on the junior board was significant in getting her where she is today. She will gradua
te medical school this May, but her work ethic and determination were put into motion many years ago. During her interview for medical school the panel of doctors were more interested in her show cattle career than what she knew about medicine. Before the interview was over, she ended up showing them cattle pictures on her phone and explaining to them all that went into preparing a heifer for show day. Bailey is still very involved in our cattle business. She spends time at the ranch when she's home and shows for us at open shows when her schedule allows.
We have always had many goals and we are blessed beyond measure to have reached many of them. Our goals for the future involve improving the quality of our cattle, expanding our marketing, supporting the youth programs, and hopefully to be debt free someday. We appreciate all who have helped us along the way including our customers, our crew, and the good Lord above.